Have A Heart: Artichoke Pesto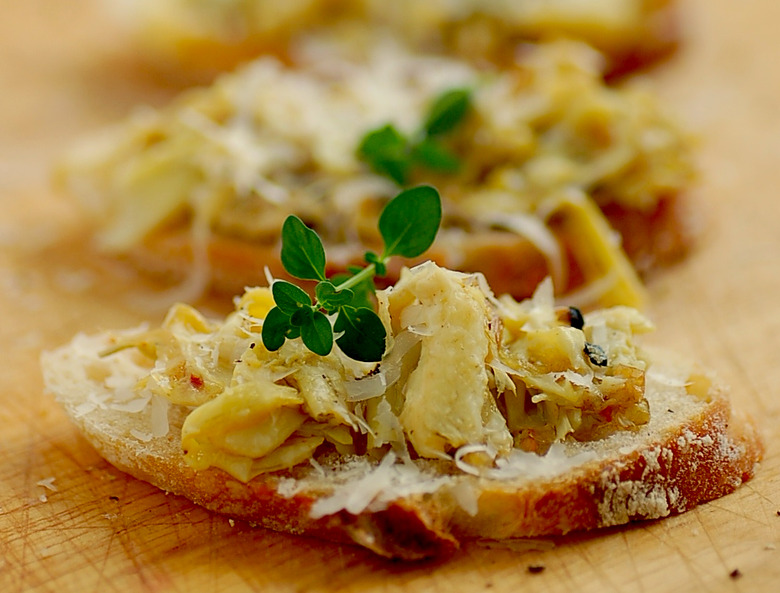 Some of the best dishes I've ever made were born of having nothing in the kitchen...or so I thought. Cue cooking show intro music.
Let's skip over that low-budget montage. I noticed a dusty can of artichoke hearts in my pantry (which is also a bookshelf), and a lemon in the fruit basket. I also had a parmesan rind with just enough cheese on it, half a semi-wilted bunch of Italian parsley and a garlic clove with the green shoot poking out (only use in a pinch, and slice off the green part). Without measuring, I dumped these humble ingredients into my blender, added olive oil and salt and gave it a whirl. I dispensed the results onto fettuccine, added some freshly ground black pepper, tasted it and felt so accomplished that I opened a bottle of vino. No steaming of a whole artichoke necessary.
I've since improved this basic recipe to include a quick saute on the artichokes with garlic, white wine and an anchovy or two in a very hot pan before blending. Once you have a batch of this stuff on-hand, you're in excellent shape for one of my favorite things: eating something awesome for dinner and transforming the rest into lunch. Yes, transforming. Just because you ate it for dinner doesn't mean you have to eat it exactly the same way for lunch. Here are some tried-and-true artichoke pesto wins:
I could literally go through the whole website and pick out a hundred recipes made better by this stuff, but I'll let you do it. Be creative, if you're at all a fan of artichokes, you can now spread them.