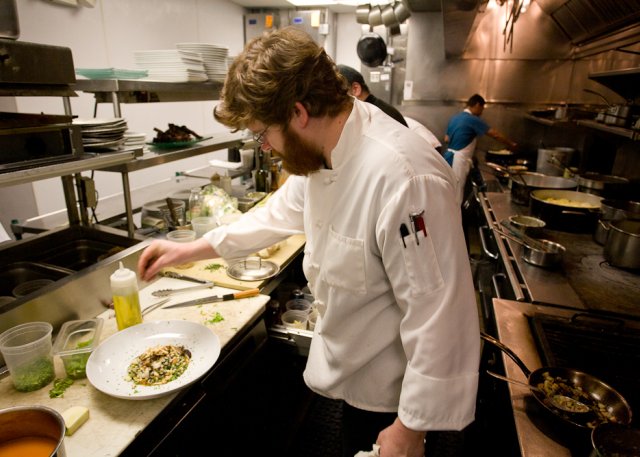 As part of Michel Nischan Week, we asked photographer Sam Horine to head up to Westport, Connecticut to spend an afternoon with the staff on Nischan's farm-to-table restaurant Dressing Room—A Homegrown Restaurant, a project he took on after he befriended the great actor/philanthropist Paul Newman. Newman, already the force behind Newman's Own, wanted a restaurant that reflected his own commitment to ingredients and ideals.
In Nischan, he found a like-minded cohort, though the chef tells us it took some convincing for him to re-enter the restaurant world after a hiatus of several years. In fact, Newman, who had considered opening the space with a variety of operators, eventually convinced Nischan to take the reins by luring him to the adjoining Westport Country Playhouse and, on a stage lit dramatically, implored his friend to "open the damn restaurant with me already."
The result of the partnership is a very special place that highlights two of Nischan's passions: Locally sourced ingredients and feeding people both well and responsibly. Here's a look at some of the cooking — and the people that make it all happen behind the scenes.