Mexico Taqueria Tour With Jonathan Waxman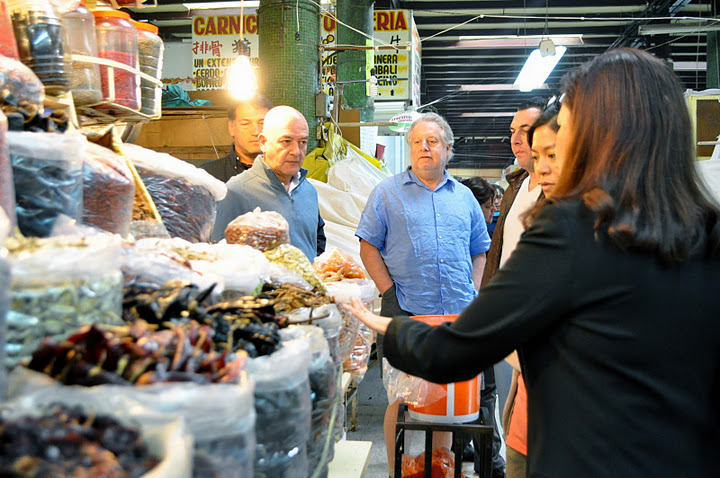 Last week, NYC chef and restaurateur Jonathan Waxman was named Chef-in-Residence at the Rosa Mexicano chain. "Ever since I was a kid growing up in El Cerrito, CA, Mexican has been my go-to comfort food," says Waxman, best known as the man behind the bold Italian flavors at New York City's Barbuto.
As CIR, Waxman will create thematic menus that change with the season like the cooking of Baja in the summer and "lesser known cuts" in the winter. Think pork cheek casserole and lamb neck enchiladas. To coincide with the announcement, Waxman and Rosa Mexicano CEO Howard Greenstone went on a taqueria tour of Mexico City. Waxman writes about the trip for Food Republic.
We arrive in Mexico City in the late afternoon and head straight for a taco tasting in the Polanco district. The first stop is Villamelon, a famous taqueria chain that is popular with locals, for cecina (salted beef), longaniza (chorizo), chicharron, costenos, (combo of all with jalapeños and onion) and Victoria Cerveza (beer). Our Next stop is El Fogoncito for incredible tacos al pastor.
For dinner, it's the closing night of Patricia Quintana's Izote, which is now under new ownership. We start off with a trio of salsas served with bread and stone ground corn crackers and continue with chicharron sudado, ensalada de nopales, fideo seco, chamorro (pork baked in banana leaf), red snapper with saffron sauce, arroz verde con camarones, rib eye tacos and lovely wine.
Day 2 starts at Mercado San Juan, a popular market in Mexico that provides products that are hard to find elsewhere — a favorite among chefs. Highlights are the fresh cabrito (goat), conejo (rabbit), seafood, meats and a dizzying amount of produce.
Here we watch baby goats being skinned and learn that the reason that Mexican butchers leave the fur and hoof of the cabrito and canejo on the animal is to prove that it is what it is, and not some old cat or other kind of animal. Also spotted: unformed chicken eggs, which are a delicacy in Mexico; and beautiful seafood including dorado, huachinango and spiny lobsters. I discover some interesting insects, like worms, ants and crickets.
Lunch on Day 2 starts at Taqueria Carnitas el May, a street side taqueria known for Carnitas de Chamorro and Carnitas de Costillas. We then visit a small family-owned tortilla making facility that churns out fresh nixtamal and maseca tortillas. The still-hot, freshly pressed tortillas are delicious! We then stop for stone-ground blue corn quesadillas filled with Oaxaca cheese and squash blossoms; Oaxaca cheese and rajas; and huitlacoche and cheese.
In the afternoon, we wander around Mercado de la Merced, a huge market in the east side of Mexico City's downtown, created in 1957 with a variety of products: meats, poultry, fish, vegetable, fruits and even household goods. This is a market frequented by locals to buy their daily household grocery needs. It's exciting, though the smell of the meat in the butcher area is highly pronounced — not surprising, since there's plenty of tripe, intestines, cow fat, cow's heads (to make tacos de cabeza) and other offal to be found.
We then hit Cantina Belmont, an old world cantina in the Zona Rosa neighborhood, where salsas are prepared table-side and made from chile de arbol, tomatoes, chile pequin, chile pasilla and dried habanero, and salsa with dried baby fish or chapulines. We try queso fundido con flor de calabazas (squash blossoms), steak tartar, shrimp à la plancha, arrachera, sopa de aba (fava bean) and plenty of tequila and cerveza. We finish off with crepas de cajeta, where the cajeta is flamed tableside and (a bit frighteningly) singes the holiday décor.
For dinner, it's off to Dulce Patria from chef Martha Ortiz Chapa. The meal begins with guacamole with pomegranate seeds, esquites, tacos de Costilla, ceviche, seafood pozole, salmon with cornmeal crust, pato en moles negro con penacho de plátano y arroz con esquites (duck with mole) and corn-crusted salmon with poblano cream sauce coupled with margaritas made from all kinds of local fruit like guayabana and tamarind. We end the night with a mamey crème brûlée.
Adios for now, Mexico.