Power Ranking: 10 Sustainable Restaurants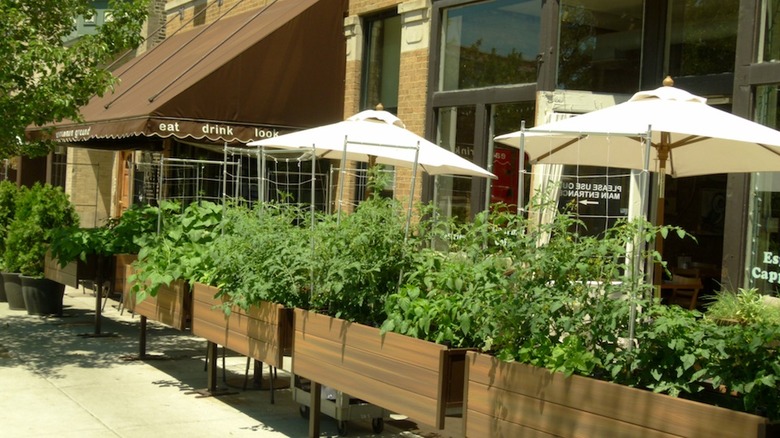 They say it's not easy being green. But, honestly, it's gotten easier lately, especially with so many great restaurants making efforts to operate sustainably. But these days it's more than just serving foods sourced from local, organic farms.
Sustainability in 2012 is about designing an efficient, eco-friendly environment, reducing waste, recycling, composting, using biodegradable products when possible, conserving water and generally paying more attention to one's impact on the environment. Here are 10 restaurants whose small footprints are making a big impact:
10. Haven, Houston
They say everything is bigger in Texas, but the statement obviously doesn't apply to this restaurant's carbon footprint. Chef-owner Randy Evans offers a truly farm-to-table experience with ingredients sourced from small local farms, as well as his own garden, where kitchen scraps get composted and a cistern is used for watering. The green décor includes recycled wood, glass and fabrics, and leaf-embedded concrete floors. havenhouston.com
9. The Farm on Adderley, Brooklyn, NY
Despite the name, this restaurant doesn't actually have its own farm. But we wanted to include it for some of its other features. For example, it sources nearly all of its ingredients from nearby and sustainably-minded farms, going as far as to list every single one of its purveyors on its website. In addition to a composting service, it also makes use of a company that collects and recycles used cooking oil to convert into renewable fuel. thefarmonadderley.com
8. Root Down, Denver
Located in a converted 1950s gas station, the restaurant doesn't exactly look so green from the outside, but inside it's done up in reclaimed and recycled materials. What's most exciting here is that the operation is powered entirely by wind. The kitchen uses herbs and vegetables harvested from its rooftop and patio gardens when possible. Alongside vegetarian and vegan options, it also offers a raw-food tasting menu. rootdowndenver.com
7. Founding Farmers, Washington, D.C.
Built using reclaimed wood and textiles, recycled paper-composite countertops, as well as low- and no-fume paints, the restaurant also features recycled-paper menus printed with soy-based inks. It has a water-filtration system, serving its own still or sparkling water in reusable glass carafes. Through the purchase of carbon credits, it can boast 100% carbon neutrality. wearefoundingfarmers.com
6. Red Stag Supper Club, Minneapolis
Sure, it serves local and organic food, composts waste and recycles, but that's not all. Red Stag is the first LEED (Leadership in Energy and Environmental Design)-registered restaurant in the state and the first facility in the country lit entirely by LED energy-efficient lights. The restaurant has managed to cut its water use by some 70% and its energy use by almost half. redstagsupperclub.com
5. Tilth, Seattle
Chef-owner Maria Hines makes sure that every item at her restaurant is as eco-friendly as possible, from green cleaning products to organic tampons in the ladies' room to soy crayons for the kiddies. Up to 95% of the food she serves is farmed organically and, when she can't find a good enough organic version of a product, she just makes it herself in-house, including butter, ketchup and vinegar. Even the wine list is entirely organic or biodynamic. tilthrestaurant.com
4. Blue Hill at Stone Barns, New York
Chef-owner Dan Barber sources ingredients from Blue Hill Farm in Great Barrington, Mass., and Stone Barns Center for Food and Agriculture, in Pocantico Hills, just 30 miles north of New York City. The latter provides sustainable agriculture education and has experimented with such innovations as transforming natural waste into a soil enhancer and using its bees to help NASA study climate change.
3. Uncommon Ground, Chicago
Having recently been named the Greenest Restaurant in the Country, this restaurant is also home to the country's first certified organic rooftop farm. It makes use of solar panels for heating, collected rainwater for watering plants, beehives for pollination (and honey!), and offers a 10% Low Carbon discount to patrons who bike to the restaurant. uncommonground.com
2. Woodberry Kitchen, Baltimore
In addition to a menu sourced from local, sustainable farms and décor featuring reclaimed materials, the restaurant takes composting to the extreme. Vegetable waste is ground and the liquid extracted, making it lighter and easier to manage. Plus, the shells of oysters are saved and returned to Chesapeake Bay, as part of an effort to regenerate oyster beds. And they serve a kickass cup of coffee too. woodberrykitchen.com
1. Bamboo Sushi, Portland
Being a sustainable restaurant can be hard work; being a sustainable sushi restaurant is a truly remarkable feat. Billing itself as the world's first sustainable sushi restaurant, all the fish served comes from healthy, ethically fished populations. What's more, the toilets here are low-flow, hand dryers energy efficient, and to-go containers biodegradable. bamboosushipdx.com
---
More sustainability coverage on Food Republic: