Gus Schumacher On The Future Of Food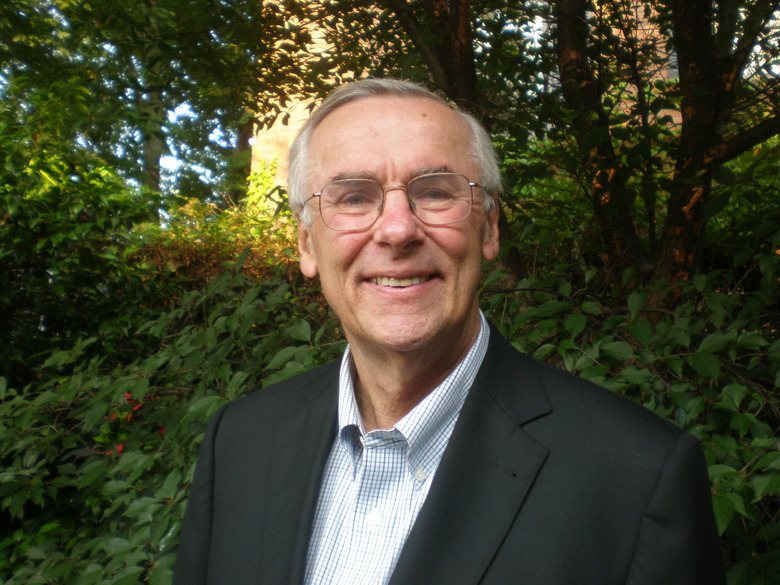 Gus Schumacher photo
Name any influential food agency and organization and chances are that Gus Schumacher has been a part of it. From the USDA (where he was Undersecretary for Farm and Foreign Agricultural Services from 1997 to 2001) to the World Bank (where he was the Senior Agri-lender) to Foreign Agriculture Services (where he was Administrator) to his position as Massachusetts Commissioner of Food and Agriculture, Schumacher has been a major influence in food policy circles for decades.
And the list keeps going — Schumacher is currently the VP of Policy at The Wholesome Wave Foundation (read our profile), working with his friend and co-founder Michel Nischan, and is a contributing agricultural editor of Food Arts magazine. The trajectory of his career makes sense: Schumacher comes from a long line of farmers, and he put himself through Harvard with money he made selling his produce.
Feeling like an underachiever yet?
Clearly an authority on all things food, Schumacher talked to us about his family history, his views on the future of farmers markets, and his predilection for sautéed sweet potato vines.
You come from a family of farmers...
My great-grandfather John Schumacher emigrated in 1848 from Germany to New York. He then went to California where he found a nugget of gold, came back, and rented a farm on 72nd St. and Broadway. My grandfather, Fred Schumacher, was born on the farm in 1865 and he then moved the farm in 1888 to Flushing, where they farmed in Queens County until 1968. He kept a diary in 1890 until he died in 1955 and recorded every day what the weather was, who visited, who he visited, what he planted, what the seed varieties were, what he harvested, where he sold it, and how much he was paid.
My father and mother moved to Boston, where I was born. We farmed there until 1968 and I helped my dad a lot so he gave me a few acres. I grew products to put myself through college and I made a fair amount of money through gourds.
What made you interested in food access?
My brother continued farming on another farm until the late 1980s and I would fly up on weekends and take the truck into the farmers markets in some of the inner-city Boston areas. Once, when I was packing up the truck, one of the Bosc pears boxes fell apart in the gutter and this woman and two children picked them up. She thought I was going to arrest her, but I asked her, "why are you picking these up?" and she said, "well I'm on food stamps and I can't afford to feed my kids."
I kicked that story around with my buddies at Tufts (Dr. Hugh Joseph and his colleagues), and we said, how do you provide healthy food on food stamps? It was too difficult, but you could do it for WIC [Women, Infants, and Children program]. So we developed the WIC coupon stamp program over a few beers.
[Editor's note: the WIC coupon program gave women in the WIC program $20-30 of coupons to be spent on fresh produce at specific farmers markets.]
The initial Massachusetts (1986) WIC Farmers Market Program started in four farmers markets with $17,000 in funding. Since 1986, this initial program expanded over the ensuing decades to $23 million in Federal annual funding for the WIC Farmers Market Nutrition Program and $22.1 million to its offshoot for low income seniors.
Several years ago, Wholesome Wave began its SNAP Double Voucher Program to expand this program to SNAP food stamp recipients at local farmers markets. A program now in some 26 states and some 300 farmers markets benefiting over 2,000 farmers providing access to healthy local produce to SNAP clients.
How did you get involved with Wholesome Wave?
I had met these refugee farmers in California from Vietnam and discovered that there were all these refugees coming from around the world and farming — particularly in New England. And I said to Michel, "Check this out. Can you use some of these products in your cooking?" So we organized a farmer who would aggregate these innovative vegetables from the refugees, take them to New York City, and sell them to 25 chefs including Michel. We organized this distribution of vegetables no one had ever seen before in New York.
Do you feel positive about the future of food in America?
Clearly, millions of Americans are looking to local farmers to buy healthy, fresh, local food. Going back to 1980 when I was selling with my brother in Massachusetts, for example, there were maybe 15 farmers markets, and now there are 250. Something has happened in the last 30 years, especially the last five, where we've doubled the number of farmers markets nationally [during] a recession.
So basically there's a movement that consumers — whether they're rich, middle class or poor — are looking to their local food system for a portion of their food. Not all, but a portion. That is remarkable, and it is particularly remarkable that it's occurring in a recession. You wouldn't think people would pay $4 for cartons of eggs, but these guys are selling out. There's a recognition of quality. We ask people with lower incomes why they are shopping with very stretched dollars. One, they want to know where their food comes from and two, they say it lasts longer in the refrigerator than the stuff coming in from overseas.
Do you think organic and free-range foods will become more prevalent?
I think eggs are the canary in the mine. If you go to Walmart, Safeway or any supermarket there are nine or 10 different kind of eggs. You can get free-range eggs, Omega 3, organic free-range eggs... I was surprised to see how many varieties of eggs there are, and that's being driven by the consumer. The changing structure of consumer demand for eggs is changing production in the local food system — much more than beef or poultry.
What about genetically modified foods or GMOs?
I think biotech companies could have handled GMOs better when they were introducing them — they're not one size fits all. It's a mixed bag — take cotton in India as an example. If you look at cotton, which is a huge user of pesticides, the biotech has now reduced chemicals substantially on cotton and increased yields. So now Indian farmers are exporting more cotton to China than we are and generating huge income.
Where do you buy your groceries?
I'd say one-third to half of my food in season is from famers markets, and in the winter 20% of it is from markets. I buy some organic and I do a lot of price comparisons. So for my salad greens often organic prices are fair, but it's a little harder [in terms of expense] for apples, pears and peaches. For me it's a flavor issue and a price issue.
What vegetables do you eat?
I will buy bok choy, kale — a lot of vegetables that I'll use as the underpinnings of my weekend omelets. I found sweet potato greens the other day. You take the tops of sweet potatoes and you sauté them in olive oil and garlic — they're very flavorful.
Would you farm again?
I just restored my father's 1948 tractor, so when I retire I'll probably get back into farming to keep healthy. My grandfathers were on the farm until their mid-90s.
Who do you admire in the food world?
To speak generally, the volunteers, especially the younger mothers, who are organizing farmers markets everywhere in America. I see it over and over and over. Mothers want a local food system and they do more than just shop local. They are organizing the local food market. Specifically, Elizabeth Borst in central Virginia, who has reorganized the whole food system. She started with one farmer's market; now she has three. She brought in Burundian farmers and Hispanic farmers and organized her state to accept EBT [SNAP benefits] at farmers markets.
---
How to help: Donate to Wholesome Wave or volunteer at your local farmers market.