Chicago: Black Grouse Bartenders Tour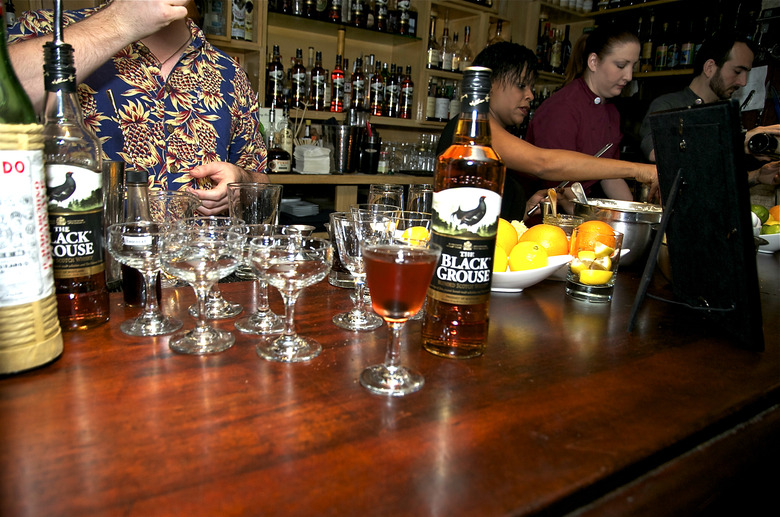 The recent Chicago stop of the Black Grouse Distinctive Bartenders Tour was organized to introduce the Famous Grouse's new (to the US market at least) blended Scotch whisky. Obviously, this was a marketing event and I'm encouraged to say nice things, but I had already been keeping my bar stocked with Famous Grouse for some time. So, nice things came easy. It's the best relatively inexpensive blend on the market.
The Black Grouse was a bit of a revelation, though. This is seriously good stuff. It's extremely peaty and smoky, giving way to a smooth and sweet finish with hints of spice. Maybe not quite as peaty as, say, Laphroaig, but you get the picture.
So, I was on board with this product. However, I couldn't envision using such a smoky whisky in a cocktail. Well, there's a reason I'm not a professional bartender, because all six of the cocktails on offer were fantastic. They ranged from light concoctions with egg white and tea to tart, bitter and refreshing mixtures with citrus fruit, to original takes on American classics, like my favorite cocktail of the night.
A Quiet Smoke in the Woods, mixed by Mike Ryan of Sable Kitchen & Bar, is a sophisticated spin on the classic Rob Roy (the Manhattan, subbing Scotch for bourbon). On top of the peaty Scotch (instead of a more neutral blend), Madeira is used instead of sweet vermouth. (Madeira is a fortified wine from Portugal, and can be found at any good liquor store. While you can spend hundreds of dollars on Madeira, perfectly decent bottles can be had for $25.) I found this cocktail to be completely delicious —a bit smoother than a typical Manhattan or Rob Roy, with notes of vanilla (from the Madeira) and, of course, the smokiness of the Scotch. It's a truly wonderful drink that is very easy to make:
2 oz of Black Grouse scotch (or similarly smoky/peaty Scotch)
.75 oz of Madeira
.25 oz of Maraschino liqueur (Luxardo makes the classic, but there are knockoffs)
2 dashes of Angostura bitters
Stir and strain in a cocktail glass. Garnish with a cherry. (Try not to use a bright red garbage cherry!)
---
More Field Reports on Food Republic: