An Organic Farmer In The U.S. Congress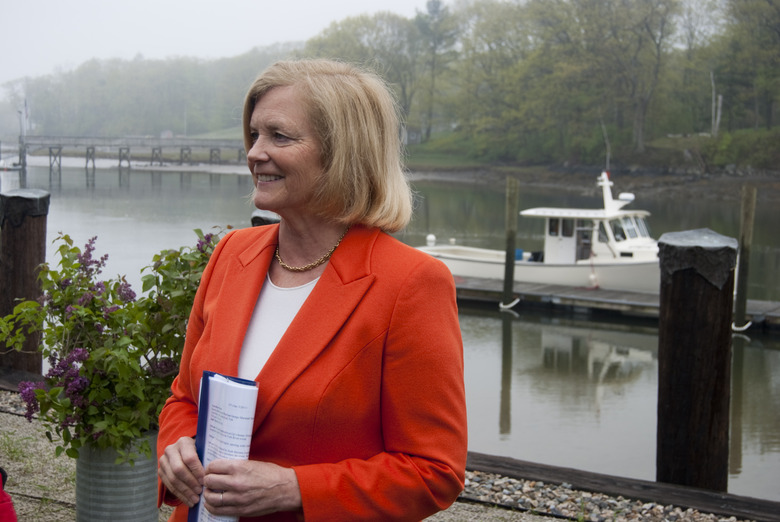 Chellie Pingree
We may receive a commission on purchases made from links.
Not many farmers and restaurateurs have much in the way of spare time. Chellie Pingree managed to become a farmer, a restaurant/B&B owner and a United States Congresswoman all within the span of a couple of decades. The mother of three has represented Maine's first congressional district since getting elected in 2008, and has become an outspoken advocate of local food and farms during her time in Washington.
Inspired by the book The Good Life: Helen and Scott Nearing's Sixty Years of Self-Sufficient Living, Pingree became part of the "back-to-the-land" movement as an organic farmer in the 1970's on Maine's North Haven Island. She went on to become the owner of Nebo Lodge Inn & Restaurant on North Haven and entered state politics in 1992. As a Congresswoman in Washington, she drafted the Local Farm, Food and Jobs Act with Senator Sherrod Brown of Ohio, proposing much-needed overhauls and updates to elements of the Farm Bill, with provisions aimed at encouraging local, sustainable agriculture.
As part of Food Republic's Michel Nischan Guest Editor Week, Pingree fills us in on running a Maine farm, tackling the Farm Bill and her side interest in bartending.
What got you interested in farming in the 1970s? Were many other people of the same mindset?
When I moved in the '70s there wasn't a lot of farming going on but there were still a lot of old timers who had been farmers. In previous centuries, North Haven had all been farms. North Haven was on the pathway of steamships to Boston so farmers could sell them their goods. In 1860 there were 80 farms, which is a lot considering this island only has 350 people today. The Ritz in Boston had North Haven lamb on the menu. I learned a lot from the old time farmers. Even though they kind of saw me as this strange "back-to-the-land" hippie, I think they really appreciated that we were supplying fresh milk and eggs.
Why do you think there are more young farmers coming to Maine today?
It's so interesting because when I came in the '70s it was a little bit marginalizing to be an organic farmer, and today it's become so much more mainstream. As the average consumer looks for organic food in Walmart and young people look at career options and want to get involved in food production there's more interest. The average age of farmers in Maine is going down and the number of farms is actually going up.
We're a great example of bucking the trend, which goes back to Earl Butz's (Nixon and Ford's Secretary of Agriculture) view of agriculture, "get big or get out." Consumers in the marketplace really want sustainable, organic food they can trust, and young people see it as a viable lifestyle. There are a lot of hitches along the way though, partly because of agriculture policy.
How did you and Senator Brown decide to collaborate on the Local Farm, Food and Jobs Act?
We tried to take the most critical parts of the Farm Bill and bring them together. For instance — more support for farmers markets, easier to use EBT [food stamps] cards, and improvements in the school lunch program.
During the Super Committee hearings, there was talk that the Farm Bill would become part of it. We're not really sure if the chair of the Agriculture Committee will move the Farm Bill this year or after the election, but by introducing [the Act] already we garnered a lot of interest. We have over 60 sponsors and we've done public speaking and gotten a lot of farmer support. I knew there were so many people interested in food policy who wanted a vehicle that really did enhance the local food movement and gave funding to regional farming efforts. There just wasn't any way to do that before.
Were you surprised to get so much support from fellow members of Congress?
Absolutely, I was surprised. We started with the Agriculture Committee, but then we really took it around to many of our colleagues who aren't even really interested in agriculture per se, and they'd say, "Oh yeah, there's a big organic movement in my local town," so we had a lot of members sign on.
You've had a series of challenging jobs – running a farm, a restaurant and being a Congresswoman. Which have you found the most challenging?
It's never easy to run a restaurant although I do like being the bartender — it's a good way to hear what people have to say. But seriously, this is a very difficult time to be a member of Congress. It's hard to feel like you're part of a body that has so little respect and in which, in my opinion, members are not in touch with the needs of their constituents. It's just going unaddressed. For me it's a very frustrating time. I believe we know what should be done to change our economy and to do business correctly and people are just unwilling to fight against special interest groups and all the rest.
What do you think is the best way for people to get involved and make a difference in the food system?
I really think the Farm Bill can be a little obscure, but it is the one vehicle we have to change policy and show consumers who want to push back how to do things differently. [People] should talk to their member of Congress and say it's an issue that matters to them. Consumers can spend money on buying locally and meeting farmers, and you can do that on all economic levels because you can use EBT at many markets.
---
How to help: Call or write your member of Congress and tell them that the Farm Bill is an important issue to you.