Tailgate Toe-To-Toe: Wild Card Weekend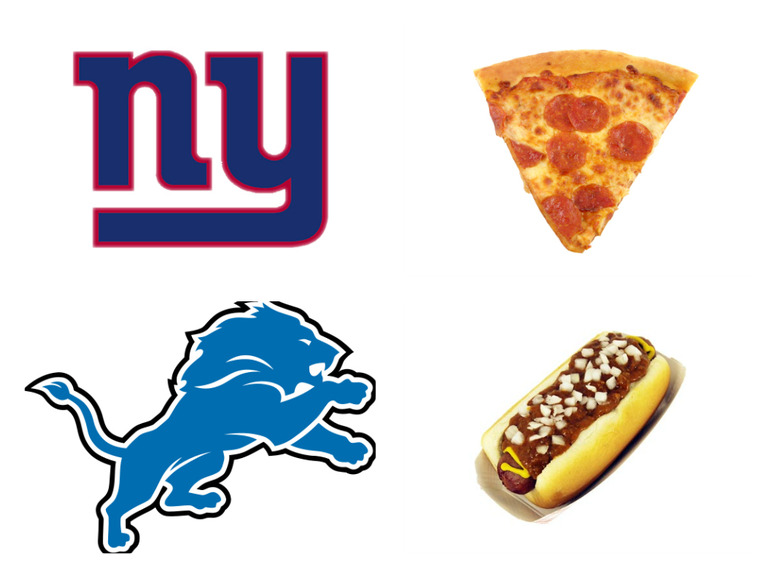 No, Jim Mora, I'm not kidding you – I'm here to talk about the playoffs. After 17 grueling weeks of smash mouth football – that is talking about tailgate food you smash into your mouth – 12 teams have added up enough inches to earn their way into the post season. Here I predict the games for Wild Card Weekend, judging the competition on the field — and in the parking lot.
Bengals vs. Texans
You probably can't tell by looking at Cincinnati on the map, but they're pretty badass in the chili department. It's all chili over spaghetti in the Queen City. It's like a bastard child of ginger QB Andy Dalton and his brother-in-hair Mario Batali. The good people in their Lone Star State opponent thankfully never built a wall to prevent Mexican culture from crossing over the 1,900-mile border. Fajitas freely, and legally, immigrated into Texas cuisine, and a tequila and spice hungry country is grateful for their plight.
If there's an upset game to watch out for, this is that game. Yes, the Bengals lost to the Texans four weeks ago. But that was by one point. And that was before TJ Yates started nursing a sore shoulder. Look for the Cincy D to stack up heavy against Arian Foster's rushing attack and bait Yates into making some bad decisions with that throwing arm. The good news for Houston is Andre Johnson is slated to play on Saturday and the Texans top-notch Defense should give Dalton, Cedric Benson and rookie sensation AJ Green a tough time putting up points.
FOOD PICK: Cincy Chili 28, Fajitas 35 | GAME PICK: Bengals 17, Texans 10
Lions vs. Saints
Coney dogs – a mutt of New York's brainchild and Detroit's affinity for confusing geography. The Motor City takes credit for the aforementioned red hot—a frank smothered with meat chili, chopped onions and mustard. But how is that tubesteak going to compete with New Orleans' gumbo? Just like the Sultans of Swing, The Big Easy plays Creole, they do it right, and they make it all taste like home cooking.
The Lions can't win a shootout versus the Saints. If they want to win, Ndamukong Suh and Kyle Vanden Bosch are going to have to break through the line and disrupt Drew Brees' rhythm. The Saints' defensive scheme should be a bit easier—never let Calvin Johnson out of your site. He'll get his targets, and his yards, probably even a TD – but as long as they limit him to that, there's no reason that Brees and his explosive weapons (see: Sproles, Graham, Colston) won't have the Saints marching on.
FOOD PICK: Coney Dog 12, Gumbo 42 | GAME PICK: Lions 17, Saints 35
Falcons vs. Giants
No, Castor Troy wasn't from Atlanta. The villainous perv just dug peaches. Georgia, and Rockford, are known for them and while they don't exactly fit into the gluttonous ideals of tailgating, a little something sweet can go a long way...Just not against New York pizza. They've created amphibious cartoons that craved the stuff, board games devoted to the Italian export, and cruel acne-metaphors within old Jerry O'Connell commercials. No matter how you slice it, pizza is king.
People expected big things out of the Falcons this season, especially when they scooped up Julio Jones to tandem with Roddy White. Matt Ryan, thanks largely to his two home run threats, put up over 4,000 passing yards, 29 TDs and only 12 picks. Michael Turner added over 1,300 yards on the ground. Yet, the D ranks 20th against opponent's passing yards — the cornerstone of the Giant's offense this season thanks to Eli Manning and Victor Cruz. If New York's D-Line can repeat what they did against the Cowboys last Sunday and allow JPP, Justin Tuck and Chris Canty to feast on dirty birds, the G-Men should live to fight another day.
FOOD PICK: Peaches 7, Pizza 63 | GAME PICK: Falcons 24, Giants 28
Steelers vs. Broncos
While this might be the most interesting battle on the field, it's the most unappetizing one in the kitchen. Pittsburg is known for...steel, apparently...and chipped ham. If you're afraid of Spam, chances are you won't be a fan of this processed luncheon meat. On the flip side, Denver omelets can be done flawlessly with ham, mushrooms and cheese. Still, it just reeks of coming straight off of a Denny's menu at 4am.
Does God forgive Ben Roethlisberger? This game will let us know. Even with a banged up signal caller and a question mark at starting RB, Pitt should crush Denver. However the two Pro Bowlers, Champ Bailey and Mike Wallace, should present an entertaining, non-stop match up. If the Broncos have a prayer – it's on Willis McGahee somehow breaking loose for a couple of long runs, out of the grasp of James Harrison and Troy Polamalu. All this should allow Tim Tebow to focus his Sundays on...something else.
FOOD PICK: Chipped Ham 3, Denver Omelet 10 | GAME PICK: Steelers 20, Broncos 7