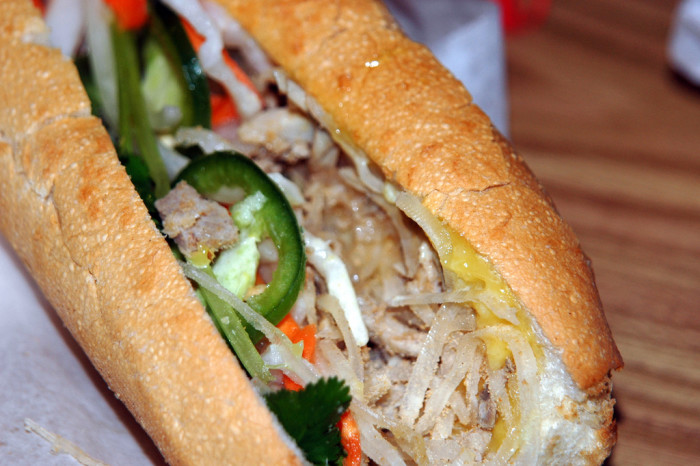 Today, Vietnam's astoundingly delicious banh mi sandwich is for lunch. But since I've already sung its praises, I thought I'd put the old adage "a picture is worth a thousand sandwiches" to good use. I'm on Flickr's side — how do you not photograph a sandwich this beautiful even if you're not of the much-scorned "foodie blogger" persuasion? These are some sexy baguettes, according to the most reliable authority we know: Jon Chonko, the Scanwichman, who scans them on a fairly regular basis.
Pork on bread is a thing, this we have established. Pâté on its own is pretty hot, but on a sandwich? Stellar. Pickled vegetables, be they cucumbers, kimchi, peppers or, in the case of the banh mi, carrots and daikon, can make or break your lunchtime. And not to bring up the whole French Indochina thing in a silver lining fashion, but …thanks for the baguettes. With help from my dear friend Hathanh, I've even coined a term just for this gallery: banhthanh, or "beautiful bread." Apparently it doesn't quite translate, as it can also mean "blue cake." Still, when was the last time you made up a vaguely understandable Vietnamese food porn phrase?
That said, behold: photos, no caption-style. I wouldn't want to distract you.