Urban Winemaking: Cities > Rolling Hills?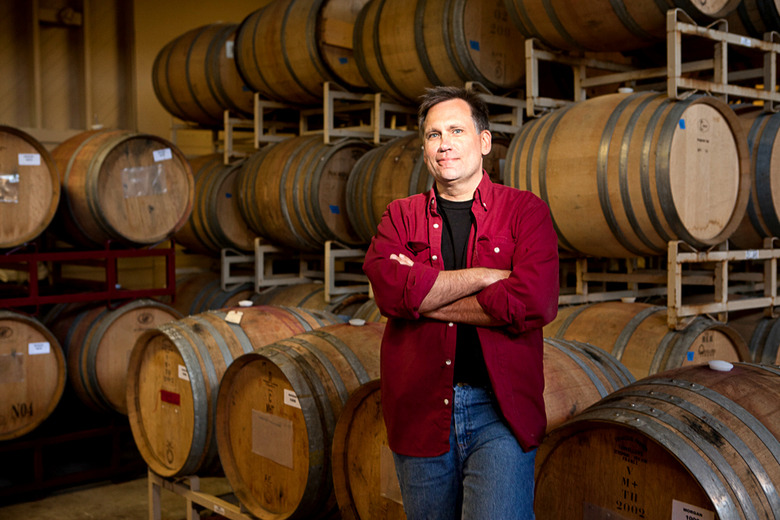 In the mid-19th century, it would not have been very unusual for city folk to get their wine from a local winery. Unfortunately, the end of Prohibition did not bring wineries back to urban areas, and wine became associated with the pastoral settings in which grapes are grown. But contrary to popular perception, you don't need a vineyard to make wine – at least, not your own vineyard. You can always buy grapes from growers and press them wherever you like. A growing number of urban winemakers around the country are doing just that: bringing grapes in from the countryside and making wine smack in the middle of their beloved city.
Jim Mirowski is one such city vintner; he heads up Treasure Island Wines, the first operation to set up shop on the namesake less-than-square-mile San Francisco island. There are now four wineries on the manmade land mass that sits in the Bay halfway between San Francisco and Oakland. And a couple dozen total in the East Bay area of the city.
"Folks associate wineries with vineyards," says Mirowski. "We bring in fruit from all over the state – Napa, the Sierra Foothills, Monterey. People always ask, 'Do you actually grow grapes on Treasure Island?' The answer is no. But we have advantages they don't have in the country."
For one such example, there's proximity to the market. Anyone who has ever toured wine country knows that getting around is a major concern. With urban wineries, there is no need for designated drivers; you can take public transport from tasting room to tasting room. Plus, with the ever-growing demand for local products, urban winemakers have a ready and willing clientele at their nearby disposal. There are also a number of environmental advantages to being in an urban setting.
"Our place is incredibly more efficient than any other winery of equal size," adds Mirowski. "I use the Bay Area at night to cool my barrels, so I'm not running big chillers all year round like they do up in Napa or Sonoma. And there's an urban garden across the street that I worked out a deal with to create a big compost pile so we don't have to haul out our [organic] waste."
Of course, having a winery as a neighbor in close metropolitan quarters isn't always the dream scenario it sounds like. During crush time, wineries are processing grapes 24/7, a noisy endeavor, especially in the wee hours. But your winery neighbor is sure to make it up to somehow. Mirowski says being generous with wine samples usually does the trick.
"The thing is to know your neighborhood. Forge some bonds with the community. If there's production going on, we take people in the back and give them barrel tastings. We try to take some of the mystique out of it and show people how wine is made, so they get that we're making wine from grape juice. It's real. It's tangible. And it's personal."
---
More wine stories on Food Republic: