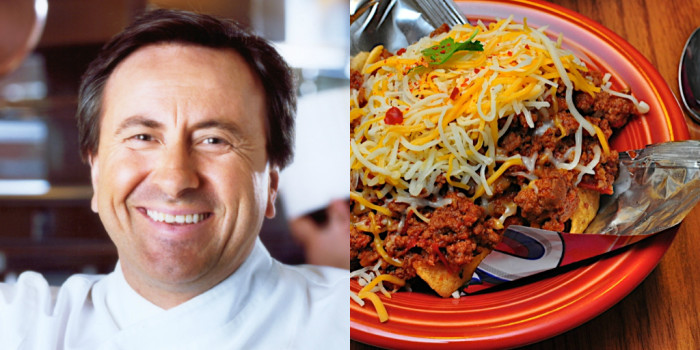 When we saw that famous French chef-restaurateur Daniel Boulud tweeted that he was kicking off his 2012 with a bag of steaming Frito pie at from Sunday's Giants-Dallas game at Met Life Stadium, the final game of the NFL regular season, we sort of had to find out why. Well, WHY? He explained yesterday afternoon while on the way to the airport.
"That was my first Frito pie experience ever. You talk about technique. You just rip open the bag and pour the chili right on top with sour cream and jalapeño. It is something. The chili was fantastic. When I arrived at Giants Stadium, I walked over a bridge and saw this remarkable scene. Smoke was everywhere from the fires. It was unreal. "
But does Frito pie have a place in the French kitchen?
"I'm going to take some bags of Fritos to France with me. I'll cook up some chili and serve it to my family. We don't do these sort of things in France, which is too bad."
Boulud was joined at the tailgate by The Dinex Group Director of Operations Brett Traussi and members of his staff. The chef unfortunately did not stay for the game, but followed along on his way back to Manhattan as the Giants routed the Cowboys and secured a playoff spot. And we're calling it right now. Daniel Boulud = Giants good luck charm. But does he return to the tailgate for the team's playoff game against the Falcons on Sunday? We will be watching Twitter. And the scoreboard. Basically, if the Giants lose, we know who to blame. It's tough being a good luck charm. Somebody, get Daniel to the game.