Masak's Rendang Burger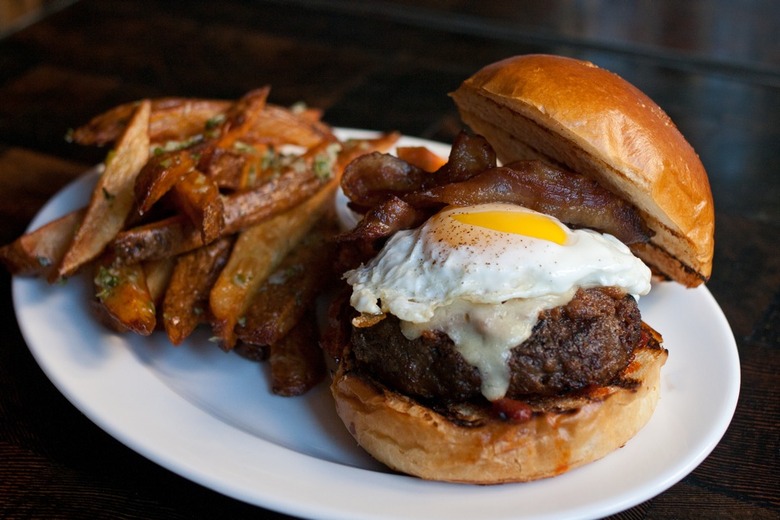 rendang burger
Singapore stands tall above all fantastic street food cultures, although its fine dining fuels a serious gastrotourism scene. I'd love to check it out — the fish head curry, the stinky sataw beans in stinkier shrimp paste, and countless other unabashed violations of what your average American considers to be food. I personally will not rest until I suck marrow out of crazy red food coloring–stained mutton bones with a drinking straw. Until then, there is the delightfully upscale version of this world-famous cuisine, brought to you by Singapore native Larry Reutens, chef and owner of Masak in New York's East Village. If your Malay is a little rusty, "masak masak" means "to play with cooking."
One such beloved dish is beef rendang, a coconut-based stew adapted from Indonesia. "We took the flavors of a traditional beef rendang and transformed it into a burger," says Reutens, "Rendang sauce includes kaffir lime leaves and lemongrass and is finished off with kerisik, toasted coconut flakes that bind the sauce while adding another level of nuttiness and flavor."
Some of this sauce is mixed into the ground beef brisket mix from Pat La Frieda, then the burger is grilled with Cabot clothbound cheddar and finished with the rest of the sauce when it comes off the grill and is resting. The burger is served on a brioche bun smeared with housemade chili sauce, completed with a fried egg if you wish, and served with pungent garlic fries and achar, spicy mustard-scented vegetable pickles that traditionally accompany beef rendang and are not your average dills.
We love a crazy exotic burger as much as the next globe-trotter. Masak's Rendang is a hybrid worth a travel.