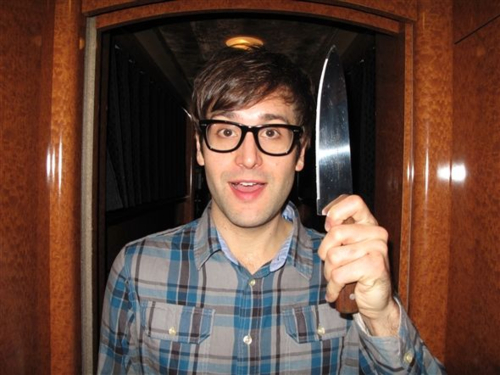 Touring musicians have a great gig. Rock and roll! It's doubly great when they're interested in exploring the international culinary world. We do realize some bands subsist solely on Taco Bell and Coke Zero. Shame on them! There's Hatch chile to sample in New Mexico. Pappy Van Winkle in Kentucky. Doppelbock outside Hamburg. Tortas on the California-Mexico border. In Good Food, Rocks, we track down a band member serious about their grub—and who has held a job in the food industry too.
Food has played a central role in the life of Cobra Starship bassist Alex Suarez. After working as a catering chef in Florida—eventually running his own company that specialized in Southern-fried spins on classics—he set out for New York City, settling in Williamsburg and working as a cashier at Whole Foods in Manhattan.
It's a classic New York band story — while ringing up packages of quinoa he randomly runs into a high school friend, Ryland Blackinton, and soon starts playing shows as the band This Is Ivy League. Later on, the pair is asked to join an infant version of Cobra Starship, an electro-pop act that has sold hundreds of thousands of albums and most recently toured with a young lad named Justin Bieber.
We checked in with Suarez for his favorite culinary memories, and for thoughts about his band's obsession with all things Japan. Well, the food at least.
What was your first job in the food industry?
When I was in high school I got a job at Burger King, but I sprained my ankle skateboarding after my second shift and was out for two weeks so they "let me go." I also did six months as a line cook at a T.G.I Friday's shortly after that. Sure, it's nothing amazing, but I tried to learn as much as I could, and speed, efficiency and cleanliness get you through the high volume insanity that those guys pump out.
Later down the road, I worked as a banquet chef at a Yacht Club in Boca Raton, Florida. My chef took me under his wing and really showed me the ropes. I couldn't be more grateful that he did, because I was also attending culinary school during that time and he would shift around his menus based on what I was learning in school. It was the absolute best practice one could ask for. Thank you Chef Doug, wherever you are.
How did you get into running your own catering company?
I was working as a sous chef at a small restaurant in Winter Park, Florida and experienced such a successful catering season that I decided to venture out on our own with a fellow chef. We started a company called Thyme To Dine — specializing in food and wine pairing. The wine dinners were an absolute blast and a great educational experience.
Did you have a signature dish at your catering company?
We had something more along the lines of a theme. We did a twist on classic dishes mixed with Southern cuisine. For example, a traditional Italian osso bucco over saffron risotto would be translated into braised pork shanks in a hearty root vegetable red-eye gravy (with espresso as the secret ingredient) over roasted poblano cheddar grits.
Do you plan to return to the catering business?
It's something I think about daily but have no plans to yet.
What is your favorite city to visit for the food while on tour?
Living in New York we get to experience some of the best in the world, due to the fact that we don't have a lot of commercial restaurants and chains and what not. So I take advantage of visiting the places that don't really exist in NY. Get ready for a laugh, but two of my favorite places are Chili's and P.F. Chang's. Ha. They don't have either of those in NY and it always brings me back to my younger years in Florida.
OK, funny answer. But let's get real about eating out in  NYC…
Mario Batali is part of a lot of amazing restaurants and on the top of my list would be Del Posto. What an unreal dining experience. The food is edible art with all the best ingredients prepared to perfection, not to mention an unreal wine list. I usually start with something sparkling for the first couple of courses and then switch over to a nice Barolo. Another one of his spots is Otto, with pizza being the main attraction. All the pizzas are great and when you order a selection from the cheese menu, they are served with this amazing truffled honey which blows my mind every time.
I also have to give a shout out to my spots in Brooklyn that are worth experiencing. Miller's Tavern in Williamsburg is my favorite in the neighborhood. It has an amazing friendly staff and everyone is impressed by the food that comes out of that tiny kitchen. In Greenpoint there is a small Aussie run spot called Five Leaves that has blown up and become extremely popular, and deservedly so because their food is also great. The truffle fries are my favorite in the city (yeah, truffles are my kryptonite and I would bathe in them if I could!!).
When on tour, what are some of your band's food and drink requests?
Honestly, it's really difficult to eat on the road. We all try to eat healthy as it's extremely easy to fall into a junk food hole. So we go for fresh fruit, deli platter, veggie platter and some standard snacks like chips and salsa and potato chips are always lingering around. If we are ordering dinner, usually it's sushi or Thai. For drink, it's always fully stocked with vodka, Patron silver, Jameson, two bottles of red wine (Petite Syrah and a Cab Franc) and a cooler full of beers.
When you record an album, what food and drink do you always have around the studio?
This last record was interesting for us. We recorded it in a storage unit in our singer's building. On my way to the studio everyday I would hit one of two places, both Japanese. There is this great lunch spot called Teriyaki Sushi—not a great date place but perfect for taking out some sushi on my way in to the studio. I probably ate there four times a week, easily! The other spot is amazing. It's called Ippudo—a ramen place with a few appetizers. Everything is mind blowing. No reservations, no take out or delivery. This place is always packed unless you want to eat an early dinner at 5:30 pm, which works out for me because that's usually my lunch time. I'm a late sleeper.
Have you ever heard one of your songs being played in a restaurant?
Ha ha, funny you should mention that! It recently happened at some swanky new sushi place we went to in Charlotte, North Carolina. They had a DJ playing house music and some Top 40 stuff. They must have told him that we were in the building because by the time we were sipping the last of our miso soups we had heard two of our songs. It's funny/weird/awesome. That's really the only way to explain it.
We asked Alex to complile a Spotify playlist with music to cook to.
---
More Good Food, Rocks on Food Republic: