Chef Recipe Book: Ivy Stark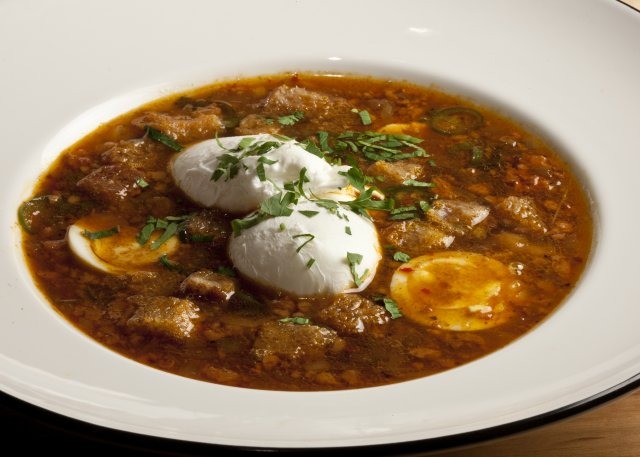 We may receive a commission on purchases made from links.
Since graduating from Peter Kump's townhouse-turned-cooking academy on NYC's Upper West Side, Ivy Stark has become a culinary chameleon who has landed positions in some of America's most important kitchens. She's done classic French, pan-Latin, Mediterranean, and pastry—not to mention running the beverage program at Brasserie 8½. (Oh yeah, all while working under industry heavies Gary Robins, Susan Feniger and Normand Laprise.)
It's clear after talking with the chef—about a recent special or a trip to Mongolia or a dissection of Curtis Granderson's batting average—that she's got a crazy amount of passion for her activities in and out of the kitchen. More recently, we've witnessed this fire first-hand at Dos Caminos, where she oversees hundreds of kitchen workers as Executive Chef at the mini empire of upscale Mexican cantinas in New York, Las Vegas, and Florida.
Here are four recipes from her latest cookbook: Dos Caminos' Mexican Street Food: 120 Authentic Recipes to Make at Home:
1. Tepita-Style Migas
At Dos Caminos in NYC, Stark serves this classic Mexican breakfast like they make it in Mexico City: a bread-egg sopa (or soup), rather than the Tex-Mex version with scrambled eggs and tortillas. This dish is often made as a hangover cure using leftover bread — migas means "crumbs" — a reminder of its humble origins. Stark first tasted migas in Tepito, a blue-collar barrio in the Colonia Morelos section of Mexico City, where there have been open air markets since pre-Hispanic times. There are also lines at stalls selling migas late at night — for those who can't wait 'til morning. SEE THE RECIPE
2. Poblano Crepes
During the Maximilian Affair in 19th Century Mexico, the French and Mexicans came to blows. After the smoke cleared, one Gallic tradition that really caught on was crepes. Locals simply adore them and you can find them on the streets during festivals. These poblano-flavored crepes are delicious filled with scrambled eggs, or dress them up with sauteed lobster and crab for brunch. SEE THE RECIPE
3. Bacon Taquitos
These bacon taco bites are close to being a perfect food. They taste at the same time crunchy, smoky, and earthy as the flavors combine in each mouthful. They are great for cocktails parties, breakfast with eggs and a Bloody Maria, or any fiesta where drinking is involved. SEE THE RECIPE
4. Tequila Sangria
We adore sangria, but if you order that drink in Mexico, you get red wine mixed with lemonade. This combination is a sparkly party option and the addition of grapes makes it particularly suited for the New Year where it's tradition to eat 12 grapes at midnight. Or serve it at any other festive gathering. SEE THE RECIPE