7 Ways To Drink Champagne Smarter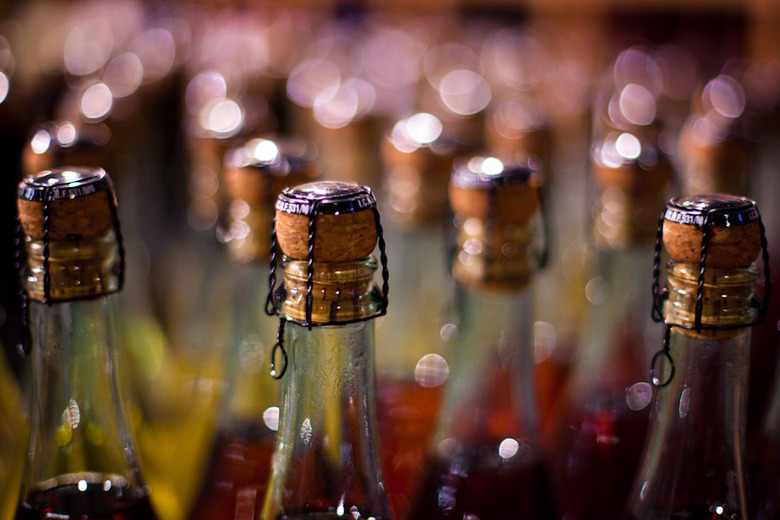 No matter how many times that you hear Champagne isn't just for special occasions, most of us don't get around to buying it until we have something to toast—be it the New Year, an anniversary or some other momentous occasion. Why? Well, for starters, it ain't cheap. (Though, it certainly can be). Also, all that effervescence can be daunting. But there's no need to feel overwhelmed at the prospect of buying bubbly. Here are seven tips for drinking Champagne smarter.

First, learn the basics
Before popping a bottle, you should know what you are drinking. The word "Champagne" gets used as a synonym for sparkling wine and that's something that really pisses off the people who make it. Champagne is a government-protected product that can only be produced in the French winemaking region of Champagne. It's made of Pinot Noir, Chardonnay and Pinot Meunier grapes. A Blanc de Blancs (white from white) is made solely of Chardonnay; a Blanc de Noirs (white from black) is made primarily from Pinot Noir.
Know the major players
Brand recognition is huge in Champagne and you probably know all the major houses and labels: Moët & Chandon (which makes Dom Pérignon), Cristal, Veuve Cliquot, Krug. Most of these are now owned by the conglomerate LVMH (Moët Hennessy • Louis Vuitton), including the house of Ruinart, the oldest exclusive producer of Champagne. But there's a lot more to Champagne than these power players.
Look beyond the big houses
Big Champagne houses buy their grapes from growers. So, what happens when the growers start making their own bubbly? Pretty interesting stuff, actually. Grower Champagnes, often identified as "RM" (Récoltant-Manipulant or grower-producer) on the label, can be more affordable than the big brands. They also tend to be more 'terroir-focused' and artisanal in their approach to winemaking. Of course, that means that the wine may vary from vintage to vintage, but fans of these sparklers say that's all part of the fun.
Be a baller
Most Champagne houses offer NV (non-vintage), which are more affordable and common than vintage bottlings. But if you're a true baller, you'll want to skip those and head straight for the stuff that's got a year on it. And a good year, at that. Keep an eye open for anything from 1996 or 2002, both stellar vintages in Champagne. You might also want to splurge on a large-format bottle. Jeroboams of Champagne hold 3L, or four bottles. Bigger bottles are said to be better for aging because of the lower ratio of oxygen to volume of wine, resulting in slower maturation.
Impress your friends at dinner
Sure, you might order a glass of Champagne with oysters. But why not with a burger? What about brunch? If Marilyn Monroe can pair French bubbly with potato chips than you can enjoy a glass with your chili-cheese dog. Champagne shouldn't be reserved for fancy meals and it also shouldn't be limited to hors d'oeuvres. Enjoy a glass with your main course – it's actually a great food wine and pairs well with anything salty or fried. The one pairing you should steer clear of, however, is the dreaded wedding cake-and-Champers combo. Sugar and fizz do battle on the tongue... poor taste buds!
Use weapons
Chances are, if you live in 21st-century America, you probably don't have a saber on hand. But, should you happen to unearth one, you can use it for just about the coolest party trick ever. Slicing the top off of a Champagne bottle with a saber is entirely doable and ensures you a place in people's memories forever. All you need is to remove the foil, loosen the wire cage, locate the seam where the bottle was fused together, and gather a roomful of people to watch you perform this remarkable feat. Aim for the seam, take a powerful swing and behold as the top comes off like you're cutting through butter.
Fake it till you make it
By now you know enough about Champagne to fake it like a pro. The cold, hard truth is that real Champagne is expensive. You can either drink the cheapest stuff available, or you can opt for high-quality alternatives. The sparkling wine known as cava is made from indigenous Spanish grapes, plus the Champagne grapes Chardonnay and Pinot Noir. The best examples of it can have all the minerality and complexity of a fancy French sparkler. Moreover, it's made in the "traditional method" used in Champagne, meaning that the secondary fermentation takes place in the bottle. Prosecco and American sparkling wines, once considered mediocre or worse, are other great options, as producers are making better and better bubbly each year.
---
More on New Year's from Food Republic: