Tailgate Toe-To-Toe: Ravens Vs. Bengals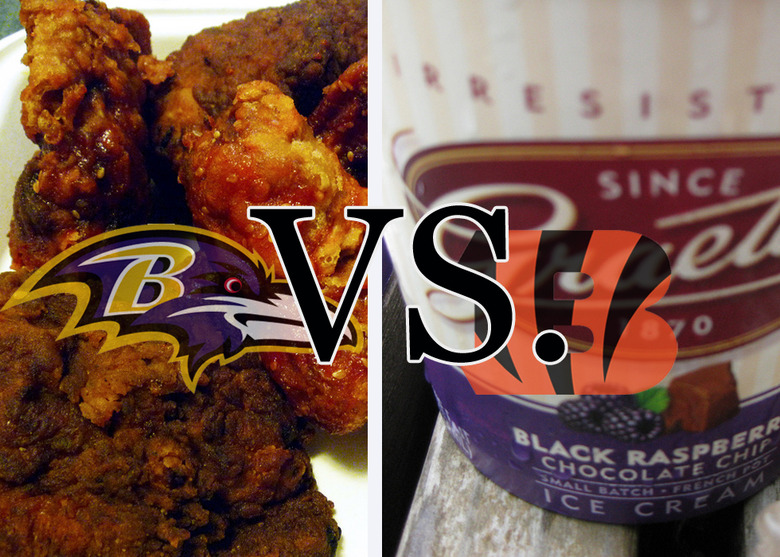 Tailgate Toe-To-Toe picks a weekly NFL game and analyzes the matchup—on the field and in the parking lot.
Baltimore has officially given the middle finger to Colonial Sanders. Collectively, Charm City has given buckets of Original Recipe the cold shoulder in favor of the chicken box—a handful of chicken wings served with a side of fries, available via carry-out at small deli counters and Chinese joints. Although things ended badly with the KFC mascot, B-More has remained entangled in a love affair with Arnold Palmer and his delicious half-and-half concoction, the most popular accompaniment to the "square meal."
$1,200 is a bargain price when you consider how many miles Bill Crochunis and company have put on GameTime, their Ray-Lewis inspired tailgate bus, purchased back in 2001 for that low sum. The purple-painted 4-wheeler calls itself a Pub when it's parked in Lot H – adorning a sign just above the keg-setup in the rear. Perhaps not as impressive as Cleveland's literal take on a Grey Hound bus or the "bling bling" of Dallas Cowboy devotees, but any football fan will tell you there's always room for improvement.
While the rest of the country might worship false idols like Ben and/or Jerry, in Cincinnati Graeter's is the greater-screamed-for ice cream. One of the reasons the Oprah-heralded dessert company hasn't imperialized the US is the labor-intensive French pot production process, which churns out a mere two gallons of ice cream every 20 minutes. The family run business, now under its fourth generation of ownership, is known for its premium ingredients and unique dark, chewy chocolate chips since 1870.
I hope the Growl Zone doesn't take this the wrong way, but they sound a lot like a worried mother when reminding you what to bring in order to be fully prepared for pre-gaming. From rain ponchos to sun block – they've really got everything covered in Tailgating 101. Of course the nurturing routine is pushed aside in favor of enabling our inner party-animal– drinking helps loosen the team spirit. "It's just how it is."
The Ravens and the Bengals both have something to play for. Joe Flacco's flock would secure a first round bye with a victory whereas rookie Andy Dalton is looking to bring his team into the 6th playoff spot. If Cicny were to lose, they'd need the Raiders, Titans and Jets to all drop a game as well in order to see post-season action.
It's a vintage M&T Bank Stadium defense, ranking 4th in opponent passing yards (193.9 per game) and 2nd in opponent rushing yards (91.8 per game.) At 36, the middle linebacker, who needs no introduction, still leads his squad with 67 tackles. Surprisingly, Ladarius Webb's 5 interceptions have surpassed Ed Reed in the picks department. In addition, the week 15 loss to San Diego was a much-needed wake up call for a team looking to win the last game of the season.
Bengals fans weren't expecting too much this season but Marvin Lewis has secured his professional future one more year with an impressive Defense of his own that keeps his young offense in every game. AJ Green was an absolutely pleasant surprise with over 1000 receiving yards in 20111, and Dalton has matured faster than anticipated. Despite losing All-Pro cornerback Leon Hall back in November, Reggie Nelson and Ray Maualuga have stepped up as young leaders. Another win at home and this squad will earn its stripes and a chance to play their way to Indianapolis.
I'm really rooting for my favorite Ginger QB, but it's [going to be] January football, where Ray Lewis will be on a strict diet of eating his enemies. GAME PICK: Ravens 17, Bengals 13
Chicken boxes sound appetizing, especially for heterosexual roosters looking for some action. And still, I'd prefer a meal of the greatest dessert ever invented. FOOD PICK: Chicken Box 21, Graeter's Ice Cream 44