Wishing For The World On New Years Eve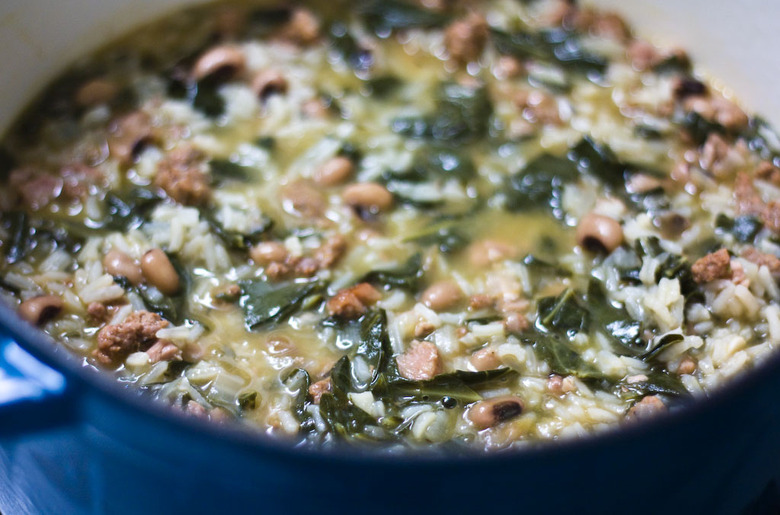 It has been a long and eventful year for this writer, and for most people I know. It kinda makes you think back to everything you promised yourself you wanted to do and what goals you wanted to accomplish. Most of my list is checked off, and there were quite a few surprises — thanks, universe.
It made me think back to the New Year's Eve feast we always have at my parents home. My father being from the South, we always had black-eyed peas at midnight, accompanied by collard greens, cornbread and other goodies. It's one of the few times my father cooks dinner, so we all have a soft spot for his twist on things.
I was speaking to my friend from Mexico City about her NYE food traditions, and she told me about her family's tradition — a Spanish tradition — of eating one grape during the last 12 minutes of the year. You make a wish each time, one for each month of the upcoming year. In many Asian cultures, long noodles are eaten on New Years Day to bring long life, the trick being that you have to get it all in your mouth without breaking the noodle. In Germany, Ireland and some parts of the United States, cabbage is considered lucky because it resembles money. In Italy, it's NYE lentils, and in other Mediterranean countries it's pomegranate because of its association with abundance and fertility.
So it's pretty clear that most of the world wants wants the same things: happiness, money, babies and wealth, every year. I for one am no different, so wherever you are from I wish you a happy and prosperous new year!
---