Great Meals In Mustique's Villas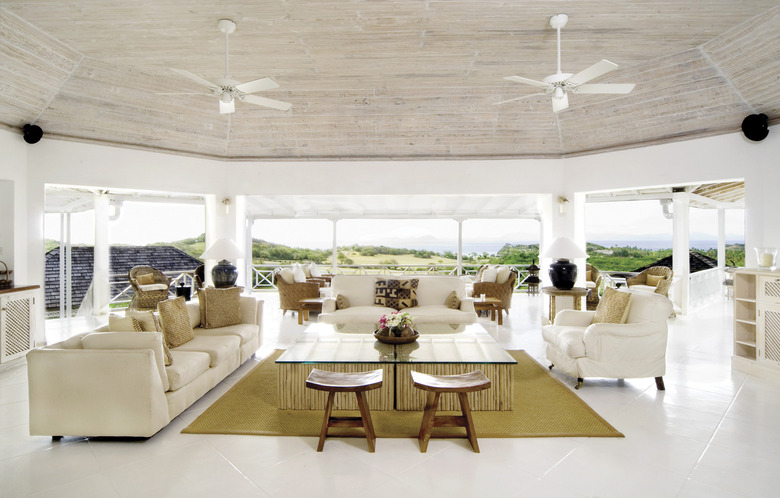 There are only a few restaurants in Mustique, the 1,400-acre island perched in the middle of the Caribbean, a short hop from Barbados. But that doesn't stop the well-heeled guests from eating spectacular meals. In fact, since most visitors to Mustique stay in sprawling private villas with eye-popping views, and since the temperature hovers around 80F year-round, most breakfasts, lunches and dinners are prepared and served on site by private chefs — and within sight of shimmering blue waters.
Most of the 100 villas on the island are part of a rental program: For a week, guests can live in luxury, provided they're willing to shell out anywhere from $7,000 (for a one-bedroom villa) to $50,000 (for a nine-bedroom villa). It's a set-up that has attracted a slew of celebrity guests since a Scottish brewing heir bought the island in 1958 and gifted a plot of land to Princess Margaret, who helped establish Mustique as a chic stop for jet-setters. Over the years, Mick Jagger, David Bowie and Tommy Hilfiger bought up land. Paul McCartney honeymooned here recently, attracted to the intense security that keeps paparazzi off the island. And in a return to its royal roots, Mustique is said to be attracting Kate Middleton's parents, who are rumored to be in the hunt for a villa of their own.
For the food-obsessed, one of the most notable things about Mustique is that these pricy villas come with in-house "master chefs," many of whom are West Indies natives who boast resumes that could land them jobs in high-profile kitchens anywhere. Instead, they draw from the fertile land on nearby St. Vincent and draw from the surrounding sea to help create menus that keep the villa guests eating magnificently, often while overlooking the Caribbean. (One villa is even owned by Maguy Lacoze, co-owner of Le Bernardin; the chef trained under Eric Ripert, and, as expected, is a seafood expert.)
We talked to Josh Charles, who holds down chef duties at Villa Callaloo, named after the leafy green that's used in the Caribbean as a versatile stand-in for spinach and as a star of creamy soups. While he's known for his callaloo preparations and his deft use of local fish, it's his muesli mix that's made him something of an island celeb himself.
Where do you get your ingredients — do you have to import a lot of food?
They all come from the island. We have mostly herbs growing here and we have a grocery store, and a local fisherman who brings in good stuff. We use mostly local stuff in our dishes, fresh from the kitchen gardens.
Do you trade notes with other chefs?
Yeah, we do, especially with friends. If they have an idea, we get together and say, "Look at this dish I made: it was fantastic. Here are the ingredients, you should try it."
Do chefs get jealous of the other villas' kitchens?
I've been to most of them and they have come to look at mine. Sometimes we share equipment or if I see something I really want I can ask my boss if I can get it in my kitchen. We all have big kitchens.
Mustique is known for its party scene — how does that affect you as a chef?
It's no problem. We often have parties and they'll tell me exactly what dishes they want me to make. We will cook for 50 or 60 people.
Does that get exhausting?
Sometimes, but you just have to be flexible.
What are the most in-demand dishes from the guests at your villa?
Actually, fish is the most popular. I prepare a lot of fish dishes. Most of the people who come here ask for the freshest fish, so I always try to get the best. Some of my clients want it prepared very simply. I do it whatever way they want.
What do you eat?
I love to eat a lot of pasta... and fresh fish, of course.
What are you known making for on the island?
I make a muesli that I call "Josh's Crunch: Promoting Healthy Living." When people come to the island they ask for it. I put almonds, pecans, sesame seeds, pumpkin seeds, oats and raisins in it. Since I've started making it, no one has ever complained.
For more information about Mustique, visit the island's homepage.
---