A Fleeting Dream Of N. Carolina Cooking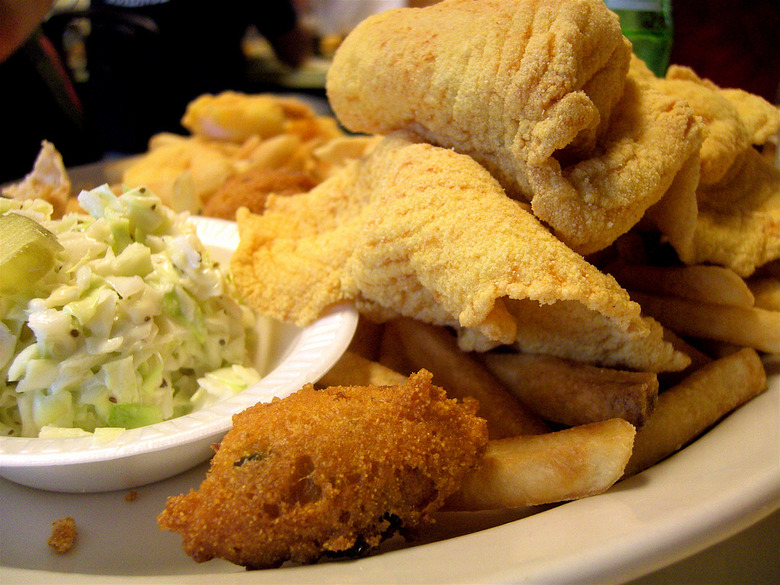 When it comes to Florida cuisine, the conversation starts with Norman Van Aken. The chef and author was among the first to realize the tropical food goldmine of the region, and his restaurants and cookbooks have had a huge influence on chefs in Florida and beyond. Now the chef/owner of Norman's at the Ritz-Carlton, Grande Lakes, Orlando and Director of Restaurants at Miami Culinary Institute, Van Aken is also hard at work on his next book, My Key West Kitchen (Kyle Books), due out in fall 2012. In the meantime, he'll contribute to Food Republic with his "Word On Food."
When I awoke for the second time that morning I was in a limousine and we were rolling through the hills of North Carolina, specifically Yadkin County. I hoped the driver was more awake than I. The night before we had taught a class and then cooked a multi-coursed dinner at The Greenbrier resort. The Greenbrier is in White Sulphur Springs, West Virginia — "West, By God!" as they say — and was built in 1778. The great Jean-Louis Palladin had taught there the week before me. I was honored to be in his circle, so to speak. I was honored as well to be hosted in such a magnificent place.
Now that was over and we had to catch a 10:30 a.m. flight out of Charlotte and get back to work. There were no early flights to catch out of the tiny airport near the resort which we had flown into the day before, so it was a four-hour ride after a 4 a.m. wake-up call.
Typically when we cook these "visiting chef" dinners we don't have a meal ourselves, and this was no exception. You're just so whipped after putting away the knives and thanking your hosts that it's two jumbo glasses of wine, a quick shower and lights out. As the dawn receded and morning grew, Charlotte still lay 90 miles away down Route 64 plummeting southward; my stomach rumbled.
In a way, these turn into some of the most creative times. It is through hunger that my greatest flights of inspiration most often spring. I often tell young chefs that one of the best ways to think of new dishes is to allow themselves to get hungry and then to read a classic cookbook or go to a market and start writing down ideas as they flow into your mind.
The billboard signs along the highway tried to lure motorists with what we all know lies within easy striking distance of any major expressway in America. I won't name the places. They are now more familiar to children than the names of the saints. I tortured myself imagining that somewhere...maybe less than 10 miles or so from the exits of this infernal highway...there were still some places featuring true home "country cooking." But the flight back to Miami and our impending departure time was what caused us to race along the wide asphalt lanes at breakneck speed.
Hungry and idle...my mind kept turning on the fantasy of a potential sweet and crispy catfish fry with a side of hush puppies, freshly griddled corn cakes dripping with hand-churned butter and "Aunt Rhody's" put-up late last summer fruit jams, or, sweet Jesus, yes (!) North Carolina ham sliced thin from pigs butchered, salted and cured in the very county we were barreling out of. "Hey Driver! We don't have this stuff in Miami!" But the window was up and he couldn't hear me, even if I tried speaking out loud, instead of within my own feverish head. But then...maybe the Jungian "collective unconscious" works? He touched a button and the electric window came down. The earnest young man asked me if we wanted him to stop at the McDonald's just up ahead so as we could get something to eat. I gritted my teeth, thanked him and, hoping he didn't get my sarcasm, said, "No, that's okay...besides...why eat here when the airport is just up the road?"
"Yeah, that's true," he said, and he stepped a little harder on the accelerator.