Tailgate Toe-To-Toe: Giants Vs. Jets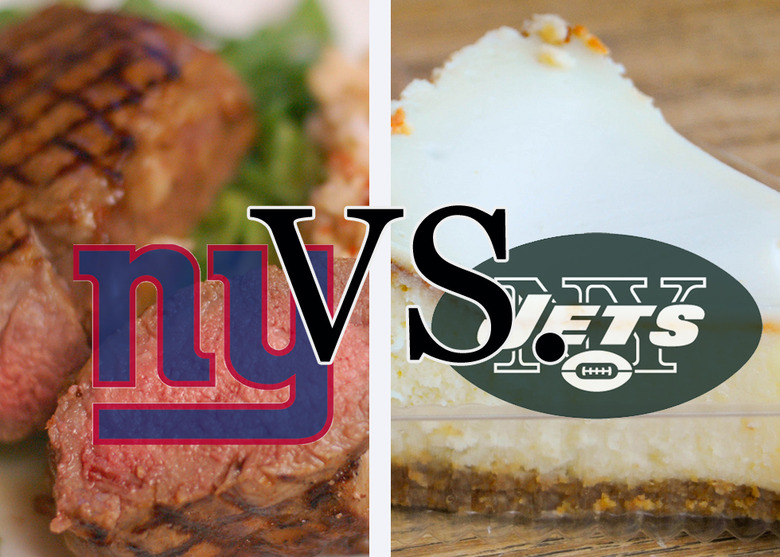 Tailgate Toe-To-Toe picks a weekly NFL game and analyzes the matchup—on the field and in the parking lot.
Apparently, the New York Strip Steak is also known as the Kansas City Strip Steak. Pardon my French but that's hogwash. Listen, KC, thanks for Burt Bacharach, but don't try to share the marquis with the big apple, got it Chief(s)? This particular cut of cow comes from the short loin, a strip of muscle that does little work for our already-slothful bovine population. Less elegant than a filet mignon, and not as tender as a rib eye – but those aren't necessarily the buzzwords that come to mind when thinking about the city that never sleeps.
The Big Blue Tailgaters take pride in their gear – especially the 1980 Chevy Sportcoach RV, affectionately named Artie. Older equipment, like the Big Blue Box, has been retired and replaced by the 80-inch projection screen upgrade. Nevertheless, Artie keeps on trucking.
New York Style Cheesecake, done the right way at Junior's on Flatbush Avenue in Brooklyn, relies on the use of heavy cream – or sour cream if you're purchasing your desserts in the frozen aisle. Is it biased that I assigned the manly entree to my G-Men and the lesser-important (sweeter) final course to the J-E-T-S? Perhaps. But comparing Coach Tom Coughlin and Rex Ryan, I'm going to go out on a limb and say that the latter is more prone to an "always order three pieces of cheesecake" game plan.
The L7 Tailgate could very well be the next Aaron Sorkin/David Fincher collaboration – as the three founding members met via Twitter. In fact, the movement has grown, 140 characters at a time, to the point where even owner Woody Johnson has taken notice and started showing up. The group brags about its sausage and peppers and the beer pong skills of @L7Panda — but it might be best to attend the pre-game festivities at the L7 section of the Met Life Stadium parking lot and see for yourself.
There is no Giants-Jets rivalry. They play in opposite conferences and really don't have "meaningful" match-ups. That is until this week, on Christmas Eve. Both teams desperately need a win, both for the hopes of a playoff berth and the momentum needed to take them through January. Last week, the NY squads looked horrendous, making this Week 16 that much more important.
Rex has already run his mouth about the coming war—but we know about his empty promises. Admittedly, the Jets D isn't bad. Darrelle Revis and company keep opponents to just over 205 passing yards and 112 rushing yards a game. It's on the other side of the ball where Gang Green struggles. Mark Sanchez's banged up O-line hasn't given him much time to throw this season. And when he hits his favorite target, a team captain mind you, Santonio Holmes has taken to dancing in the end zone and tacking on penalty yards. Shonn Greene's bruising ground game has picked up at the tail end of the schedule — and he'll need to keep it up if the 8-6 Jets want to keep themselves in a favorable Wild Card position.
Coughlin's seat couldn't be any hotter. December collapses have become a staple in his coaching repertoire. With the exception of Eli Manning's solidification as an elite quarterback, the emergence of Jason Pierre-Paul and Victor Cruz, and some steady play from a couple of young offensive lineman – a lot of Giants fans want to move on to next season...without this coaching staff. Conservative play calls on long 3rd downs and unraveling defensive schemes are too hard to stomach, and certainly not representative of a championship caliber team.
This game will be Eli vs. a strong Bart Scott-anchored D. But Manning has been doing it all year long and he knows a thing or two about pressure. The G-Men need this victory more than their same-stadium foes. GAME PICK: Giants 24, Jets 17 (Alright, kids, I've already stated I was a bias Giants fan. And, an editor's note: Thanks, Jeff; this pick virtually guarantees a win for my J-E-T-S Jets! Jets! Jets!)
Chop vs. Cake: Both cow-based products. But c'mon, where's the beef? FOOD PICK: NY Strip Steak 42, Cheesecake, 10