NBA Power Rankings In Sandwich Form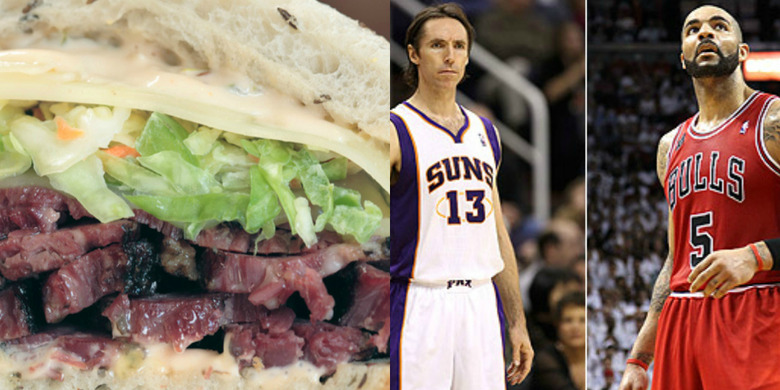 The NBA is back! The NBA is back! After five months of anxiously waiting while millionaires argued with each other, the 2011-2012 NBA season is finally ready to tip-off and you know what that means: Power Rankings galore!
Man, it's fun to rank things. Since this is the inaugural Food Republic NBA Power Rankings, we decided to go ahead and apply some food logic to our system. That's why we've taken all 30 NBA teams and compared them to a sandwich at Langer's, the James Beard Award winning deli in Los Angeles. Langer's serves what might be the best pastrami in the world and the NBA features the best basketball in the world, so it seemed like a perfect match.
Note: Some of the sandwiches have numbers, but the numbers have been removed so there was no confusion about sandwich number vs. ranking number.
#1 Miami Heat
THREE DECKER Turkey, Ham, Swiss Cheese, Tomato, Russian Style Dressing $18.95
The Heat are terrifying. They still don't have much in the way of a traditional PG or center, but with LeBron, Wade, and Bosh filling the 2-3-4, they're the team to beat. The Heat match up perfectly with the Three Decker, because it's got three main parts but only two substantial ingredients. Sorry, Bosh, you're the Swiss cheese and you kind of suck.
#2 Chicago Bulls
MEAT LOAF $8.95
With Tom Thibodeau at the helm, this Bulls team is all about hard work. These guys are built perfectly for a 66-game season with a killer starting five and the deepest bench in the league. If DRose and Rip can find their rhythm, this squad is going to match up well with just about anybody. Classic, always satisfying, and just as good the next day, the Bulls are clearly the meatloaf sandwich of the NBA.
#3 Dallas Mavericks
HAM and SWISS CHEESE Russian Style Dressing $13.70
Ham and Swiss is a proven winner. So are the Dallas Mavericks. Sure, the Russian dressing is a little weird, but so is Shawn Marion's new blond hair. Coming off an NBA title season, it's just not smart to bet against these guys, especially with Dirk Nowitzki looking more and more like the next Bond villain. Count on the Mark Cuban All-Stars to maintain their veteran grasp on the Western Conference while also leading the league in Ben-Gay use.
#4 Oklahoma City Thunder
PASTRAMI, SWISS CHEESE and COLE SLAW Russian Style Dressing (the classic #19) $14.45
The #19 is a thing of beauty. It's the perfect blend of ingredients that come together to form the sandwich version of Captain Planet. Like the #19, the Thunder are the right combination at the right time. Durant is a beast, Westbrook is one of the top dudes at his position and the Serge Ibaka/Kendrick Perkins backcourt will you haunt you in your sleep. Would anybody want to draw these guys in the playoffs? Not a chance.
#5 Boston Celtics
TURKEY, TONGUE and ROAST BEEF Three Decker with Tomato and Russian Style Dressing $18.95
Another triple decker, but this one is built specifically for old people. Seriously, does anybody under the age of 50 ever order tongue? With all of their stars approaching AARP eligibility (Jermaine O'Neal at center? REALLY?), the Celtics have one last run for a title. As long as their bodies hold up over the rigors of this condensed season, they'll have a shot to make it back to the Finals. Kevin Garnett should never be underestimated. If he finds out that you underestimated him, he'll rip out your plasma and insert it into his knees. Honestly. That's how he's still able to play after all these years.
#6 Memphis Grizzlies
CREAM CHEESE and JELLY $6.50
Have you ever had a cream cheese and jelly sandwich? No? You're missing out, dude. That's a fantastic under-the-radar sandwich. Same goes for these Grizzlies. If the playoffs last year are any indication, these guys are going to be sneaky good this year. Catch a game of Lionel Hollins' squad if you can because they're really fun to watch and with last season's starting five back in force, the Grizzlies are going to rack up some big wins this season. Tony Allen for President 2016.
#7 New York Knicks
PASTRAMI and CORNED BEEF COMBO $16.25
The Knicks made a huge upgrade to their frontcourt by signing Tyson Chandler, but this team is still all about Melo and Amar'e (aka The Pastrami and Corned Beef Combo). If you like points, you'll love the Knicks and with Mike D'Antoni's offense, it wouldn't be much of a surprise if they averaged 200 points a game. As long as nobody gets hurt, this will be the first Knicks team in years that puts up a fight.
#8 Los Angeles Lakers
FRESSER'S SPECIAL SANDWICH Pastrami, Corned Beef, Tongue, Swiss Cheese and Turkey, Lettuce, Tomato and Russian Style Dressing $25.95
Just like the Fresser's Special, you get a little bit of everything with the Lakers: nerdy injury-prone center, Spanish power forward/floppy hair model/future doctor, and Kobe Bryant. The problem is, the whole thing is entirely mismatched (turkey and tongue? Pau Gasol and Metta World Peace?) and way too expensive. While you might enjoy the sandwich at first, there's a good chance the whole thing could fall apart after a few bites and the same holds true for the Lakers — new coach, no Odom, and Kobe's about to turn 60. This team may not even have the stamina for a 66 game season, but they're the Lakers and Kobe's a Jedi so it's not wise to doubt the Purple and Gold.
#9 San Antonio Spurs
IMPORTED SARDINES $8.95
A Frenchman, an Argentine, and a guy from the U.S. Virgin Islands walk into an arena... Do you know how this joke ends? With Gregg Popovich laughing all the way to the playoffs with his team of Imported Sardines. They may be heavy on foreign-born players – don't sleep on Brazilian big man Tiago Splitter – but basketball has become an international language and the Spurs speak it fluently. They're another example of a veteran team who can still get the job done. (See also: Mavericks, Celtics, Lakers, Suns) Shout-out to NBA sandwich guru Matt Bonner. Holla.
#10 Los Angeles Clippers
PASTRAMI Cole Slaw, Russian Style Dressing $13.70
Ladies and Gentlemen, the most exciting team in the NBA: Your 2011-2012 Los Angeles Clippers! What? Seriously. With the best off-season of any team in the league, the Clippers are the talk of the town. They're not just the Blake Show this year. Look at who they've added: CP3, Caron Butler, Chauncey Billups. The Clippers are stacked with talent. Unfortunately, they're also stuck with Vinny Del Negro as a coach which means they're one step below the Thunder in terms of "Exciting Young Western Conference Teams." Sandwich-wise, they're just like OKC but missing one ingredient (in this case, Swiss cheese). It's going to be fun to watch the Clippers this year*.
(*That's literally the first time that sentence has ever been written.)
#11 Houston Rockets
HOT CORNED BEEF, Sauerkraut and Swiss Cheese Grilled on Rye $14.50
It doesn't get much more solid than a corned beef reuben and the same goes for this year's Houston Rockets. Kevin Martin and Luis Scola are seriously dependable, Kyle Lowry is looking to capitalize on last year's breakout season, and Chase Budinger is going to surprise a ton of people this year if he can stay healthy. If Houston can find some consistency with their big men, they may be saying "Yao who?" by the end of the season.
#12 Orlando Magic
CHOPPED LIVER and PASTRAMI Russian Style Dressing $13.70
Everything for the Magic depends on the Dwight Howard situation. If he stays, they might be fine. If he leaves, they instantly drop to the bottom half of this list. Right now, the Magic are a team with one great ingredient and a lot of chopped liver. No Dwight = just chopped liver. As long as D12 stays on the roster, they can still do a lot of damage.
#13 Indiana Pacers
BURGER MELT on a Bun $13.25
Juicy Ground Beef, Melted American Cheese, Served with Onions, Pickles, Cole Slaw and French Fries
It doesn't get much more American than this. Sometimes you want a fancy sandwich and sometimes you just want a cheeseburger. The Pacers are the cheeseburger. Scrappy, gritty, hard-nosed, over-competitive – pick any synonym you want, as long as it means "tough." These guys won't win any awards for the most graceful team in the league, but they will win games. They will also break some noses. The 2011-2012 Pacers are the 1987-1988 Pistons with less scoring. It's burger time in Indianapolis.
#14 Atlanta Hawks
EGG SALAD $6.95
Same-old, same-old. It seems like the Hawks have had the same exact team for the past decade. Five years ago, everyone was excited about their potential. Unfortunately that potential is gone and now the entire city of Atlanta is sad. Josh Smith and Al Horford have incredible physical gifts. Joe Johnson is a dead-eye scorer with a massive contract. Are you excited to watch these guys play, though? No, because they've become the equivalent of an egg salad sandwich.
#15 Portland Trail Blazers
BACON and EGG $8.95
Poor Blazers. So much potential, so much calamity. These guys seem to have an infestation of injury bugs in their locker room, which is so sad because on paper, they look great. They go together like bacon and eggs on a sandwich, but you can't really enjoy the sandwich if it's wrapped in gauze. If they get everyone healthy at the same time, they could really make a dent in the West. Until then, they'll have to settle for Greg Oden winning MVP of his physical therapy clinic. RIP Brandon Roy's Career.
#16 Golden State Warriors
CALIFORNIA CHICKEN BREAST $10.95
Okay, fine, the Warriors only got matched up with the California Chicken Breast because they play in California. That doesn't change the fact that they've got unbelievable upside this year. With Mark Jackson taking over for Keith Smart, they'll have some more stability in the captain's chair, even if it comes with Jackson's laundry list of catch phrases ("Mama, there goes that man!"). Plus, Steph Curry and Monta Ellis are instantly credited 20 points each just for stepping on the court. Sadly, with Kwame Brown at center, a team can never elevate themselves past #16 in any power rankings. Ditch Kwame (and keep Curry's bum ankle healthy) and the sky's the limit.
#17 Denver Nuggets
WHITEFISH and CREAM CHEESE $14.95
The Nuggets are paired with whitefish and cream cheese for the mere fact that half their team is stuck in China and whitefish and cream cheese sounds like the filling for a terrible version of that disgusting Americanized Chinese classic: crab rangoon. With K-Mart, J.R. Smith, and Wilson Chandler all unavailable (for the time being), the Nuggets will have to make due with what's left. Fortunately for them, they actually have a pretty respectable team right now. Re-signing Nene and Afflalo were both great moves and this team is surprisingly deep. It'll be interesting to see how they perform this year.
#18 Philadelphia 76ers
TUNA MELT $10.50
Just because they're starting the season at #18 doesn't mean they'll finish there. The Sixers have talent at almost every position and if they can build off of their momentum from the second half of last season, they'll have a great shot at making the playoffs again. That's why they're the NBA equivalent of a tuna melt: you never think about it (them), but when you actually order it (watch them) and it comes out well (they win), it's always a welcome surprise. That was a confusing analogy. Sorry.
#19 Milwaukee Bucks
SUPER DOG on Long Onion Roll $6.50
Don't expect too much from the Bucks this year. They may have finished last season strong, but Year Four of the Scott Skiles system is usually the "Tune Out Scott Skiles" year. With Brandon Jennings running the point and S-Jax playing the two, this is a team full of individuals who don't exactly play as a complete unit. Throw in Drew Gooden, the league leader in calculator watches and you've got a team full of hot dogs.
#20 Phoenix Suns
GENUINE SWISS CHEESE $7.95
This team would have been great in 2002. Right now, though, there's a lot of holes – hence the Swiss cheese. It's baffling that Steve Nash and Grant Hill are still productive members of the league, but somehow they are. The Suns apparently have a water fountain in the locker room with free-flowing water from the Fountain of Youth. One thing's for sure: any team with Bassy Telfair on its roster isn't that serious about winning.
#21 Utah Jazz
SKINLESS CHICKEN BREAST $8.95
The most boring sandwich on the menu for the most boring team in the league. Are you asleep just thinking about them? Yep. Thought so.
#22 New Jersey Nets
HOT PASTRAMI and TOMATO Russian Style Dressing $13.70
One fantastic ingredient. Some Russian influence. Two components away from being really good. Are we talking about the team or the sandwich? It doesn't matter because this team mirrors their sandwich perfectly. If they can lure Dwight Howard to join them when they move to Brooklyn, they instantly jump at least ten spots. Until then, though, Nets fans will have to settle for a very good floor general and some not-so-good troops.
#23 Sacramento Kings
HOT BRISKET of BEEF $15.50
Mashed or Boiled Potato or Fries & Choice of Gravy
Going with the hot brisket open-faced sandwich is never a bad choice, but in reality, it doesn't deserve being in the same section as the rest of the sandwiches. Truth be told, it should really be moved to another area. Sound familiar? The Kings could be great. There are good, young pieces all over the roster. They just have to get out of Sacramento. They also need to find a way to trademark the name Jimmer.
#24 New Orleans Hornets
ROAST BEEF Lettuce and Tomato, Russian Style Dressing $13.70
This is a tough call, because the Hornets have some pretty good pieces, especially with Eric Gordon leading the swarm. If CP3 couldn't make them good, though, it's hard to believe they'll be able to do much with the B-level starters they're left with. They could still surprise you, though, like a good ol' fashioned roast beef sandwich – not that exciting, but once in a while it really hits the spot.
#25 Washington Wizards
HOT PASTRAMI, Sauerkraut and Nippy Cheese Grilled on Rye $14.50
Great players, but these guys are still trying to figure out how they all work together. John Wall is going to be a Top 5 PG one day. Nick Young can score like crazy. Rashard Lewis is really rich. JaVale McGee has a great mentor in his mom. You'd think they could actually be pretty good if they could make it work. Unfortunately, that hasn't happened yet. Also, what's Nippy Cheese? Sounds like the perfect nickname for JaVale.
#26 Detroit Pistons
HOT PASTRAMI with Cream Cheese and Sliced Tomato $14.45
Just as this sandwich doesn't belong on the menu, these guys kind of don't belong in the league. They'd dominate the Euroleague, though. Come to think of it, I bet hot pastrami and cream cheese would be pretty popular in the Euroleague. Kyle Singler, you want to do some investigating before you come back to the Pistons? Maybe he can convince everyone else on the team to join him in Spain.
#27 Minnesota Timberwolves
PEANUT BUTTER and JELLY $5.50
These are children. This is what children eat.
#28 Toronto Raptors
SWISS, BACON and TOMATO Grilled on Rye $9.95
This was the most Canadian sounding sandwich on the menu. It also sounds like exactly the type of sandwich you'd want to forget about. The Raptors are the same way – you just want to forget about them. They have no superstars, no rookie potential, and they just signed five guys that would probably have trouble finding work in the D-League (Rasual Butler, Gary Forbes, Aaron Gray, Jamaal Magloire, Anthony Carter). Welcome to Toronto, Dwane Casey.
#29 Charlotte Bobcats
CHOPPED LIVER $9.95
When your best player is Tyrus Thomas, you don't get a lot of respect. What are they, chopped liver? Yes. Yes, they are. The upside? Another lottery pick! Congratulations, NBA's best example of small market teams not working. Time for another name change?
#30 Cleveland Cavaliers
CHOPPED EGG and CHOPPED LIVER Open Face $9.95
Who in the world is ordering this sandwich? It's gross. Don't even look at it. Same goes for the Cavs. The Kings of Comic Sans will most likely not be grabbing many Ws this year. Kyrie Irving may turn into a superstud, but it's not going to happen anytime soon. Maybe they'll find a way to draft LeBron again...