Party Cider And Rosemary Popcorn Recipes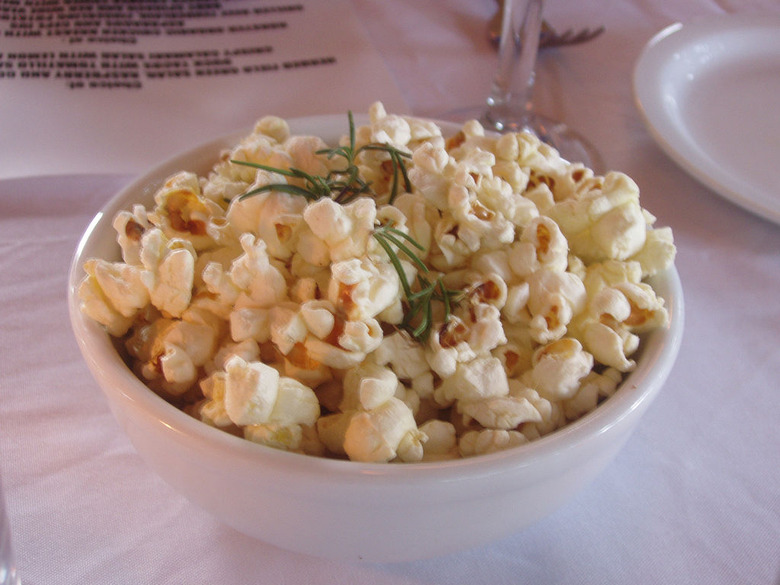 Happy Chrismahanukkwanza!!
Whether you celebrate Christmas, Hanukkah or Kwanzaa, the best part about this time of year is the parties, plus all the food and drink that is served at those parties. So snuggle into your ugliest Bill Cosby sweater (or other suitably colorful sweater, preferably with Santas or snowflakes on it) and get your hosting on with these recipe ideas for a festive cider and a tasty vegan popcorn snack.
Ayinde's Spiked Jolly Party Cider
1 apple
1 orange
2 teaspoons whole cloves
2 quarts apple cider
1/2 cup light agave
1 teaspoon whole allspice
Pinch grated nutmeg
1 cup whiskey
garnish with a cinnamon stick
Directions:
Wash and stud the apple and orange with the cloves.
In a medium pot, combine the studded apple and remaining ingredients except the whiskey.
Slowly bring to a simmer over low heat.
Simmer for 10 minutes.
Remove from the heat and add the whiskey.
Discard the orange and apple. Ladle into mugs and garnish each with a cinnamon stick. Serve immediately.
---
Rosemary Scented Popcorn (Vegan)
½ Cup vegetable oil
2 Tablespoons fresh rosemary, chopped
½ Teaspoon crushed pepper flakes
2 Cups popping corn
4 Tablespoon Earth Balance buttery spread
Directions:
In a large pot heat oil on a medium high flame until hot and shimmering (almost the consistency of water).
Add rosemary and pepper watch to see the herbs defuse (10-15 seconds) add popcorn to oil and cover.
When you hear the first kernel pop begin to move the pot around the flame by the handles in a constant circular motion to prevent burning.
Once the popping slows that means enough corn has popped.
Remove from flame and a dump into bowl.
Melt Earth Balance into the still hot pot and drizzle over the corn, mix with a large spoon add salt to taste and enjoy.
---
Food Gifting
I thought this gift idea from my friends at the PPK was pretty awesome to take to a potluck. It's food and a gift! Two in one. Punk Rock cookie Jar mix.
Have happy holidays and lots of cheer!