Hanukkah Cooking Traditions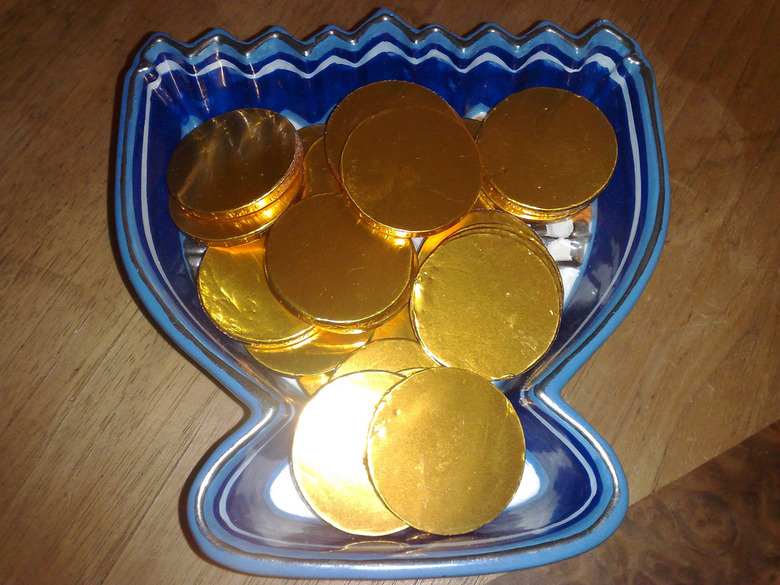 We may receive a commission on purchases made from links.
Check out the Hanukkah-style Caprese Salad Recipe featured in this article.
Growing up in a left-leaning conservative Jewish family, Hanukkah was fun – gifts (oh, the gifts – Matchbox cars and He-Man and wrestling figurines) every night for eight nights, spinning the dreidel with my sister, "lighting" the electric orange-bulbed menorah that sat on our window sill with my mom (sans prayer) that faced a Christmas light-heavy street on Staten Island, and eating Hanukkah gelt (those gold-foiled wrapped chocolate coins packaged in yellow netting) and oddly shaped (even for shredded potatoes) latkes.
As I aged, like an adequate Manischewitz, the gifts were still bountiful, but the traditional foods became nearly defunct. My mother just didn't have the "strength" or "patience" to "slave over" a "hot stove" to make latkes because they were "messy." I didn't quite miss them because as my palette became more refined, I realized the latkes just weren't that good, no matter how much sour cream or applesauce you used.
When I met my now wife, who's Italian-American and Catholic, she instantly gravitated towards the customs of the Jewish faith. The first holiday season we were dating, in 2007, I honestly cannot remember what we did, but for Hanukkah 2008, she and I decided to take the reigns on hosting the holiday's dinner. Just less than six months after we traveled together through Italy, we came across the cookbook, Classic Italian Jewish Cooking by Edda Servi Machlin, who is from Pitigliano, Italy, a village in Tuscany that was once home to a dynamic Jewish community and culinary traditions that married ancient Jewish dishes with local ingredients. The first dish we served at our first annual Festival of Lights Feast of Festive Foods was from Machlin's book – Jewish Caponata, a classic Italian feast of slowly cooked eggplant, peppers, tomatoes and olives with a hint of sweet and sour. In keeping with the Hanukkah tradition of cooking in oil and Italian-izing it up, we also served Mozzarella in Carrozza, fried mozzarella sandwiches. Our entrée was Vitello col Vino Rosso, veal chop sautéed in kosher red wine, sided with carrot and mascarpone puree. That last one may not have been kosher from a dietary restriction policy by mixing meat with dairy, but our Jewishness is slightly askew, so who can blame us for further combining Jewish and Italian cuisine?
We did have a latke course, which we tried "firing" à la minute. They were delicious, but I need to apologize to my mom for not wanting to make these every year. Making latkes are tedious (your arms get quite the workout from shredding the potatoes) and messy (flour was everywhere) and not the ideal dish to make on the fly in a tiny apartment.
In between each course we exchanged presents and sipped kosher wine that was paired with each course. Also at this dinner, we celebrated the news that my sister and her husband, via their daughter who wore a shirt that read "Big Sister," were expecting their second child.
Our second annual dinner, though the menu said third annual FoLFoFF, we didn't have much of a theme. We made salmon cakes with dill crème fraîche, spicy chicken liver pâté with vegetable crackers; oven-fried chicken with fried zucchini (there's your Hanukkah theme) and finished it off with potato latkes with sour cream and apple sauce; my wife also made her mother's taralli cookies (there's your Italian influence).
In 2010, FoLFoFF's theme was Spanish and referred to as "The Oiled Up Version." Coming off a honeymoon with time spent in Spain, we decided to implement simple tapas and other Spanish cuisine. Our family indulged in garlic oil marinated anchovy and olive sticks as the lone pass-around. Our two appetizers may sound repetitive and typecast us as hosts, but citrus-cured salmon (this time we cubed the salmon and bathed them in warm rosemary oil) and spicy chicken liver pâté are simple to prep. Our entrée was more Mexican than Spanish – brisket tacos with tomato chipotle sauce, accompanied by fiery potatoes with sour cream –but nobody noticed. Our latkes veered towards somewhat healthy as we eliminated the starchy potato and served zucchini latkes with tomatillo applesauce. Part of the dessert was phoned in. We didn't have time to make sufganiot, traditional deep-fried jelly doughnuts, so we picked up a dozen jelly doughnuts from Dunkin' Donuts. However, we did combat the fugazi doughnuts with olive oil gelato (vanilla gelato with olive oil drizzled and sea salt sprinkled on top). There was also a cherry and chocolate tart in there somewhere.
This week, our fourth FoLFoFF theme is "Get Down Home with Southern Fried Hanukkah." The menu will be Frickles (fried pickles), Hanukkah-style Caprese Salad (fried green tomatoes with mozzarella in carrozza), Sweet Potato Latkes, Fried Chicken Biscuit dipped in honey and barbecue sauce, paired with fried mac 'n' cheese, and fried Oreos for dessert.
Since taking over cooking Hanukkah dinner, the holiday has tremendously changed for us. The gifts exchanged between my wife and me, and my family, are not what they used to be, and the food has become the main component of our celebration. Come January, my wife and I are expecting our first child, so by the time 2012's FoLFoFF comes around our baby will be about 11 months old. A new face will be at our holiday dinner, but same old-new traditions will be present – great food, mixed cultures, family and a kid's menu.