A Nod To Eggnog, And 3 Alternatives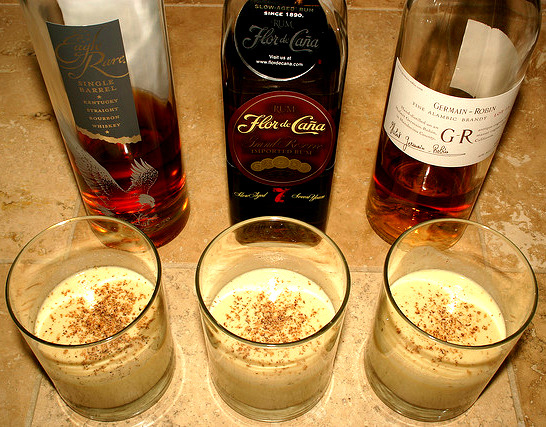 Vegans and the lactarded, avert your eyes! We're going to be talking nog here. Eggs, milk, cream. Hardcore dairy. You've been warned.
They say it was the British gentry who first made eggnog popular. Apparently, eggs and dairy were not readily available to poor folk in Georgian England and drinking a mixture of the two really stuck it to the underclasses. Of course, these items were rather ubiquitous in the New World, and the tradition of eggnog migrated to America where it could be enjoyed by all. Nowadays, it's easy to forget how heavy the building blocks of the yuletide drink really are when most of us buy it in a red-and-green milk carton at the supermarket.
Make no mistake: true eggnog is like a batter. The ingredients include raw egg yolks – lots of them – plus milk, cream, sugar and baking spices. Toss a few slices of bread in there and fry them and you have yourself some fine French toast. Add gelatin and you have a thick custard, worthy of piping into the flakiest pastry. A cup of flour mixed in and it's pancakes: good morning!
Drinking more than a glass of the stuff is tantamount to eating more than one of Paula Deen's deep-fried butter balls. (One is OK, if only to satisfy your morbid curiosity.) Serving it to your guests, all dolled up in their holiday best, can only ensure that belts will be loosened along with ties. Bellies will bulge. There will be gas. Sorry to be crude.
But there are alternatives to serving eggnog at your holiday party. Cocktail enthusiasts are stuck on the Tom and Jerry, an eggnog variation served as a warm punch. It's somewhat lighter than nog, calling for just as many eggs, but no cream. It also contains milk, but this can be diluted with warm water. Plus, it's quite a bit boozier, made with both brandy and rum. Don Circle, the mixologist at Bar Henry in New York, has a great – if painstaking – recipe.
In certain parts of the country – like, say, Spanish Harlem in New York – nog is forgone in favor of Coquito, a cinammony Puerto Rican take on the Christmas cocktail. The recipe doesn't require you to risk your digestive health by ingesting raw egg yolks. Instead, Coquito gets its creaminess from coconut milk, evaporated milk and sweetened condensed milk. Lynnette Marrero, president of LUPEC (Ladies United for the Preservation of Endangered Cocktails) shares her recipe for it.
At this point, you might be thinking to yourself, is there a Mexican version of eggnog? There is! It's called rompope and it dates as far back as the 17th century, when it was made in the convents of the city of Puebla. The Pueblan nuns had a sweet tooth, but they didn't overdo it. Rompope makes use of egg yolks and milk and, oftentimes, almonds or walnuts for a hint of nuttiness. The drink is still served today, dispensed by street vendors over crushed ice, like a snow cone. Chris Milligan, of the Hotel St. Francis' Secreto Lounge in Santa Fe, shares his recipe for rompope here.
Other variations on eggnog include Venezuela's ponche crema, Germany's eierpunsch and Holland's advocaat. Still, if you must nog it up this holiday season, here's a pretty traditional recipe from Eryn Reece of Mayahuel in New York City.
We also recommend using the batter-like drink as, well, batter. Eggnog French toast will make your morning after just as festive as the night before. Whether or not you hold the rum, we'll leave to your discretion.
Recipe Recap: