White Christmas, Black Beer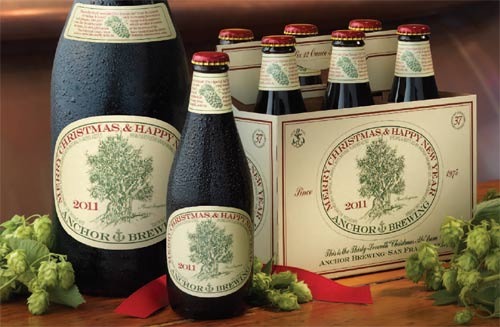 For some beer drinkers, there is nothing as sweet as staring down into the dark depths of a pint of black beer. Utterly terrifying to their pale-ale-drinking brethren, porters and stouts are like Christmas in a glass for black-beer lovers. And why wouldn't they be, with their caramelized flavors and chocolatey aromas. But it begs the question: Why are black beers so scary to certain folks? Is it their ominous color? Their sinister opaqueness? Or are the inkiest of ales just sorely, sadly misunderstood.
"A lot of people will tell me off the bat, 'I don't like dark beers,'" says Jack Harris, the brewer at Fort George Brewery and Public House in Astoria, Orgon. "They either had a bad experience in the past or maybe they think darker beer is stronger. But that's definitely not always the case."
Fort George produces a number of stouts, enough to fill a festival, which they do in February, during their annual Stout Month. The Festival of Dark Arts is a tongue-in-cheek celebration of dark beer, complete with belly dancers, tattoo artists and tarot card readers. Mostly though it's an opportunity to taste through the brewpub's lineup of black beers, including a chili pepper stout, coffee stout, bourbon barrel-aged stout, fruit stout and oyster stout.
"One of the reasons we started Stout Month is because all these beers can look exactly the same," explains Harris. "But when you taste them blind, which we do a lot of during the month, you can get all the different tastes and smells without anticipating what it will taste like from just looking at the color."
For most people, the first black beer they get down their gullet is Guinness, said to drink like a meal although it's actually about equivalent to Budweiser, calorically and alcoholically speaking. It's a dry stout, but there are so many different stout styles that run the gamut of sweetness and mouthfeel that it hardly seems fair to have them all under one umbrella. Milk stout is sweet, oatmeal stout is oaty, chocolate stout is... well, you get the idea.
Of course, before stout, there was porter. Originally, it was a beer style that the working class – specifically, porters – favored. It gave way to stronger, or 'stout' porter, which eventually became its own style. Beyond ales, there are black lagers, like Germany's schwarzbier, which tend to be lighter-bodied and milder than stout.
In the last few years, a new style has emerged in the U.S. referred to as Black IPA, and along with it a fierce debate over both what it should be called and whether it should even exist. (Surely, even stout faced its critics back in the day.) Also known as India Black Ale and Cascadian Dark Ale, it's essentially a hoppy, aromatic beer, like an IPA, brewed from roasted malts that impart a dark color. It's a hot trend among craft brewers and many are rushing to make their own version.
Harris says he prefers to avoid trends when they're trendy, but might try making a Black IPA somewhere down the line. For now, he's focused on stout, having just released his Cavatica stout in cans. He likes to pair it with richer foods and desserts, like chocolate. Also, seafood.
"When we do our Stout brewers dinners, we do stout and oysters," he says. "But I could drink stout and eat a candy bar. Like, a Payday."
Grab your favorite sweets or shellfish and try one of these five black beers now:
1. Fort George's Cavatica Stout: Available in the Northwest, Fort George's Imperial Stout is made from organic black barley and roasted and chocolate malts. Big and bold, at 8.5% ABV, it has a creamy head and gentle effervescence.
2. Köstritzer Schwarzbier Black Lager: This light-bodied, richly flavored German beer is brewed from an ancient recipe. It's got decent bitterness, and ample, brown sugar sweetness. At just 4.8%, it's not a black beer to fear.
3. 21st Amendment Back in Black IPA: An example of the Black IPA/Black Cascadian/India Black Ale style, its bright citrusy aromas are balanced by malty, caramelized notes.
4. Captain Lawrence Smoked Porter: Surprisingly plummy with a smoke that's more roasted chestnuts than bacon, this smoked porter is addictive, and made for slow sipping. Available in the Northeast.
5. Anchor Brewing Christmas Ale: The name says it all. Full of baking spices, this medium-bodied brew is sweet on the tongue but dry on the finish. It comes in a massive bottle, perfect for giving as a gift (if you can bear to part with it).
---
More craft beer coverage on Food Republic: