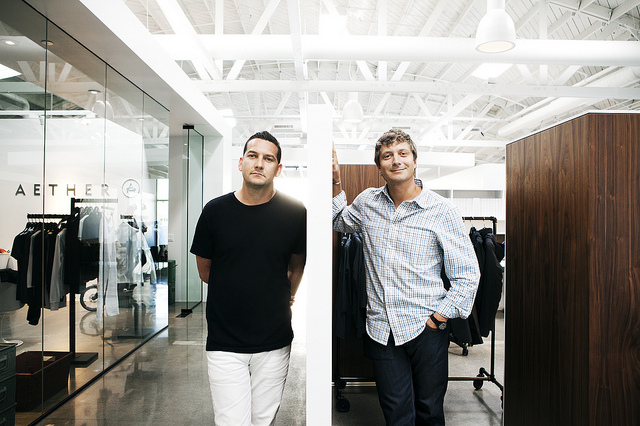 "Don't dress for others. You'll look like a fool and won't feel comfortable," Palmer West tells us. It's the best style advice he's ever received, and a maxim he lives by everyday, as exemplified in Aether Apparel, the line of outdoor activewear he co-founded with Jonah Smith.
Nearly three years ago, the two gave up their day jobs as film producers in Hollywood to create a brand of outdoor apparel for the post-30 set. "At some point it's like, where do you go when you graduate Burton and Quiksilver?" says Smith. "We wanted a brand that was authentic and technical, but didn't make you feel like you were a teenager." The resulting collection is a sophisticated blend of style and function, seen in the sleek lineup of insulated jackets and shells, microfiber swim trunks, all made to work as well in the Hollywood hills as in the Grand Canyon. Here, West and Smith tell us about their outdoor pursuits — which included driving an Airstream trailer cross-country and setting it up as a pop-up shop in various cities — as well as cooking for kids, and the next big breakfast trend: lunch.
What kinds of sports are you both into?
Jonah Smith: We're big snow sports people. I snowboard, he skis. In addition, I ride bicycles, I mountain bike and we do these long motorcycle trips.
Are you surfers?
JS: I do it on occasion, but I wouldn't say I'm a great surfer.
Is fitness a big motivation for either of you?
JS: It's a hobby. Being a weekend warrior isn't necessarily a bad thing. So we try to attack and go after people who have jobs in cities and urban environments, but on weekends they want to get out and play. The lifestyle thing — we're working hard and playing hard.
How do you fuel yourself up for all that?
Palmer West: Breakfast is key. I don't make it far without it. I prefer lunch foods over breakfast, though, so I tend to have lunch, then lunch, followed by dinner. This morning I had leftover homemade chicken pot pie — goes great with coffee.
Palmer, we hear you like to cook.
PW: I love to cook. So many things in life take a long time to accomplish, but cooking ever night helps even out the long-term goals with a lot of instant gratification. Plus, as soon as I became a dad, I realized why my mom cooked every meal for us growing up. Sounds sappy, but it gives me a ton of joy to know my boys are eating right, learning about food, and trying new things all the time.
What about your dining-out habits? Did kids change that?
JS: Of course! Yeah…it's much harder. Our lives have definitely changed dramatically. But for a while, with our first child we'd go out a lot. We'd just bring him places in the car seat. But once they hit one or two it gets kind of hard because they want to walk everywhere. But for the past two years, we've been going out to restaurants two or three nights a week with my son, and it's great.
Do you pay attention to food labels?
JS: I do. Especially when shopping for home. It's a little harder eating out.
PW: I try my best to stay away from processed foods, so I don't need to read as many labels. Most labels I read come from flavor curiosity — to learn more and get a leg up when I try to recreate something from scratch.
What's your drink of choice?
JS: Vodka on the rocks with lime.
What kind?
JS: Ketel One.
I saw the Macallan in your pop-up trailer.
PW: I married into a Canadian/Scottish family, so drinking Scotch — neat, of course — is part of their family gatherings. My favorite single malts are Highland Park and Macallan.
Where are some of your favorite places to eat in LA?
PW: Irv's Burgers, Providence on Melrose, Chef Marilyn's Soul Food Express.
JS: Little Dom's on Hillhurst. Loteria in the Farmer's Market, which is the best Mexican.
It's an understatement that Los Angelinos are pretty passionate about their Mexican food, huh?
JS: I think it's a totally different level of Mexican food in Los Angeles than on the East Coast. I grew up in Connecticut, and Mexican food there was pretty bland, and refried…just a lot of cheese dumped on everything. In California it feels a lot more exciting.
Even New York City, with all its diversity, still gets a tough wrap for its Mexican offerings.
JS: Yeah, I don't know if I've ever had good Mexican food in New York. Texas has good Mexican food — obviously.
I actually had the best Japanese food I've ever had in Austin, which was a surprise — at Uchiko.
JS: Huh, really? I spent a lot of time down in Austin because I made two movies there, but I was always eating barbecue. And everything was fried.
Well, you kind of have to do the barbecue when you're there — you're in Hill Country.
JS: Yeah, but every time I'd come home, all I'd want to do is eat a salad.
---
More style guys on Food Republic.