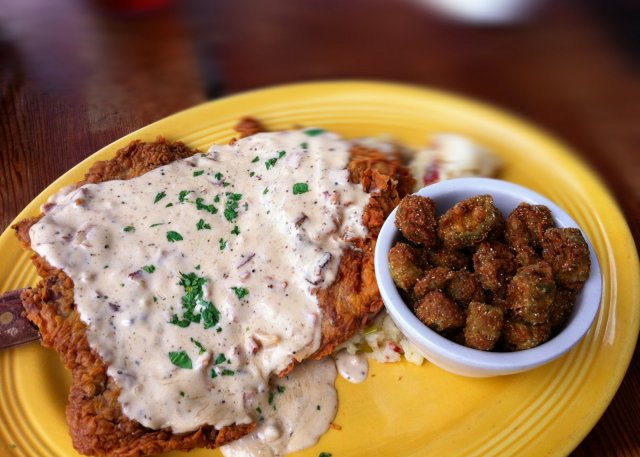 Austin is probably the best dining city in Texas, and here are the 10 best places to eat right now for everything from barbecue brisket and Tex-Mex to slow-roasted goat, sublime sushi and, well, the fine art of porch sitting.
1. Foreign & Domestic
The music rocks. The crowd is young and fabulous. The husband-and-wife chefs are brilliant. But there's really only one thing anyone needs to know about F&D: Duck fat fried chicken with goat heart gravy and biscuits. Well, that and an excellent yogurt sorbet with dried cherries and dill syrup. 306 E.53rd St.,
512-459-1010
2. Barley Swine
Chef Bryce Gilmore parlayed a food truck (here they're actually trailers) into his first brick-and-mortar, where he serves an interesting small-plates menu of things like corn-battered pig face with pickles and deviled egg, plus one of the best beer selections in Austin. 2024 South Lamar Blvd., 512-394-8150
3. Takoba
This year-old taco hut has one of the best margarita gardens in town, plus a killer weekend brunch with migas and menudo. 1411 E. Seventh St., 512-628-4466
4. Iron Works
Food tourists and music geeks alike have been raving about the new Franklin's BBQ (3421 N. I-35, 512-653-1187), but for my money, the barbecue to beat in Austin—especially for Texas-style beef sausage and slow-smoked brisket—is the 33-year-old Iron Works. 100 Red River St., 512-478-4855
5. Frank
Homemade hot dogs. Beer. And maybe the best coffee in town. In the heart of the warehouse nightlife district. 407 Colorado St., 512-494-6916
6. Contigo
Beef tongue terrine and South Texas goat, straight from the ranch, enjoyed outside at picnic tables in the beer pit. 2027 Anchor Lane, 512-614-2260
7. Uchiko
Exquisite Japanese cuisine from owner of the now-legendary Uchi. You'd think you were in Tokyo. 4200 N. Lamar, 512-916-4808
8. Matt's El Rancho
There's been a lot of buzz about the interior-style Mexican fare at the new location of El Mesón (2038 S. Lamar Blvd., 512 442-4441) but, hey, this is Texas, so I still prefer the authentic Tex-Mex (best queso on the planet) at Matt's El Rancho, just down the street. 2613 S. Lamar Blvd., 512-462-9333
9. Second Bar & Kitchen
For the past few years, chef David Bull has operated perhaps the finest restaurant in Austin (Congress), and this is his newish casual spinoff next door with rotisserie chicken, braised short ribs, a great burger and fries. 200 Congress Ave. 512-827-2750
10. Red's Porch
Chicken-fried steak. Beer-battered onion rings. Frito pie. Porch. Lawn chairs. View of the hills. It doesn't get any more Texas (with a wry dose of Cajun) than this! 3508 S. Lamar Blvd., 512-440-7337
---
Food and travel journalist Brad A. Johnson is the only critic in America to win both the James Beard Award and the Cordon Bleu World Food Media Award for restaurant criticism. And his blog at bradajohnson.net just won the prestigious 2011 Lowell Thomas Travel Journalism Award for best travel blog in America.