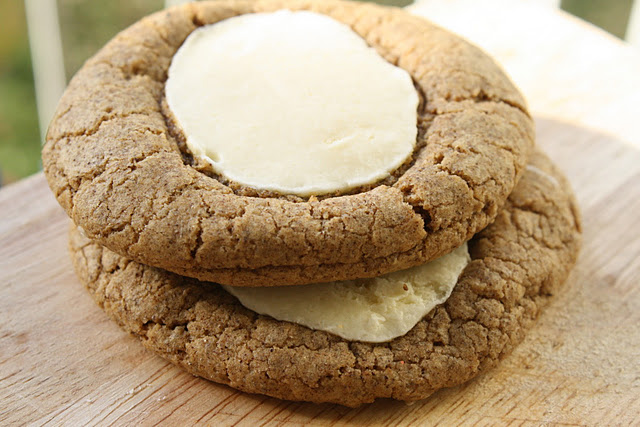 Check out our recipe:
Gingerbread Cheesecake Cookies
Our friends at Food Network are at it again but instead of Virtual Thanksgiving, this time we're all doing a cookie swap. Now we realize it says right in the recipe that we wouldn't use it for cookie swap purposes. It's not really our thing. But then we realized just how hard these cookies rock, and felt compelled to show them off.
Save your easily flattened macarons and rock-hard oatmeal raisin cookies for someone who doesn't like gingerbread or cheesecake, because we took two sweet things and rolled them into one. What do you mean we've been doing that with pancakes for months? Oh, so we have. But that's because we discovered that hybrid desserts of mixed-sweets backgrounds turn out to be the hottest ones of all. No offense to the other contenders, of course. I mean, if Oprah says her sugar cookies are the best, who are we to argue?
Check out the recipes from our swap-mates:
All You Magazine: Pecan and Honey Diamonds
Oprah.com: Sugar Cookies
Gilt Taste: Sesame Ginger Rice Krispie Treats
Liquor.com: Drink In The Holidays
Cooking Light: Iced Sugar Cookies
My Recipes: Ultimate Chocolate Chunk Cookies
Food 52: Ginger Spiced Molasses Cookies
Cooking Channel: The White House's Molasses Spice Cookies
BlogHer: Triple Chocolate Almond Cookies
Cafe Mom: Mini Apple Crisp Cookies
The Daily Meal: Pumpkin Chocolate Chip Cookies
Eating Well: 5 Tips for Perfect Gingerbread Cookies
Redbook Magazine: Candy Cane Cookies
Gourmet Live: Pistachio Cranberry Icebox Cookies
AP/J.M. Hirsch: Ginger Fig Crumb Bars
Fox News: White Chocolate Cherry Oatmeal Cookies
Epicurious: Italian Almond Cookies
Big Girls, Small Kitchen: Cowboy Cookies
FN Dish: Peanut Butter Chocolate Chip Bacon Cookies
Yahoo Shine: Nutmeg Rosettes
Food and Wine: Chocolate-Espresso Snowballs
YumSugar: Coconut Date Balls