Pitmasters Gone Wild In Uruguay: Day 5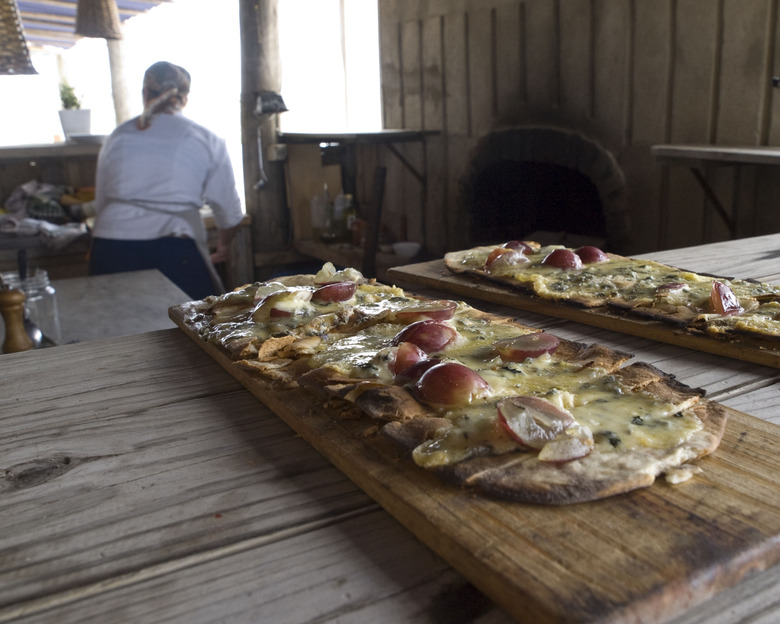 Our Southern "asado" was behind us but we still had two days in front of us. The day after we cooked was incredibly light in the way of cooking and eating. We spent a good portion of it driving far out in the country to an olive oil estate called Lotte 8, touring their groves, processing facilities and tasting their oils. Afterwards some of us relaxed on the beach, enjoyed the coastal town of Jose Ignacio, or just hung out with no ambition to do anything that would compete with the week we enjoyed so far. We had a pleasant but low key dinner at La Huella which is the hip spot in Jose Ignacio.
It was nice but it was also a departure from the intensity we had experienced in our other culinary endeavors. The truly memorable part of the whole day was an after dinner discussion that went late into the night where we considered what Fatback Collective has been, is, and should be. What was resolved is that we are a group of like minded people that have the opportunity to come together and accomplish things collectively that we might not otherwise as individuals. That was all that was final in our minds, completely open to furthering the conversation later and the possibilities of the future.
When we woke the next day our ambitions were to have lunch, get to the airport and get home. What we got was much different. We ate lunch at La Caracola, and it turned out to be one of the most amazing experiences of the trip. We drove down the coast to an uninhabited point with nothing but a large, chic beach hut. From the road it was hard to make much of it. A small john boat ferried us across a lagoon where we ascended a little boardwalk and were met by a luxurious group of people ready to serve us caipirinhas, pass hors d' oeuvres, and let us relax beachside while we waited on lunch. When people send postcards from paradise, it is a picture of this place.
Inside the elegant hut was a large hearth that four adults could have easily walked into. One of the chefs tended to the fire and creating coals in one corner that he fed under a grill in the opposite corner where in true asado style he was cooking meats of all variety. Outside was another grass hut that was more closed off. We were told this was the kitchen and asked for a tour. Inside the kitchen were makeshift tables for food prep and an incredibly simple oven that was home to a whole salt crusted salmon roasting away by hot coals. The salmon would come later for lunch and proved to be incredible from its sauna under the intensely hot salt crust. On the other side of the kitchen space with the cook's lockers plastered with pictures of South American pin-up girls, thus proving that cooks all over the world have a common spirit about all of life's pleasures.
After the kitchen tour several of us relaxed under canopies on the beach where servers brought small plates for us to enjoy. Brochettes of beef—some of the finest we had tasted on the whole trip—were served first. They were actually so delicious that some folks made it a point to drink the remaining juices from the plate. Skewered octopus was passed around next and had a perfectly charred, fire roasted flavor. After tasting it, I began to think that the asado style of cooking may be the most perfect way to cook octopus. With those morsels down we were summoned to the table for the meal, as if we needed to continue to eat.
The chefs served the salmon that had baked in the salt crust, beef, lamb, and chorizo. They had pumpkins that were buried in coal to roast and we scooped the sweet meat from the charred skins. Caramelized beets, fresh lettuces, and the most delicious quinoa I have ever eaten helped to provide a nutritious balance to the meat laden diet we had been on. As we dined, the chefs from Belcampo, who had been so gracious to us all week, ate with us and stressed the importance of their way of life and its connection to their food. Their comment was that life needs to be enjoyed for it to have any real meaningful value and part of that enjoyment comes through their food and culture of the asado.
Once I was fully content from my lunch, I got up from the table to thank one of the chefs for the meal and tell him just how memorable an experience they had created for all of us. He told me I was welcome and then said in his best English, "One of the things we do is what we love." That may have summed up what I learned from the whole trip. It was the perfect thing to hear before we were taken back across the lagoon to climb into our vehicles and begin the long journey home.
As a collective, the Fatback crew had officially made it from Memphis to Montevideo and all through the Uruguayan countryside. Well fed, well educated, and blessed with new friendships, we were ready to disband to process what we had all taken in at a deeper level, apply the best of what we had learned to our lives, and wait with anticipation our next great adventure.
---
Read more about Drew Robinson's asado adventure in Uruguay: