Los Angeles: A Bloody Good Boat Noodle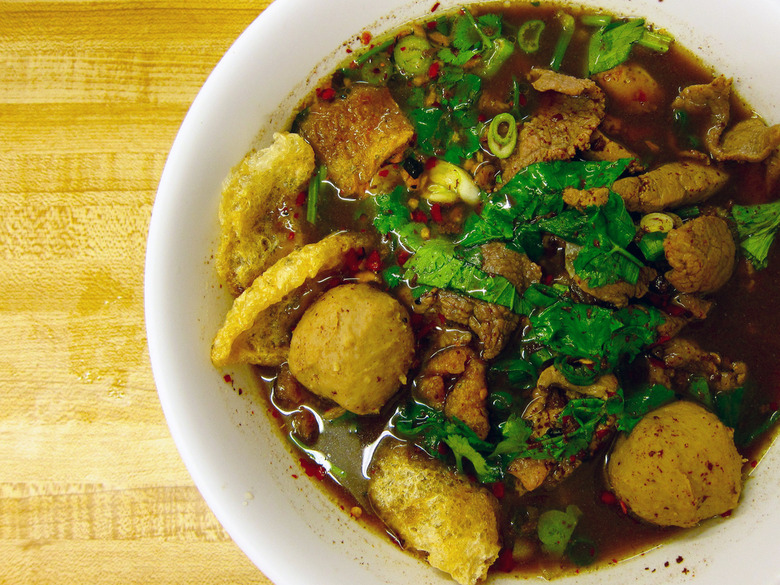 As the eldest son of a doctor and a nurse, I have become numb to blood. Talk of tricky needles was bandied about like baseball scores, and the plentiful sights of IV bags and gauze punctuated visits to my parents' hospitals and nursing homes.
Thus, I am not freaked out by gashes and scrapes, punctures and pricks. Eating blood? One St. Patrick's Day, I began my morn with eggs and blood pudding. The mixture of grains and hemoglobin was desert-dry and intensely minerally, akin to licking an iron bar in the desert. Another time, congee mixed with thick, arterial-toned slices of congealed pig's blood triggered an instant gag reflex. My throat was a one-way street.
But a man can't live his culinary life in fear. So last week in Los Angeles I decided to once more give blood a whirl. After an early morning appearance on Playboy Morning Radio, a radio show that features a former Playmate as an anchor, I convinced my driver—well, friend Steve—to steer us to Saap Coffee Shop for an early morning lunch.
"I'm buying as long as you don't ask what we're eating," I told Steve, who navigated us through the congealing traffic to Thai Town. This slip of Hollywood Boulevard is home to the largest concentration of Thais in America, chockablock with eateries offering plenty of noodle dishes and curries, sweet desserts and sublime oddities such as boat noodles.
Supposedly, boat noodles are named after the aquatic chefs peddling their soupy wares from floating perches. It sounds like a good story if you ask me, a better tale to tell than the ingredients. Though they vary from cook to cook, the broth's star players include long-boiled beef bones, soy sauce, five-spice powder, cinnamon sticks, cilantro, galangal, noodles and edible pig or cow blood.
Following the lead of L.A. cheap-eats svengali Jonathan Gold, I decided to slurp boat noodles at Saap Coffee House. Like much of L.A., Saap is secreted in a shopping mall, the spare, sunrise-yellow room chockablock with tables topped by bowls of chiles. We selected a corner spot and two bowls of beef boat noodles.
"How spicy?" the cute waitress wondered, a question asked 10,000 times a day at Thai restaurants nationwide.
"Thai spicy," I replied, not wanting the farang treatment.
Soon, we received a steaming bowl brimming with a murky-brown, blood-thickened broth, wispy slivers of beef and cilantro clumped together like seaweed on a beach. I dipped my spoon into the dark liquid and tentatively sipped. Instead of tasting like Dracula's dream meal, the broth was lip-sweatingly spicy, but also packed a terrific lime-juice tartness and a deeply rich, almost primal essence balanced by bright and fresh cilantro. From first slurp to last incendiary drop, boat noodles were bloody good.