Meet Pizza Pornographer Greg Barris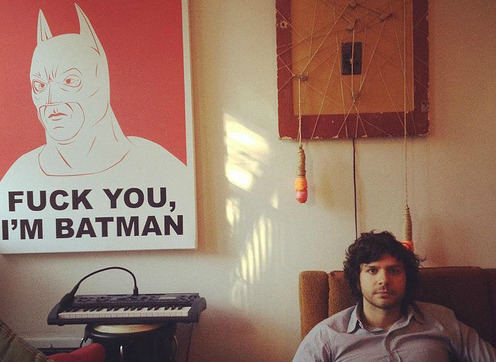 "I'm so boring," says the comedian Greg Barris. "I don't drink. I don't smoke. And I'm looking to find that special someone." (Sheepish air quotes around the last two words.)
Boring is not exactly accurate. Barris is a stand-up comic with an enviable wig and fake mustache collection thanks — at least in part — to professional wig-making parents. His day job involves posing pizza slices in suggestive scenarios for an annual pie pinup calendar his New York City pizzeria puts out.
Splitting his time between NYC and Los Angeles, his touring show, Heart of Darkness, has featured the comedy of comedy heavyweights Fred Armisen, Janeane Garofalo and Kristen Schaal. True, Barris doesn't drink (no, not because he, ahem, "can't") and doesn't smoke, two traits that are rather rare both at the comedy club and in a restaurant kitchen.
"Sometimes I get paid in free drinks. And they don't let you cash those in if you don't happen to drink" he says of his comedy gigs. "Everybody wants me to drink. My family wants me to have wine with dinner. The head chef at the restaurant is always trying to get me to have a beer with him. I think it's because I'm not an alcoholic or anything. I'm just not drinking right now."
When he's not on stage telling you what he likes to do in the shower with his farmer's tan (hint: it involves pretending the brown arms and white body belong to two different people... and you do not want to know who), Barris is a partner in L'Asso, a Neapolitan pizzeria in the Manhattan neighborhood of Nolita. It not only serves some of the best pizza in New York City, but is also plastered in eye-catching original art and often filled with an array of stylish, Vespa-riding Italians. The restaurant's beer program is run by Barris' brother, Thomas, a cicerone-in-training (essentially, a beer sommelier) and a brewer, who works with the Florida Beer Company.
At Barris' insistence, L'Asso uses organic, unbleached and, most importantly, unbromated flour for its dough. He can be coy when it comes to talking about his act, but he's totally earnest and animated when discussing dough. Bromated flour, or flour enriched with potassium bromate, is ubiquitous in the United States, except for in California, where it must carry a warning label. Bromate is considered a level-B2 carcinogen and is banned in Europe and China. Since 1991, the FDA has recommended that bakers stop using it. Most, however, have not. It's in everything from crackers to sliced bread. Barris is passionate about shining a light on issues like "the bromation" of America. He only wishes it was funny enough to use in his act.
"I guess the word 'bromate' is pretty funny."
If teetotal comedians are a rarity (aside from those adhering to the 12 steps), then health junkies are even less common in the stand-up scene. For Barris, self-improvement is a cornerstone of his life philosophy. He spent a stretch adhering to a raw-food diet. When he's not being force-fed sopressata at work, he avoids eating meat. He owns a commercial-grade juicer.
"I'm always trying to become a bit better," he explains. "I do a lot of research online about what foods are good for the brain and stuff like that. Almost everything that's wrong with anybody physically is because of their diet."
Not that this health nut doesn't have his weaknesses. He may not swallow much more than a spoonful of queen bee royal jelly before a show, but afterwards, he craves chips and French fries. He's OK with it. If you've ever been to a Greg Barris stand-up show, you have probably been forgiven by him. One of his bits involves forgiving everyone in the audience, then himself, for any impure thoughts or sins. It's not a vestige of some strict Catholic upbringing; he says it's about "getting to the root of life's problems."
So, does he feel guilty about objectifying the pizza that sustains him, both physically and financially? Nah. The annual pizza pinup calendar L'Asso produces and sells for $15 is more art than porn. Tasteful, he promises, but you should judge for yourself: a whole pie draped over red satin, another sprawled out on the beach, a slice dressed in beefcake leather... sounds tasty if not tasteful. But definitely not boring.