What Would Tim Tebow Eat?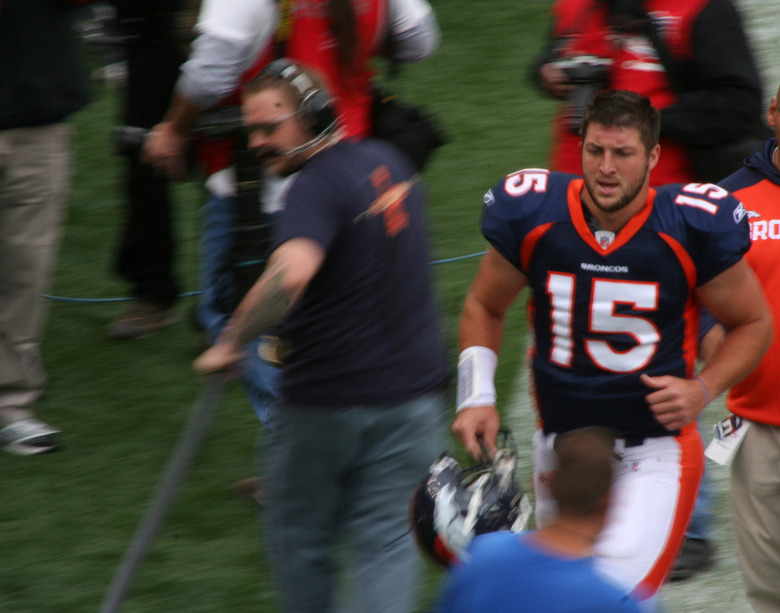 While media pundits debate Tim Tebow's qualifications as an NFL quarterback and marvel over his dramatic comebacks and struggle with his overt displays of religious faith, I've been wondering one thing: What does he eat?
I mostly averted my eyes on a recent Thursday night as this oddball fairy tale of a man confounded the mighty defense of my beloved Jets, but I certainly couldn't turn away the past few Sundays as Tebow heaved passes like an albatross and scampered about like a confused puma — and somehow kept winning! And as I zoomed in closer to Tebow and saw his physique, I thought about his caloric intake, his fitness regimen, whether he ever eats a cheeseburger.
So I sought answers on the Internet. Which was a bit like when Dave Chappelle imagined what it'd be like if the Internet were a real place and wound up with a bagful of stolen music and an eyeful of twisted porn. Innocuous searches such as "Tim Tebow diet" led to pitches for vitamins and enough weight loss pill ads to make a food-loving man run for a slice of pizza. The QB's meme-inspiring kneeling and praying pose, "Tebowing," has led to at least one food & drink – related fad, "Teboozing" and its requisite tumblr page.
I leafed through Tebow's autobiography, Through My Eyes, which yielded some clues. He details his well known backstory about his near-death experience as a fetus and his embracing of evangelical Christianity, but also sprinkles in vignettes about how he would sneak Coke and popsicles during visits to his uncle's house, and how he was raised on a working farm his father bought in foreclosure.
So I imagine he ate a lot of fresh eggs and meat and maybe vegetables and some point, but I couldn't get through the whole book, so I searched on. (Though it should be noted that the four blurbs on the book jacket are by the unlikely combination of Chuck Norris, Tony Dungy, Urban Meyer and Darius Rucker.) There are scattered references to Tebow and food all over the web, including a Denver Post forum that posits that the restaurant owned by Broncos' legendary QB John Elway should feature a "Tebow special," as well as a strange Frenglish blog that lists imaginary sandwiches named after QBs, with a Tim Tebow Club Sandwich described thusly: "Best sandwich on the planet. You couldn't fit any more meat in between two pieces of white bread. I'd bet Tebow's Christian faith that this sandwich will make you praise the lord for creating such a fantastic blend of meat and bread."
A reference to the South Beach Diet agreeing with Tebow turned out to be a reference to the victory that got his incredible run started over the Miami Dolphins weeks back.
For an instant, I thought I was onto something when I found an item that seemed to indicate it would tell me Tim Tebow's favorite food, but it turned out that the site was asking the question rather than providing the answer. It did note that Giants pitcher Tim Lincecum's favorite food is cinnamon rolls, which makes sense.
But it doesn't explain what Tim Tebow would eat. Apparently, nobody can. Just as mysterious as how this guy who wasn't supposed to make it in the NFL has become the talk of the league and made a middling team a contender is what the heck he puts in his hyper-toned body. I'm sure that if I called Tebow and somehow got ahold of him, he'd offer this insight from Corinthians 10:31: "So, whether you eat or drink, or whatever you do, do all to the glory of God."
Update: Just scanned Tebow's twitter feed, where he retweets @billcosby and notes "Big fan of yours... and Jell-O haha."