Gift Guide: 5 D.I.Y. Food & Drink Gifts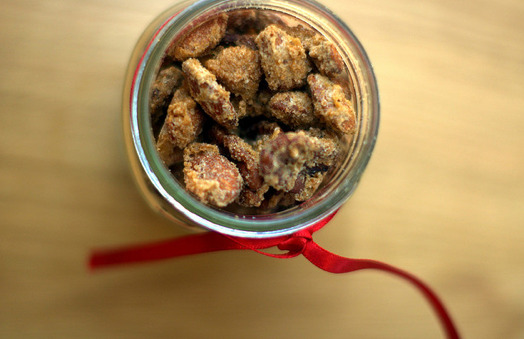 Presenting your family and friends with a homemade holiday gift doesn't have to make you look like the cheap bastard you really are. You can actually play it off as cool (thoughtful even)—and not spend a fortune in the process. Follow our recipes and tips below. And if you feel like really dropping some green, we have some pretty nice store-bought options as well.

Spicy candied bacon fudge
When it comes to dessert (and just about everything else in life,) we sometimes call on the swine.Spicy, candied bacon will add the perfect salty bite to any rich chocolate fudge. For the fudge, simply combine 1 package of chocolate chips with 1 can (14 ounces) of sweetened condensed milk over the lowest possible heat until the morsels are melted. Mix in the spicy candied bacon, and pour the mixture into a baking dish. Allow to cool for a couple hours. Cut your fudge into squares and wrap in parchment paper for some scrumptious no-fuss holiday favorites.
Meat rubs
Throw together some of your favorite spices to create a zippy rub for marinating all kinds of meat. There'sGreek spice rub or an Argentinian chimichurri sauce. Both will keep in a sealed container. Pack in vintage Mason jars for sufficient old-timey effect.
Infused spirits
Chai vodka, serrano tequila and vanilla bourbon all sound like exotic concoctions available only at high-end liquor stores. But why not infuse the spirits yourself for a super-quick gift using bottles already sitting in your apartment or house? If the mood strikes you, come up with your own creative booze + fruit combos or personalize them to your friends' taste. Just combine any lighter spirit (vodka, gin, light rum or sake) with the fruit or spice of your choice and allow to infuse.
Spiced nuts
Paprika adds a smoky kick to just about any nut. Word of advice, double the amount of this foolproof recipe, or else the nuts will be gone before making it to your buddy's holiday bash. Switch out the paprika for cinnamon for a warm, holiday variation of this delicious snack.
Pickle, pickle, pickle, pickle
We've made no secret of our pickle obsession. From attending two pickle festivals in one week, to featuring all sorts of pickle recipes and tips, Food Republic is officially down with the pickle craze. For a crisp, crunchy and flavorful holiday gift look no further than the greatest basic refrigerator pickling recipe. What to get uncle Bill for Christmas? You're no longer in a pickle, eh!
If D.I.Y. is not your forte, check out these gift guides for some of our favorite Cooking Gear And Books, and Great Things To Eat And Drink for instant inspiration.