Beyond Pad Thai At Pure Thai Shophouse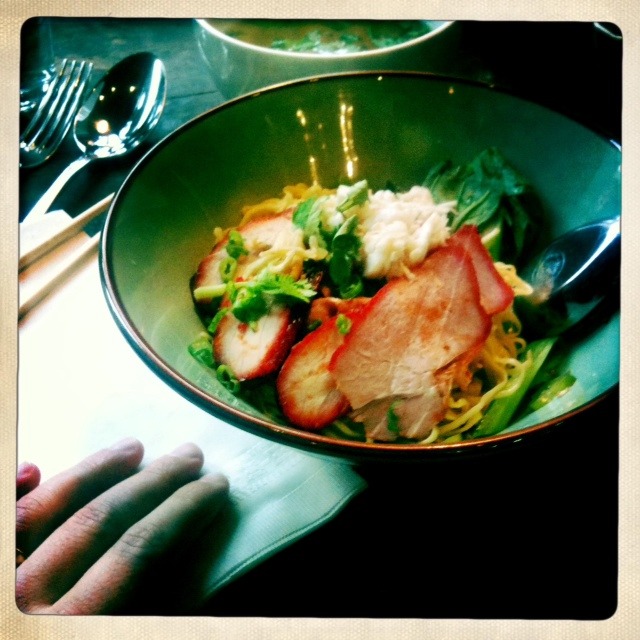 While Jess is traveling back from binging on German bratwurst and gingerbread, I'm taking over her noontime column with some lines about my favorite Thai lunch spot in New York City—a city with its fair share of Thai lunch spots.
Most of those experiences begin with pad Thai and end with a sugar crash, bellyache or deep regret. Unlike the high praise this column's den mother has placed on the sweet-salty carb overload, I'd say that most pad Thai stinks, sauced with a ketchup-y sweet, one-dimensional condiment. Bean sprouts and lame peanuts are usually added with no sense of proportion. As in, there are WAY too many sprouts. And the noodles—they stick together. Ick.
So let's stay positive and talk about the Ratchaburi crab and pork dry noodle at Pure Thai Shophouse in New York's Hell's Kitchen. It's a dish that will set you free from pad Thai forever. Handmade egg noodles, a close cousin to ramen, are the foundation of owners David and Vanida Bank's homage to Vanida's hometown 90 minutes outside Bangkok.
Thin strips of roasted pork and several spoons of sweet crab are tossed in with a sauce, more vinegary than sweet. Scallions and yu choy (like bok choy) are added for texture. And if you're missing the sweetness of typical pad Thai, go with pancake made with sesame seeds and kaffir lime curd. Or maybe you aren't missing that sweetness at all.