5 White Wines For Winter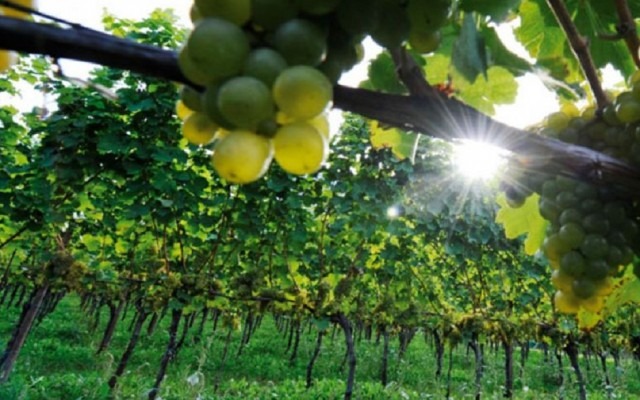 I used to drink seasonally — white wines in the summertime, reds in the winter. Over time, I noticed the white season getting longer. Wine isn't like pants, after all: no white ones after Labor Day. But, among wine folk, there has long been a stigma attached to whites. They aren't always taken as seriously as red wines, like whites are the party girl blondes to reds' bookish brunettes. Luckily, this is changing.
As people abandon old drinking rules (white with fish, red with meat; white for ladies, red for men), attitudes about when — and for whom — whites are appropriate are going out the proverbial window with them. And thank goodness for that. Because white wine can certainly be manly. It can also be just right on a cold winter's night.
The white wines you know best may be crisp, zingy summertime sippers. But whites with velvety, full-bodied textures and rounder, richer flavors — and often with a deeper, warmer color in the glass — can be perfect for cold-weather meals. Expand your wine repertoire this season with one of these five whites to pair with your next hearty winter meal.
1. Andrian Gewürztraminer 2009 ($19): This weighty 100% Gewürztraminer from Alto Adige, in the Italian Alps, is aged for six months "on the lees," which refers to fine particles and yeasts left over from fermentation. The result is a rich, golden wine, with lush, exotic fruit and floral notes balanced with a bold acidity. Expect it to stand up to meat and potatoes as well as any red.
2. Lucien Albrecht Pinot Gris Reserve Romanus 2010 ($17): Forget the light, crisp expressions of this grape that come out of Italy, where it's called Pinot Grigio. This creamy yet dry Pinot Gris is full-bodied and heady. Pair it with the season's wild mushrooms, roasted chestnuts or even the sort of nourishing stew that Alsace, where the wine is from, is known for.
3. Bera Vittorio e Figli Arcese Bianco 2010 ($16): This blend of the native Piedmontese grape Favorita — with Arneis, Cortese and Sauvignon Blanc — results in a tangy, aromatic wine, bright maize-colored in the glass. Fermented naturally, it has a pleasant funk and just a tickle of effervescence. Serve it with that tender prize-winning roast your friends rave over or your favorite hearty pasta dish.
4. Guillot-Broux Combettes Mâcon-Chardonnay 2009 ($22): For those of us who consider ourselves ABC drinkers (Anything But Chardonnay), white Burgundy is the exception. The French treat their Chardonnay with tender care, farming it in chalky, mineral soils and aging it gently as opposed to drowning it in harsh oak. This silky wine, from old vines, is done just so, ideal with cream sauces and anything au gratin.
5. Weingut Hahnmühle Riesling Traminer Feinherb 2008 ($24): When grapes are grown and picked together in the vineyard, the ensuing wine is referred to as a field blend. This particular field blend of Riesling and Traminer is a tropical-tasting off-dry wine with a big, buttery mouthfeel. It will make spicy, warming dishes sing — even that Sunday chili you thought only paired with the game.
---
More about white wine on Food Republic: