Sexy Fernanda Andrade's Eating Adventures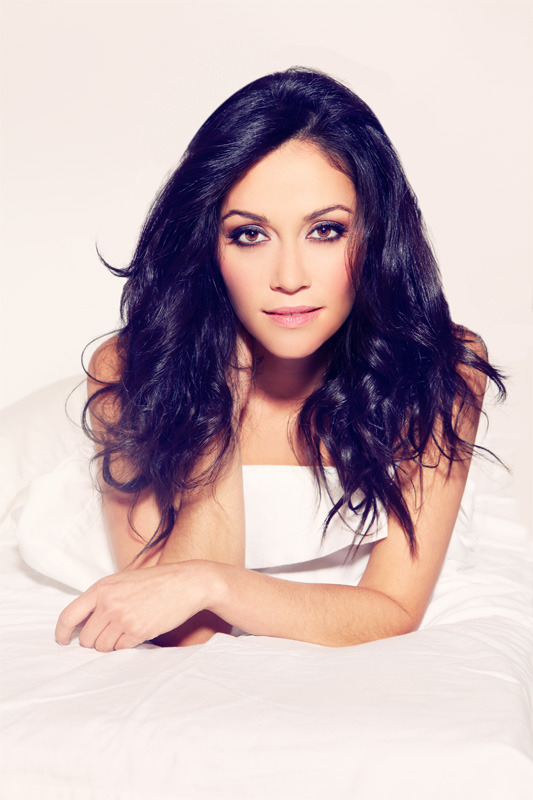 She may not be the most experienced chef in the world, but Fernanda Andrade's passionate connection with food more than makes up for her lack of skills in the kitchen. She can't cook and has no shame.
The stunning Sons of Anarchy star, who will next appear in the thriller The Devil Inside on January 6, is candid, a South American thing, as she discusses her exotic—OK, we'll call them erotic—culinary experiences. The 27-year-old's adventures include a brief affair with chicken feet, wrestling to boil an octopus and a revelation that alligator can taste good – as long as it's fried of course.
Although she's slightly cautious when discussing the most romantic meal a man has ever cooked for her, given that her current boyfriend is sitting faithfully by her side, the pescetarian will admit a love affair with chocolate that's so intense she'd even consider munching on cocoa-covered insects. She also has a crush on...Gordon Ramsey? OK, girl's gotta be into food. Gordon Ramsey!
Describe the best meal a man has ever made for you.
My very first boyfriend made me the best meal I've ever had. It was our second date and I didn't know that he was cooking, but I got to his house and he had had made tilapia, rice and corn on the cob. It was really simple and unexpected and ended up being really wonderful. It was such a big difference from all the other boys I'd dated. I was 18. It wasn't romantic in the sense of rose petals and sunset horizons, but I was cozy and comfortable and it was made with a lot of love.
Do you have a special recipe that brings the heat after a big date?
I don't really cook!
What is the most adventurous thing you've ever eaten?
Recently the grossest thing I've eaten is chicken feet. I was at a Chinese restaurant with my friend from the Philippines and his friend from China, and they made me a mixed plate. I stared at [the feet] for so long. I took a little bite but I couldn't get it all down. It's bizarre, because there's nothing there—you're just chewing on the skin. I've also eaten gator meat, which just tastes like fried chicken.
When I was in Brazil, I went up to Bahia with a group of friends and we all cooked octopus. It was such a strange thing to try to cut and cook, but we did it on a whim. We were in Morere, a little town of 250 people and wanted to make a New Years Eve feast, but all the available fish in town was gone. We were stuck with the choice of lobster or octopus.
What food do you find is the biggest aphrodisiac?
I know this is so obvious, but I'm a sucker for milk chocolate. I go to this fondue place called The Melting Pot where I basically dip everything I can in chocolate.
What is the best bar or restaurant you've been to anywhere in the world?
I love Hinano in Venice [California]. It's a hole in the wall that's been there forever and there's always a little old man playing pool in the corner. It has the best burgers and hot dogs in town. I once had a 70-year-old man recite me a poem that he had written to his girlfriend when he was 17.
What is it about Brazilian food that's so sensual?
The history is what makes it so special. One of the most famous dishes is feijoada, which is made with pieces of pork, beans and a slice of orange to cut the acidity. It was first consumed by those who weren't noble, slaves really. There are also a lot of Italian influences in Sao Paulo, where I'm from. The pizza is particularly delicious. The crust is thinner and crispy, but not like a thin-crust pizza; it has its own taste.
Is there anything sexier than a man who can cook?
No! When a man cooks for you, it shows that you're taking care of each other. I don't think a man would usually cook for you unless he cares, so it's always a big and beautiful gesture.
Is there something that sets South American women apart from the rest?
We're crazy and feisty and have no filter. The good thing is that it comes and it goes, and that we let go of things easier, too.
What was your favorite dish growing up as a little girl?
My grandma used to make bolinhos de chuva (translation: little rain cakes) every time it rained. It's sweet dough covered in sugar and cinnamon and shaped like little raindrops. She still makes them for me every time I go home. She also makes these rice cakes, sticky balls with onion, garlic and spices. As a kid I liked things I could eat with my hands.
What is one American food item that you cannot live without now?
Here in L.A., I love Umami Burger. It's unlike any other burger I've ever had – it just melts in your mouth.
Do you have a celebrity chef crush, and, if so, is it about his looks or the food?
My boyfriend does! He makes me watch Gordon Ramsey. It's his fault, but I've developed a celebrity crush as well.