Meet Bellus Babe Jordan Salcito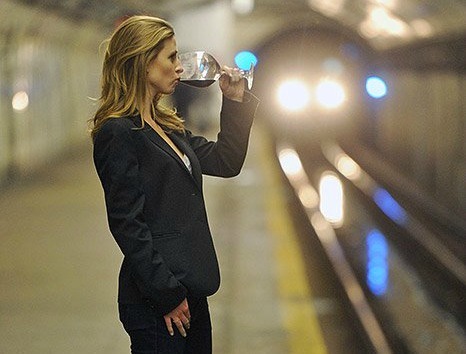 It sometimes happens that chefs become farmers, bartenders get into distilling, and sommeliers start making their own wine. It's a natural progression – you work with a material long enough that you get tempted to make it yourself. That's what happened with Jordan Salcito, anyway.
As the wine director at Crown, the latest New York hotspot engineered by chef-owner John DeLucie, she got to see firsthand what wines people like, how they order, and what can be confusing about the whole business. It led her to create her own wine company. Bellus not only offers wines that are enjoyable to drink, but also communicate something important to the imbiber. Wines that talk. Wha?
What's the goal with Bellus?
As a sommelier, I started to perceive a void in the marketplace for a high-quality wine that was affordable and that paired well with a lot of different types of foods. I noticed that with guests at the restaurant there was a lot of confusion about how to find these wines and how to tell what kind of flavors wines have. It's hard to know what a wine tastes like if you haven't had it before.
So your wine tells drinkers what it tastes like before they try it?
There are words that people in my world use to assess and describe a wine. They are the characteristics that help give a wine its thumbprint. It's not just flavors; the structure is as much a part of a wine as the aromatics and the taste. The label on my wine has the PALA-TABLE, which I have trademarked. It uses flavor icons to empower people to use the same language to talk about wine as sommeliers do. My mom came up with the name PALA-TABLE. She's good with stuff like that.
What does the PALA-TABLE say about your wine?
The Bellus Girasole 2007 is a Super Tuscan, so it's made from Sangiovese, Cabernet and Merlot grapes. It's made at the Casanuova delle Cerbaie estate in Montalcino, where my husband and I [have] worked the harvest since 2008. It has pomegranate as well as cherry flavors, so it has beautiful acidity, which is key when you're pairing a wine with food. There's also minerality because there's this great soil in Montalcino, and complexity. It's all right there on the label.
What are some of the misconceptions people have about pairing food with wine?
The number one rule of pairing is to drink what you like. As far as misconceptions go, don't pair red wine with fish is a classic one. There are some red wines that pair beautifully with fish, like if you have a wine with a very soft mouthfeel that is low in tannins. Another misconception is, "whatever grows together goes together." It's a great rule of thumb, but I don't think it works 100% of the time. Being creative with pairings can lead to some of the best ones. One of my favorite pairings of all time is a sparkling wine from Jura that pairs beautifully with Thai food.
Your husband is the sommelier Robert Bohr. What's it like to be a wine power couple?
For me, and I hope I speak on behalf of Robert, I feel very fortunate that my passions are in line with my husband's passions. We can empathize with one another, which is really important. It's a strong connection that makes being together easy.
Do your tastes in wine ever differ?
Actually, they are very similar. We both have classically driven palates. That said, I'm more willing to try off-the-beaten-path wines. I still get very excited about new discoveries. Like, I've discovered a few Corsican wines that I think are really beautiful.
What are your future plans for Bellus?
The next step is another vintage of the Girasole. When creating Bellus, I always knew I wanted to give back to the community. So, a portion of the proceeds will go to the Tory Burch Foundation, which empowers female entrepreneurs through microfinance. The theme of empowering women is meaningful to me, so I was very happy to support the foundation. As far as next projects for Bellus, I definitely want a white wine as well as a red, and the two places that are truest to who I am are Burgundy and Montalcino. So, a white Burgundy is next.