Tailgate Toe-To-Toe: Raiders Vs. Packers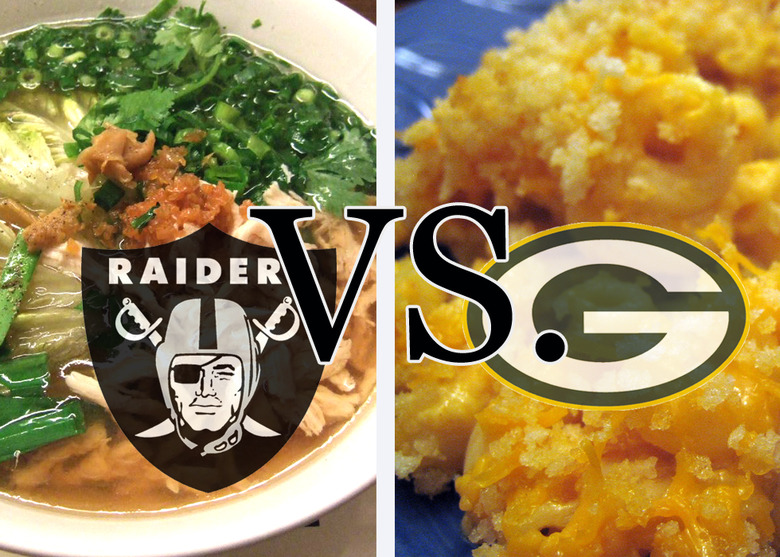 Tailgate Toe-To-Toe picks a weekly NFL game and analyzes the matchup—on the field and in the parking lot.
Aside from Brad Pitt's handsome portrayal in Moneyball and Dave Chappelle's summation of the Golden Gate Bridge, my knowledge of Oakland is minimal. It's not as if you ever see anything served "Oakland-style" on a menu. But in the San Antonio Maps district of the big O, the Vietnamese population is plentiful and offers up an abundance of restaurants and dishes to appease the community. December means the final quarter of the NFL season, cold weather, and the hankering for a big bowl of pho – a noodle soup served with beef or chicken and a plethora of leaves and spices.
The Bad Boyz of BBQ attract a variety of fans – from grown men, painted in silver and black, to celebrity chef Guy Fieri, who featured the diehard fans on his show Diners, Drive-ins and Dives while anointing them the "Bad Boyz." Quantity and variety is the name of the game as "Kingsford Kirk" Bronsord and his team have been offering up BBQ oysters, sangria soy marinated tri tip, and grilled salmon (just to name a few options) at O.co Coliseum since 2005. So what's so "bad" about cooking up desserts like chocolate cake? If you're using a power drill to mix the batter, you're pretty hardcore.
Unlike the lovable frat boys in Old School, I love cheese. As I stated in the inaugural T4 article, so do the good people of Wisconsin. The best thing about dairy is it's versatility – and although we've already pledged an allegiance to a trio of productos de queso, we still have room to salute good ole' mac n' cheese. Whether it's made from scratch, restaurant-bought or the classic Kraft blue box, the over-the-top pasta creation is perfect comfort food. You like getting your mind blown? Think about adding some lobster and truffle.
The Saz's sponsored Tundra Tailgate Zone sounds eerily similar to the Green Bay fans that show up for the event – it's all too nice. First, admission is free. Second, you can stay all game, for free. And last: there are 15 HD screens, raffles, former Packers stars signing autographs, and of course BBQ grub and beer. The description is like that of a state fair right outside of Lambeau Field. Not to mention all the Midwestern smiles you can handle. Love the Midwest. Although the menu remains consistent week to week, why would you complain about a Wisconsin Sausage Sampler and "12 hour" Smoked Beef Brisket with Vidalia Onion Sauce?
It's hard to understand exactly what Oakland is doing. They've traded away two handfuls of draft picks for Carson Palmer and Aaron Curry this season. Their top pick in the '09 draft, Darrius Heyward-Bey, is performing just as we all thought he would (which is to say he's not playing well). The bright spots for the Black Hole have been the now-injured Darren McFadden and rookie linebacker, Rolando McClain. Yet, even with all these questionable moves, the frustrating losses and the recent passing of team owner, Al Davis, the Raiders are 7-5 and fighting for a chance at the playoffs. Wouldn't it be great if they could come out on the road, amped up to play spoiler to...
Green Bay is a perfect 12-0. They are far and away the best team in the NFL. Aaron Rodgers is most likely the unanimous MVP. It's hard to believe that Offensive Passing Yards is the only team stat in which the Packers are in the league's top 10. And they're still the cream of the crop. Jordy Nelson is playing his way onto my Fantasy team next season and Clay Matthews might be the scariest human being alive. Oh, and 35-year-old Charles Woodson leads the defense with 6 picks and is 5th on the team with 55 tackles. It feels unlikely that Big Green will drop a game before January.
But doesn't it feel like this is the kind of game Oakland has won in the past? The underappreciated, overlooked, "how do they have 7 wins?" David vs. the offensively perfect Goliath? No? Ok. GAME PICK: Packers 28, Raiders 17
I love me some Asian cooking – but 9 times out of 10, cheese is the way to a man's heart. Green Bay takes the T4 sweep in this carb-heavy showdown. FOOD PICK: Mac n' Cheese 42, Pho 20
---
More tailgating coverage on Food Republic: