Drink A Little Wine, Make A Little Soup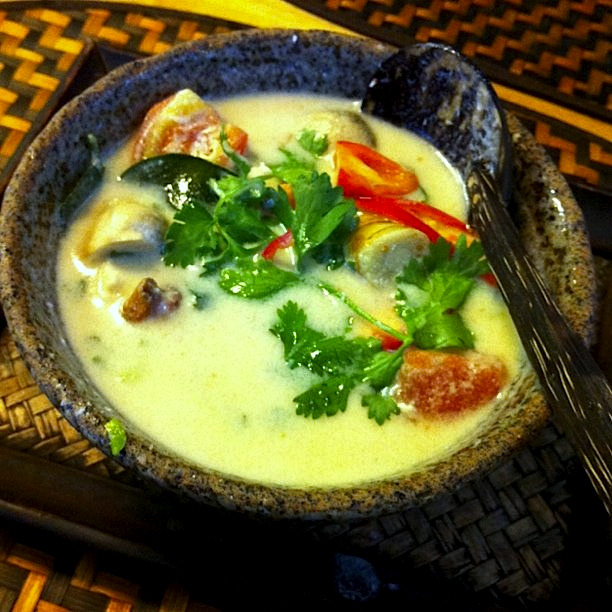 Ah, soup. It's the most populist of foods. Soup appeals to people of any age, any gender, and any socio-economic class. It is not, however, a sexy food. It doesn't inspire bouts of naked romping and nobody's doing body shots of soup on the nearest bar (and they shouldn't try – that's an accident waiting to happen, people).
So how does soup fit into the intersection of food and love? Thank you for asking. Since we're in the beginning stages of winter, soup makes for the focal point of an excellent at-home cuddle date. As K.C. and The Sunshine Band always say, "Drink a little wine, make a little soup, get down tonight."
Pretend you're in a ski lodge. Put on your favorite sweater, light some candles (remember: candles = sexy), and grab a bottle of wine. I'm no sommelier, but stay away from whites here. Save the Chardonnay for your volleyball date in June. You want a red and, dare I say, a big red. Something with some oomph. The Italians are great with bold reds, so you can't go wrong with a nice Barolo or a Barbaresco. Either one will get you and your date feeling cozy in no time.
Once you get your wine squared away, it's time for the soup. From French bouillabaisse to Thai tom kha gai, pretty much every culture in the world has its own version of soup. The key to the Soup Date is choosing the right one. If you're short on time and/or cooking ability, there are tons of canned soups at your grocery store. If you're serving canned soup on your date, though, I hope you get dumped. Stop being so lazy. Soups are easy to make. Put some ingredients in a pot and let it simmer – that's pretty much it. Plus, making your own soup gets you a thousand bonus points in the eyes of your date. It's a can't-lose proposition.
So here are the basics for picking out your soup: you want something filling but not too hearty and flavorful but not heavy-handed. That authentic Hot & Spicy Sichuan Noodle Soup you brought back from your Peace Corps days may be your favorite soup in the world, but if your date can't take the heat, she's going to get out of your kitchen.
I have two soups that make for perfect soup dates: French onion (soupe a l'oignon gratinee) and a vegetarian chili. The French onion is rich and soothing, plus the broiled gruyère ends up looking pretty impressive so you know that's a winner. The chili is another no-brainer. It's the perfect comfort food for a cold day. Personally, I skip the meat for dates because I try not to make it too heavy and you never know how your date will feel about massive quantities of ground beef. Of course there are tons of other soup options out there; it's all up to what matches best for you and your date.
Cold weather may seem like an impediment to a great date, but it's actually the perfect reason to get a little more snuggly. I just had lunch with a recently single friend and she told me that if any man made her soup on a date, she'd know she found her soulmate. YOU CAN BE THAT SOULMATE! Get yourself into that quintessential ski lodge mood and her heart will be yours for the taking. Now that's some powerful soup!
---
Read the previous installment of Heart Attack on Food Republic.