A Frenchie In Paris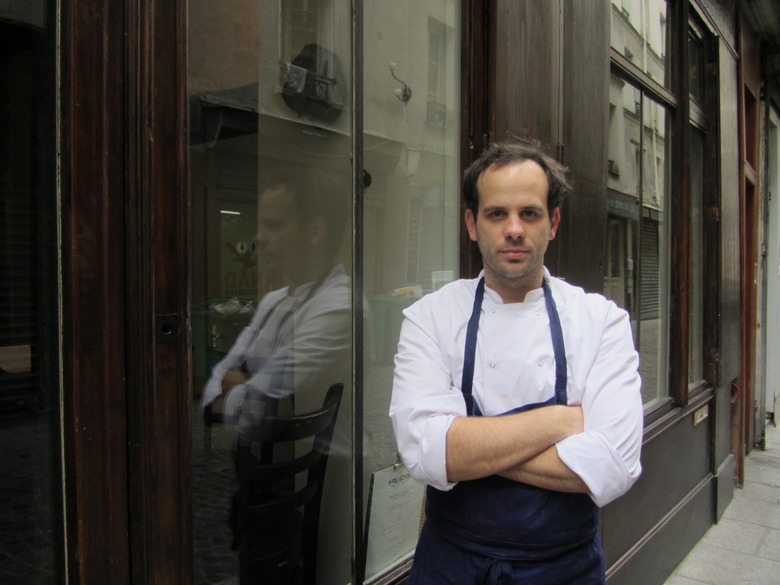 Gregory Marchand from Frenchie photo
It's a cool, damp Monday night in November, just around 7 p.m. Most Parisians won't be heading off to dinner for another hour or so, but on a quiet side street on the outskirts of the Marais, pairs and quartets of would-be diners are chatting, waiting for the doors to open to one of the most buzzed-about and friendliest restaurants in town, Frenchie — and the newly opened wine bar across the street, Frenchie Wine Bar.
The restaurant, wine bar and cheeky name are the brainchild of the most strange success story in Paris's hot dining scene, Gregory Marchand. The Frenchman took a circuitous route back to his homeland, working for the likes of Jamie Oliver in London and Danny Meyer in New York. After a stint at Meyer's Gramercy Park Tavern, he and his girlfriend, expecting their first child, opted to move home; Marchand decided it was time to have his own place.
During my first visit to Frenchie two years ago, Marchand emerged from the tiny kitchen with the open window into the dining room that he regularly peers out from to check on diners, and he told me over loud music and lively conversations happening around us what he was after. He'd lived in cool neighborhoods in London and Brooklyn with fun, unpretentious — but excellent — restaurants, and he wanted to create that type of place in a city that tended to take its dining more seriously than, say, a hipster boîte in Williamsburg. Thus, Frenchie was born.
He established an international cast to help him, and suddenly he had something revolutionary: a neighborhood bistro in Paris that was unfailingly friendly to Americans, Brits and anyone else who managed to snag an increasingly difficult reservation. (But that also held high enough culinary standards to appeal to the toughest Parisian palates — who tend to come for the second seating at 9:30; and oh yeah, it's closed on weekends, normal in Paris but baffling to some Americans).
In essence, Marchand, a well-trained chef with exceptional talent, learned a few tricks in his travels, then came home and created a restaurant so instantly and ambitious, it's already spawned a wine bar across the street, and, he reveals at the end of this interview, yet another expansion. Oh, that Frenchie.
Tell me about the new wine bar?
The wine bar? Well, it's doing great. It's busy. I think it's quite new in the wine bar scene in Paris. It's a nice little place you know with the atmosphere of a wine bar, so like elbow-to-elbow, loud, and then with, I think, a selection of wine which is unique in Paris. We've got a selection of new world wines, natural wines — we've got a bit of everything. For a wine bar it's not what we usually see. And then for the food, instead of the traditional charcuterie plate and cheese plate, we actually have cooked food.
You talked about changing things from the French dining culture. It's why you started this place: you wanted to challenge the French dining culture, right?
Yeah, I mean I did not open a restaurant just to do that. I did not know the Paris market at all. I was in New York, in London, in Spain. So I didn't know there was a gap or anything like this. I just opened the place, somewhere I would like to go as a customer, which relates to all my travels. I just opened it and it happened to be at the right time and in the right place. It was exactly what people wanted. When the first media and critics came, everyone was like this is new, it's fresh. I was like thanks, you know.
What about the clientele? It's very diverse isn't it?
Yeah, it's just like us, like the team. The team is coming from all over the world; the customers as well. Like Frenchie the name — that is always what I wanted, to have a very open-minded place with a lot of different people.
Why such a small place? You worked for Jamie Oliver, Danny Meyer. They are more about volume. Why did you want to do something so personal?
When I came here I didn't have much money, and it was September 2008, right in the middle of the [financial] crisis, and you know, I just found a place I could afford in an area I could afford. You've got to adapt. And it happened later that it was actually great.
Is that part of the reason you got the wine space?
Yeah, I wasn't planning anything but then the room freed up across [from Frenchie], so I thought it would be stupid not to do something with it. So there we go. And once again I didn't have plans. So we looked at the space and adapted the space. In a little street like this, there is no traffic, so it brings people in. People that can't get in at Frenchie come here; it created a great vibe in the street.
What about your past: do you see things that you learned from working for Jamie Oliver and Danny Meyer?
Yeah, of course. Danny Meyer has been a great influence in all aspects of hospitality. I think in France it was important to do something different. We go through a lot of effort to please the customer. I go into the restaurant and I talk to them. It's quite personal. Michael [Anthony of Gramercy Tavern] and Jamie as well on food. More for like the business side, even though I never really worked one to one with Danny Meyer, if you spend a bit of time working in one of his establishments and look around you, it's really inspiring.
When you opened Frenchie did you know right away what you wanted to do with the food?
Not really. I wanted a small choice, but I wanted a bit more. And we had a week for friends and family and I was doing two dishes — two starters, two mains — and I was like there is no way I can do more than that. So I just decided to stick to two and two since the beginning. We've never had any complaints. It is simple food with good ingredients with a little twist, and that's it really.
It's also good wine, good service. You said your team was from all over. The sommelier once recommended I try an ice wine for dessert from her native Quebec.
Yeah, Quebec. My sous chef is from London. We've got an Italian guy, an Iranian stagiaire, who is here doing a six-month stage. I had a Chilean before that, and then an Indian guy. It's just like really diverse.
You've been back in Paris for a few years now. You've gotten to go out and see the other restaurants. What other places are doing similar things to what you're doing with Frenchie?
Yeah, I don't see it as doing the same thing I'm doing. What is that really?
It's a little less rigid, I think.
Yeah, I think it's restaurants opened by chefs who have been traveling a lot. So we can see that straight away. It opens your mind and allows you to see new ideas. I think there are a few, and there are more and more. I mean for the last two years, a lot of little bistros like this have been opening.
It must have been easier for your because you've cooked all over but have a French background. What about someone like Daniel Rose who came here and is American, and has become very successful. Is it hard to break into the culture here?
Not really, I think people are very open. Funny thing, Daniel is one of the most classically trained cooks I know. It's actually very funny, Daniel came here and did very French food, with his interpretation of course, but the idea behind his food is very French, and with me it's the opposite.
What about with ingredients, are you going to the markets here and using local ingredients?
The difference between local here and in the U.S is the size of the country. We are staying local by using French products. It's never more than 500 miles, so we use a lot of French products. Meat, fish, vegetables. We are lucky in France to have a lot of different climates and types of produce.
Chefs are all different. Some like to stay in the kitchen and some like to go out and forage themselves, right?
I've got a forager. But I don't have time to go forage myself; I don't know how they do it! I've got to be here, I'm transforming the product. But I've got a forager. He was here yesterday, he brought us great sea beets and rocks on fire. He brings us wild herbs, some crazy stuff that you've never heard of with a Latin name. We've got guys doing this; we have a guy who goes to the market. I just tell them what I need. It's all about building relationships with your suppliers. They see you at your place, understand your needs, what you want and what you don't want, most importantly. So I can be in the kitchen cooking, rather than going around the market. I do that sometimes when I have lack of inspiration, but less and less.
What about the meats?
I've got a guy for pork. I've got a guy for beef. I'm actually getting short ribs coming from the States, from Jackson Creek Farm. Because short ribs are not a French cut, it's very difficult to find them. It's not very planet-friendly but we'll see. It's coming by plane; I just wanted to try it and see what the product was like. But yeah. Veal — I've got some Basque veal coming from the Basque country, pork as well. Beef is difficult in France. French beef is not quiet there yet, so I get a lot of Scottish — the Angus — and from Bavaria in Germany. It's better value for money. We've got a problem in France with raising beef.
Frenchie has become really popular, and it's hard to get in. Do you have any insider's tips on how to get a reservation?
Best bet is really just to pop in [and ask for a reservation]. Because of the amount of phone calls we get, we cannot answer every single call with such a small [team]. It can be very difficult, but we do one seating at 7 p.m. and one at 9:30 p.m.
Is that because you want everyone to have a good experience, so you leave them enough time?
Yeah, we want them to have a good time. That's why I decided to close for lunch and concentrate on the two dinner services. And if they cannot come to Frenchie, there is always the wine bar. But yeah, it is very difficult. It's not worth one or two months wait; it's just a neighborhood bistro. But obviously it's good for us, good for business. That's not the goal. I don't know what to do about this!
You might have to open a bigger restaurant.
Yeah, but then you lose the feel here. You can see me in the kitchen cooking, I always poke my head out and ask people how they are. I greet almost everyone that comes into the restaurant. I say hi or shake their hand. So people want this. If I have a bigger place, this won't be possible. And the wine bar is small... but it might get bigger soon.
Is that a little hint?
Yeah, a little hint.