Gift Guide: 20 Bottles For Ballers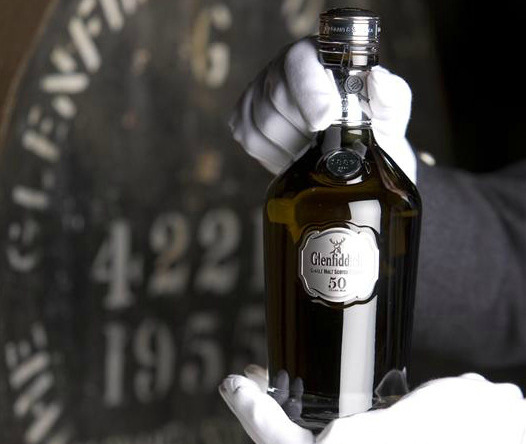 We've always been fans of drinking like a baller. Of course, imbibing so extravagantly everyday would quickly put us in the poor house. But if we had to splurge on that one crazy-luxurious sip, it would probably be one of these 20 bottles.
Other Food & Drink Gift Guides: American Whiskey and Beyond | Tequila and Mescal | Vodka and Gin| Rum | Amaro, Liqueur And Beyond | Cooking Gear And Books | Great Things To Eat and Drink
1. Casa Dragones: This sipping tequila is a blend of silver tequila with a hint of extra añejo. Oh, and it's Oprah's go-to shot. So, yeah, definitely worth $250 a bottle.
2. Evan Williams 23 Year Old Bourbon: The 23 years this liquid spends in a barrel is an incredibly long time for a bourbon. Hence the $350 price tag.
3. Nolet's Reserve Dry Gin: For a spirit that was once made in a bathtub, gin has come a long way. The most expensive one to hit the shelves is this premium bottling at $700.
4. Brewdog's End of History: Beer is another drink long associated with the plebes. This brew, bottled in a taxidermal squirrel, makes for a pricey wink at the fact for $765.
5. Screaming Eagle Cabernet Sauvignon 2007: Originally released at $1,500 a bottle, you can expect to pay double that now. If you can find someone to sell you one, that is.
6. Louis XIII Cognac de Remy Martin: Some 1,200 eaux de vies are blended and aged in centuries-old oak casks to produce this cognac, which goes for $2,000 or more.
7. Jose Cuervo 250 Aniversario: OK, so the aniversario was actually two years ago. But you can still find one of the 495 bottles of this floating around. Priced cleverly at $2,250.
8. British Royal Navy Imperial Rum: The British Royal Navy ran on rum until the 1970s. The last of its golden rations is selling for $3,000 a pop.
9. Domaine de Romanée-Conti 1997: DRC, as those of us who are on a first-name basis call it, is one of the most expensive wines in the world. The 1997 can go for $8,000.
10. Glenfiddich 50 Year Old: Ever wonder what whiskey tastes like after half a century in a barrel? In the case of this single malt Scotch, the answer is good. Like, $16,000 good.
11. Dom Perignon White Gold Jeroboam: Whoever coined the term "bigger is better" must have been referring to Champagne bottles. Like this bad boy, which goes for $24,000.
12. Massandra Sherry 1775: Remember how your grandmother used to toss a little sherry into her gravy for richness? This is not that sherry. Or, if it is, it's for $43,500 gravy.
13. Wray & Nephew 17 Year Old: How does the value of a Jamaican rum rise to $54,000? By being used to create the Mai Tai, then never being produced again.
14. DRC 1945: Remember that $8,000 bottle of Burgundy further up this list? Consider it a bargain compared its older sibling, a 1945 magnum that sold for $123,900 at auction.
15. Dalmore 64 Trinitas: This fine Highland Scotch is sure to warm your cockles. Of course, the $160,100 bill will probably chill you to the bone.
16. Bombay Sapphire Revelation: Having long ago left the realm of bottles available on store shelves, we bring you this limited edition release. Most of the $200,000 cost can be attributed to the Baccarat crystal bottle.
17. Tequila Ley: For one of the most expensive tequila shots in the world, opt for this $225,000 platinum and white gold bottle. A cheaper silver and gold bottle goes for $25,000 or go wild with the Ami Mesika-designed diamond-studded edition at $3.5 million.
18. Macallan 64 Year Old "Lalique: Cire Perdue": Meet the $460,000 bottle of Scotch. Sure, it's old and rare and delicious, but again most of what you're paying for here is the crystal decanter it comes in.
19. Diva Vodka: It might piss off spirits connoisseurs to learn that the two priciest gifts on our list are supposedly flavorless, odorless vodkas. This one is filtered through diamond sand, which may help to explain the $1 million asking price.
20. Russo-Baltique Vodka: The U.S. dollar has bounced back a little, but with the price of gold still riding high, this vodka might actually be a good investment. For $1.3 million, you get a flask made of vintage gold coins, plus a diamond-encrusted cap. Here's an idea: melt it down... and go shopping.