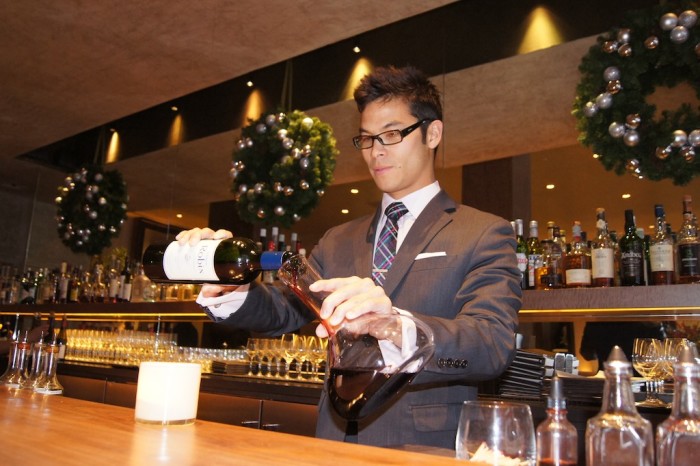 With the word vino emphatically ending his last name, it seems almost too perfect that Josiah Baldivino would find his calling in the wine world. Only 29 years old, the young wine steward put in time working at New York's Oak Room and Bar Boulud before returning to his native West Coast. Currently installed as the head sommelier at Restaurant Michael Mina in San Francisco (recently named Restaurant of the Year by Esquire), Baldivino embraces the swanky seafood spot's dress code with what he calls a "funky fresh flair." Ask him to elaborate, and he might pull up the leg of his Ben Sherman suit to reveal a hot pink sock adorned with squirrels. Drop whatever lingering stereotypes you might have about wine snobs — at least in his house. At the end of the day, Baldivino's just as thirsty for a good cold beer as the rest of us.
Where are you originally from, and how long have you lived in San Francisco?
Originally from a small mountain town in SoCal called Running Springs. I've been in San Francisco since January.
What are some of your favorite places to eat in the city?
Nopa for late night eats and great beverages, RN74 for the best wines by glass and Benu for when I'm feeling fancy.
Good picks. Last great memorable meal — home-cooked or at a restaurant?
My fiancée and I recently went to the local butcher, Avedanos, and got some pork chops and their homemade barbecue sauce. We made some corn bread, squash, and roasted kale — the perfect definition of "comfort" food.
So at work you're in the front of the house, but at home you work the kitchen too. Do you have a favorite cooking or wine gadget?
I love my Zalto glass!
What do you like to drink during the colder seasons?
Rhone reds, dark beers and hot toddies.
We hear you have a mini "brewery" set up at Chateau Baldivino. What are you making?
Actually brewing an IPA for our wedding as we speak…got 15 more minutes 'til I have to add more hops to my wort.
Awesome. So when do you prefer drinking beer over wine?
Beer is the after-work beverage of choice.
Ok, tell us why there's no reason to fear the sommelier — this is especially for guys who are relatively new to wine.
There's no reason to fear a "good" sommelier. Just like any industry, there are some who are good and some that are bad. The good ones will make you feel comfortable enough to ask questions, and guide you to your perfect wine.
What if someone's dead set on ordering a crappy wine choice.
My rule of thumb is: Unless you are asked, you should give people the wine that they want, no matter what you think as the sommelier. Not to sound cheesy, but it really is all about the guest.
You're relatively young for your job. How do you dress for work in a way that communicates your role and commands authority, but still makes you approachable to your guests?
Well, I love dressing sharp with a funky fresh flair. Ben Sherman ties are my favorite. And Charles Tyrwhitt is my go-to for shirts. I just like to be myself, and make both guests and my co-workers feel comfortable.
You didn't seem like the monkey suit kind of guy. Can you tell us about your sock collection?
I have a massive selection of socks — it's part of my flair.
How many pairs do you own?
I probably own about 25. I'm all about quality with character. My lucky ones are my hot pink squirrel socks.
Whoa, those are hard to top! Getting back to wine, it's holiday season…what's your position on wine cocktails: awesome or sacrilege?
If they're good, then drink them!
And lastly, what will you be drinking this New Year's?
Our wine director Rajat Parr bought some jeroboams of 1987 Charles Heidsieck for the restaurant. They're what I like to call party starters!
---
More stylish guys on Food Republic.