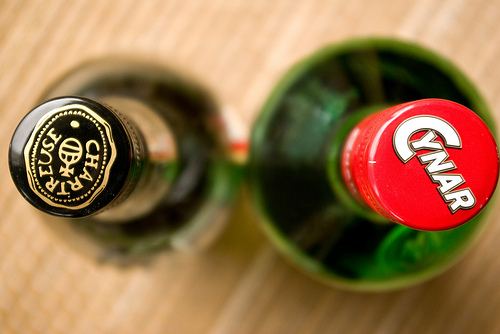 Anyone who has ever participated in a Secret Santa exchange or attended a holiday party knows one simple truth about gift giving—you cannot go wrong with a well-chosen bottle of booze. And Jack Daniel's does not cut it. To ensure that you're everyone's favorite person this year, it's best to stock up on a few choice bottles. And if you're lucky, you might even get a sip as a thank you. Here's our guide to all things amaro and beyond.
Other Gift Guides: American Whiskey and Beyond | Tequila and Mescal | Vodka and Gin| Rum | Cooking Gear And Books | Great Things To Eat and Drink
Apertif wines, amaros (actually, amari) and other not-quite-hard liquors are all the rage these days. Sip them on their own or look up a cocktail recipe that makes use of one. Vergano Chinato ($50) is a quinine-infused red wine-based elixir from Piedmont flavored with a secret blend of herbs and spices. Cocchi Americano ($20), from the same region in Italy, is a white wine-based sipper laced with cinchona, gentian and citrus peel. You wouldn't think an artichoke amaro would be a good idea, but Cynar ($22) proves it is. Add a dash to a Manhattan for a savory, herbaceous twist. Ramazzotti ($20), another amaro that's been cropping up in cocktails everywhere, is a bittersweet blend of roots, herbs, orange peel and anise. Luxardo Bitter ($18) combines sweet orange, bitter orange, rhubarb, mint, marjoram and thyme.
Sherry can be a great value, such as Lustau Dry Amontillado Los Arcos ($16), a nutty, tangy fortified wine that pairs beautifully with hard cheese. Barbeito VB Reserva Medium Dry Madeira ($40), one of Portugal's oxidative fortified wines, is funky and complex.
Bitters maker Bitter Truth recently launched a line of liqueurs. Its Bitter Truth Violet Liqueur ($30) is a solid stand-in for Crème de Violette. L'Esprit de June ($30) is the first-ever vine flower liqueur, made in the Cognac region of France. Root ($33) may come across as a root beer liqueur or just something sweet and gimmicky. Instead, it's a complex root-infused distillate, flavored with birch bark, smoked black tea, and spices. Yellow and Green Chartreuse ($30), made by Carthusian Monks since the 1740s, is herbally, complex and will win your favorite mixologist's heart.