Meatloaf Sandwich Love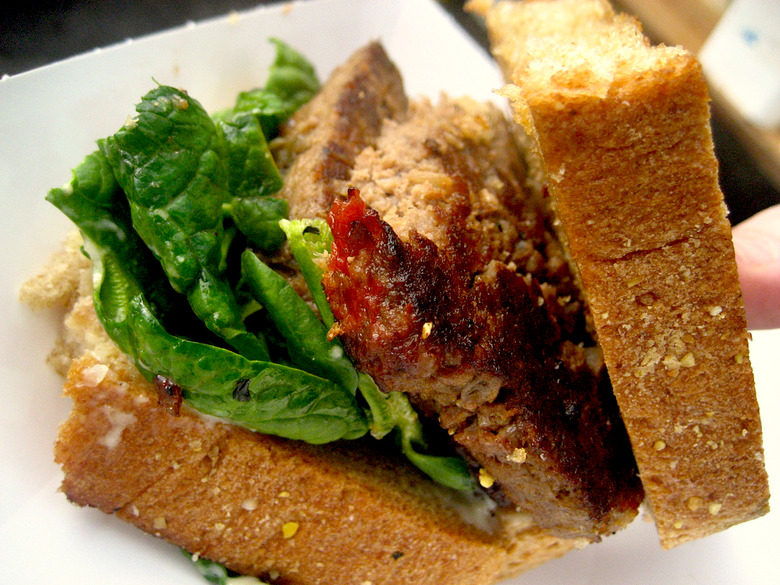 meatloaf sandwich
I thought I wanted a burger today, but I was wrong. It's a rookie mistake, and I'm glad I caught myself in time. I'm sure you've done the same: mistakenly eaten a burger for lunch when what you really wanted was a meatloaf sandwich. No, they are not the same thing. A burger is a burger and a meatloaf sandwich is a sandwich. By no means can a burger be classified as a sandwich. Some might call the meatloaf sandwich a burger (especially if it's on a bun like this one), but only if they didn't grow up with meatloaf sandwiches like I did.
Let's explore this clarified craving. There are just as many variations on meatloaf as there are on the burger, and not just by switching up the meat. Click on this link, if you would (it opens to a new page, don't worry). Ahem, here we see Mario Batali's Italian stuffed sausage meatloaf, or polpettona ripiena. His is stuffed with even more meat, vegetables and cheese. A slice of this will make a sandwich so good it could make a burger cry. Next slide. This barbecue meatloaf has an extra savory flavor thanks to the tangy, umami flavors of buttermilk and worcestershire sauce, and a spicy kick from horseradish. Let's see...burger with those flavors, burger with those flavors. Nope, can't think of any. Moving on. Chicken meatloaf with sun-dried tomatoes makes up in flavor what it lacks in tasty saturated fat. Ha, just kidding — it still needs bacon and mayo, and then it's an ultimate meatloaf sandwich.
Meatloaf is an extremely forgiving dish. I recommend getting the hang of the ground beef or beef-veal-pork blend, since these are the least likely to dry out, then sub in ground chicken, turkey or sausage and set out on your path to mastery. Mastery being when you enjoy it for dinner and enjoy it even more for lunch the next day. Here are a few variations I've had solid success with:
Confetti meatloaf: A favorite of my mom's — mix finely diced, briefly sauteed red onions, carrots, mushrooms, roasted red peppers and jalapeños with your ground meat. If you use turkey, the vegetables help keep it moist and add a ton of flavor. Particularly delicious glazed with grown-up ketchup and served on thick multigrain bread.
Asian meatloaf: Mix sliced scallions, sesame oil, hoisin sauce and a little soy with ground pork, and glaze with hot Chinese mustard or sweet chile dipping sauce spiked with a little more Sriracha. Serve on a baguette with some pickled vegetables.
Jess' Dangerloaf: A concoction of my very own: mix ground beef and veal with 1/2-inch cubes of Swiss or Jarlsberg cheese, chopped banana peppers or pepperoncini and chopped leftover sauteed greens, and glaze with buffalo wing sauce. Give a nod to the first generation of meatloaf sandwiches by serving on straight-up white bread. Why Dangerloaf? This recipe will activate the portion of one's brain responsible for enjoying meatloaf in those who previously didn't like it (ahem, younger brother), and you will run out of food.