Tailgate Toe-To-Toe: Titans Vs. Bills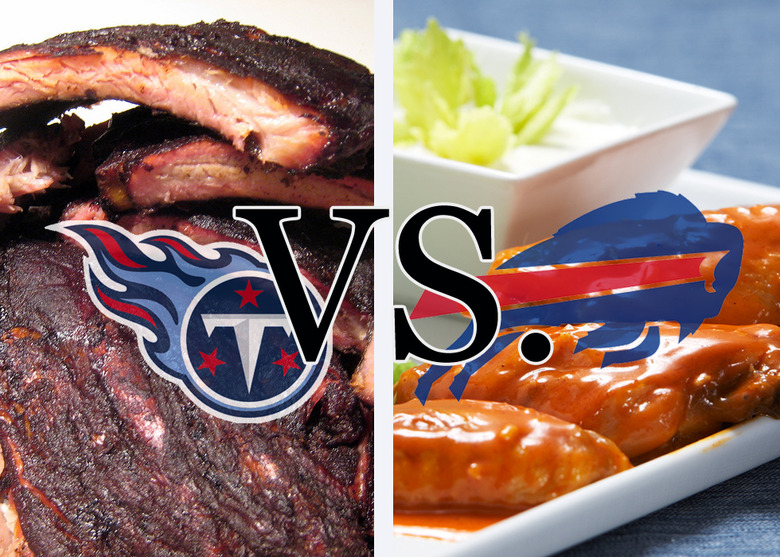 Tailgate Toe-To-Toe picks a weekly NFL game and analyzes the matchup—on the field and in the parking lot.
Who likes themselves an old timey river boat? Tennessee Titans fans sure do! The General Jackson Showboat offers tailgate cruises, which includes a lunch buffet, majestic views of the Cumberland River and game tickets to boot. The idea was clearly inspired by the great football rivalry of Huck Finn and John Fogerty. But you'd be hard pressed to find a more authentically Southern and one-of-a-kind pre-game experience, featuring those two great tastes that go great together when one is put into a sauce that coats the other: Jack Daniels and ribs.
Now to the other side of the field.
You want a good analogy? Anchor Bar is to buffalo wings as Jon Voight is to Angelina Jolie. Basically, one gave life to the other. Chicken appendages have come a long way since their inception as deep-fried, hot sauce and margarine–covered appetizers. Teressa Bellissimo, creator of the beloved football feast favorite, served them with blue cheese dip at the now-famous bar, which spawned exponential variations and twists to the marvelous hot wing.
Kenny Johnson is like the MacGyver of tailgating. No need for typical grills or fire pits to be set up at his camp outside Ralph Wilson Stadium. Instead, the avid Bills fan has been cooking with gas...atop the hood of his Ford Pinto. Pots and pans? What is this, amateur hour? If you ask Johnson, his buffalo wings get their flavor from baking in a WWII Army helmet, his hot dogs get a nice even char on a lawn rake, and nothing brings out the tang of onions like the hubcap in which they're fried. This eclectic kitchenware has been a point of pride for the eccentric chef for 280 straight games, both home and away, and counting.
The Titans might have considered this season a wash when franchise running back Chris Johnson came out of the gate to a slow start. But holdover quarterback Matt Hasselbeck has brought his Kenny Britt-less team to a 6-5 record and Tennessee have a serious shot at taking the AFC South now that Houston has lost Matt Schaub for the year. Nate Washington has proved to be a dependable #1 target and the defense only gives up 229 yards per game in the air. Granted, they also give up over 120 yards on the ground, however...
Surprise fantasy stud Fred Jackson won't be playing again in 2011 and CJ Spiller hasn't exactly seized the day when given the chance with the ball. Ryan Fitzpatrick is human again and without a reliable option to hand the ball off to, opponents can concentrate on locking down Steve Johnson. At 5-6, wildcard hopes are fading and the Patriots don't seem keen on giving up first place. Home field advantage will make the final score closer than it should be. GAME PICK: Titans 23, Bills 17
Tennessee gave us Jack Daniels, which is good and all, but it always seems to lead to trouble. Dave Attell once said it should come with bail money. And how can you hate on the birthplace of wings – the ultimate football food? FOOD PICK: Buffalo Wings 42, Jack Daniels BBQ 21
---
More tailgating on Food Republic.