In Search Of A Good Meal At Disneyland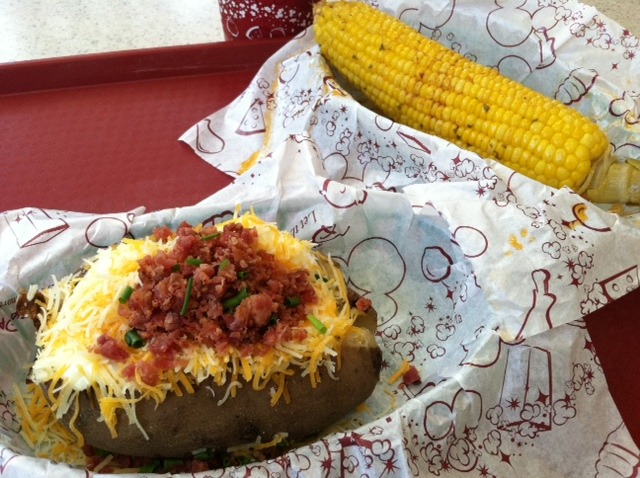 Try enjoying a meal while a four-year-old girl, dressed in a bright pink sweat suit, with pale skin and little-to-no lower lip, repeatedly yells, "Did I scrubby enough? Did I scrubby enough?" This was my task on a recent trip to California's Disneyland. I was sitting there at the Troubadour Tavern in Fantasyland with my relatively placid 7-year-old daughter, watching this girl at the table next to ours, as she maniacally tried to wipe her own face and screamed at her mother who declined to assist, or silence, her.
For those of us who like to eat meals peppered with irony, Disneyland is a great place to dine. Sure, a lover of food should not go to Disneyland expecting four-star culinary options. This is distinct from Disney World, in Florida, which houses Epcot Center, which has a diverse menu of international restaurants. The food at Disney World might not compare to the best (highbrow or lowbrow) restaurants in New York City, but it's still pretty good.
As for Disneyland, you can do all right, as long as you embrace it for what it is. So I smiled as this loud, grizzly urchin chortled on, and I refocused on our meal: two giant, baked potatoes and corn on the cob. One potato was smothered in broccoli and cheese, or some semblance of a Velveeta variety of cheese. The other had sour cream, bacon and chives. The corn was swimming in a butter-lime dressing. Was this a great meal? No. Was it adequate, and actually kind of great to be able to dig into a perfectly fluffy, baked potato? Yes.
According to one cast member (that's what they call the staff at the theme park), most visitors eat the hamburgers, which were recently upgraded to 1/3 lb. of Angus beef. Another popular item is the turkey leg. It seems bizarre at first, but you soon get used to seeing Americans of different shapes and sizes walking along, chomping on huge, Flinstones-sized turkey legs. I thought it was a prop, or a dessert. But no, those undoubtedly genetically enhanced, overdosed birds are not from the land of make-believe. (Although there are rumors that the legs are actually from emu.) My wife, for one, says they're "yummy," and that the meat is smoky and tender.
I hardly eat any meat, so I avoid that fare. The best thing I ate at Disneyland this time around was a churro; they're fresh, warm and nicely accented with cinnamon. The beignets, served near the Pirates of the Caribbean ride in the New Orleans quarter, were also delicious, light and piping hot. But let's face it: these are both just fried dough. A more ambitious task is finding a good place to eat dinner.
Perhaps it was just plain luck (or magic, as old Walt would have us believe) that at dinnertime we found ourselves walking by the Paradise Garden Grill in California Adventure. The Mediterranean theme seemed clean and appealing: we ordered grilled chicken and tofu skewers, which came with vegetables, rice, bread, and a cucumber salad.
It was pretty good: A nice grilled taste and ingredients that were fresh. But I was most impressed by the Moroccan chili tomato sauce, which tasted—dare I say it—authentic; spiced with green chili peppers, paprika, cilantro and garlic.
I was pleased with our meal, drinking a Sam Adams, sitting near a gazebo, under a canopy of trees. Then, seemingly out of nowhere, the aptly named German Zeitgeist Band came out and began to play 10 feet away from us. Wearing lederhosen and willing to take Sound of Music requests, the four-piece band was a hoot.
The lead singer sarcastically crooned: "In heaven there is no beer. That's why we drink it here," with a twinkle in his eye. It was all garish and overpriced and kind of ridiculous, but as long as we were all in on the joke—and my daughter was having a great time, eating a relatively healthy meal—I couldn't help loving it.