Hot Goat Cheese Love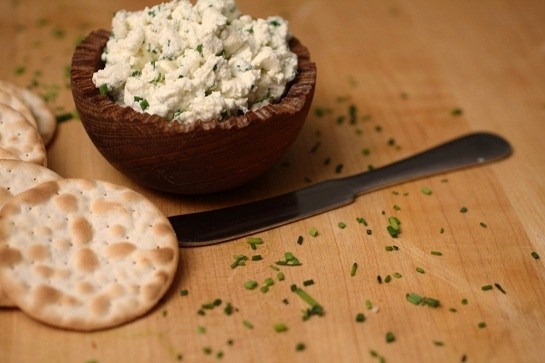 I know too many people who don't like goat cheese for its "goatiness." What did they expect, a mechanically-extracted, cellophane-wrapped American single? I can somewhat understand if, smeared on a cracker at room temperature, you find it a little strong. But if you're into cheese, which you should be, and want to add goat to your repertoire, I applaud you and have the key: heat. I know what you're thinking — allow me to interject. Don't microwave it. It will separate, fall apart and become gross. Now, onwards.
I first discovered seared goat cheese — yes, seared, like a steak — in France. I quickly became obsessed with a classic salad of frisee with Dijon mustard dressing, a walnut or two and a couple of slices of toasted baguette, with a golden-brown medallion of the creamy stuff posted up on top. When you pierce it with your fork, you're met with a poached egg-like effect of warm cheese running over the cool greens, mingling with the Dijon and olive oil and creating a dressing all its own. It's breathtaking. All you need to recreate it is a nice thick slice off a goat cheese log and a hot nonstick pan. Sear on one side for 2-3 minutes or until a golden-brown crust forms on the bottom, then carefully transfer with a spatula to the salad of your choice.
Another excellent application of warm goat cheese is the burger. It's just tangy enough to cut the richness of the beef, without overpowering it like blue cheese tends to. Add some caramelized onions and a crunchy element like romaine lettuce or or pickled (insert trendy vegetable here) and you've got a burger to rival the King's.
It goes without saying that potatoes are goat cheese's best pals. I can't get enough of potatoes dressed Peruvian-style with a creamy goat cheese sauce (speaking of trendy). Goat cheese can also be melted over quartered, boiled potatoes and mashed for the best side to fried chicken you could ever want, or try subbing it in for the sour cream on your ultimate baked potato.
Finally, breaded, deep-fried goat cheese asks nothing more of you than to be spread generously on a crusty baguette and devoured with some sort of fruit element. I like a nice lambic beer, like raspberry or green apple, but actual fruit does nicely as well.
Hot goat cheese, my heart bleats for you.