A Barrel Of Bourbon Finds Its Sea Legs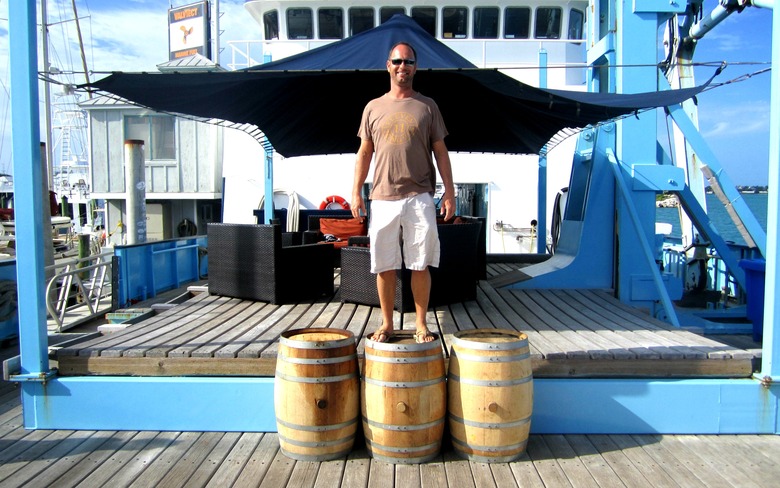 The bourbon barrels had been on board now going on four years, tantalizing the crew on balmy days and miserable ones, up and down the Pacific and into the Sea of Cortez. Their oak staves had been battered by gale force winds, drenched in storm swells, blistered by the punishing sun. And through it all the potent liquid inside—Kentucky's finest hooch—had remained safely ensconced from the elements and from the thirsty crew.
Or had it?
"You know someone here went in for a taste," said Trey Zoeller, the man from Kentucky who'd put the big barrels of bourbon on board the M.V. Ocean back in April 2008.
It was a wacky experiment, hatched on a whim. What would happen to bourbon if you aged it at sea, exposed it to the salt air, wild fluctuations in temperature, constant and sometimes violent rocking?
The day had finally come to crack those boys open and taste the result.
Zoeller stood on deck with his good friend Chris Fischer, also from Louisville, who'd bought this huge ship—a 126-foot former commercial crabber—on a handshake from a Russian guy he'd met on the beach in Costa Rica.
It had been idling in Key West for most of the summer, as the crew geared up for their next big adventure. Soon these "Shark Men," as they call themselves, would be barreling south in pursuit of great whites.
But now they were itching for a taste of the bourbon they'd been carting around.
Juan Valencia, a burly deckhand from East LA, circled in for a look. The barrels were lined up in front of the hydraulic lift used to bring monster sharks on board, so they can be tagged and released for later study. (Shark Men, the reality show, airs on the National Geographic Channel.) The wooden platform, which had been idle all summer, was covered now in fancy lawn furniture, bottles of Jefferson Bourbon (Zoeller's bespoke brand), and glasses for tasting.
Zoeller fetched a pair of heavy pliers from the ship's hold and wrestled the stopper from the first of three barrels. "Each of these is going to taste different," he explained, dipping in for an exaggerated whiff. "The wood makes that much difference." He poured the rich amber liquid into a plastic pitcher, and then doled out glasses to the crew.
"The finish on this is unbelievable," said Fischer, taking a sip. "I'm so glad to be a Kentucky boy."
The extreme conditions had accelerated the aging process. The dark and syrupy young bourbon compared favorably to the 19-year-old bottle Zoeller had brought along for comparison's sake. The experiment had been a success. The ocean-aged bourbon was good enough to drink, certainly, and good enough even to bottle and sell.
Jefferson's Ocean-Aged Bourbon should be available in early 2012, with proceeds going to support Ocearch, Chris Fischer's ocean conservation non-profit.
---
More bourbon coverage on Food Republic: