Iconic Seattle Chain Dick's Drive-In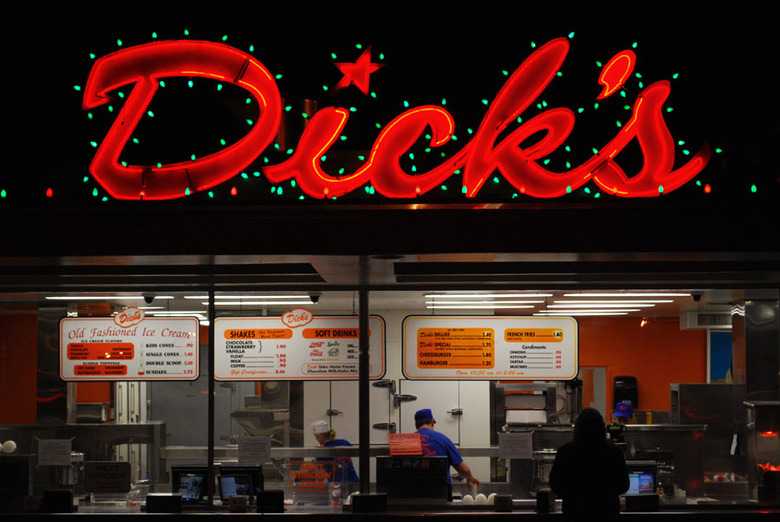 It was a dark and drunken night in Seattle when my friend Dave suggested we go to Dick's.
"You need something to eat," Dave said, watching my eyes bounce around their sockets. I'd just finished a Brewed Awakening book-signing session at Elysian, a local brewery known for its inventive pumpkin brews and the curiously delicious Avatar Jasmine IPA. As has been the case at these events, I had two beers too many, my signature devolving into a second-grader's scrawl.
Salvation and eventual sobriety, Dave suggested, lay in a cheap hamburger and fresh-cut fries—the stock and trade of Dick's Drive-In. Since 1954, this iconic fast-food mini chain has fed scores of Seattleites from a menu born of post–World War II comfort grub. You can get burgers, fries, milkshakes and ice cream. Want a salad or perhaps a waist-conscious bite? Take a hike, bub. Heck, at Dick's, your burgers are only served one way: with ketchup, mustard and pickles.
To complain is to miss the point. Dick's cheeseburgers cost a buck-fifty, and they're made from ground beef. With low cost come certain concessions. If you crave a customizable burger, there are hundreds of other options around Seattle. But if you want a good-and-greasy hamburger served till 2 a.m., seven nights a week, then Dick's might just be your blue heaven.
Dave (who'd refrained from hitting the sauce) drove me to the takeout-only location on Broadway. At the witching hour, the glass-windowed restaurant was surrounded by a no-surprises crowd: teens milling about with skateboards, the odd bum begging for change and drunks, drunks, drunks. Since I was half in my cups, I was in no mood to judge. Instead, I sidled up to the window and ordered a couple cheeseburgers. "Get some fries too," Dave commanded, exacting his tax for carting me around. I did as told.
In minutes, a cheerful high school student handed me my sack, grease already staining the paper bag. I brought my booty back to the car and passed Dave his fries, stealing a few for myself. They were hot and crisp, tasting of taters and not freezer burn. Then I turned to the meat of the matter. I unwrapped the burger, finding a thin, griddle-crisped patty wrapped in a cheesy blanket, finished with dabs of ketchup and mustard. I took a bite. I'd be lying if I proclaimed this the best burger I'd ever eaten.
But at that late hour of the night, with beer swimming through my system, each good-and-greasy chomp filled me with the sort of pleasure that few hamburgers have ever replicated. It was a burger designed for a specific moment. And at that inebriated instant, all I could think about was finishing my first burger so I could start on the second.
---
Do you love a good burger as much as we do? Read all of the Burgers of the Week on Food Republic