Gift Guide: American Whiskey And Beyond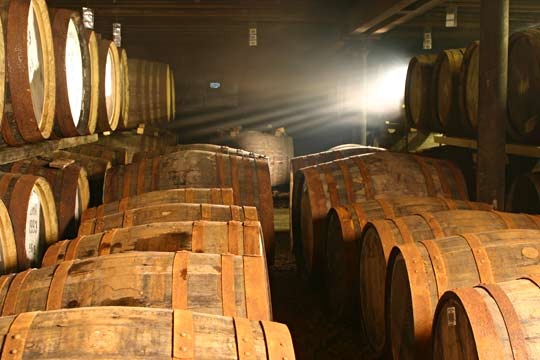 Bye-bye, barrels? Flash-aging whiskey continues to make a splash in the industry.
Anyone who has ever participated in a Secret Santa exchange or attended a holiday party knows one simple truth about gift giving—you cannot go wrong with a well-chosen bottle of booze. And Jack Daniel's does not cut it. To ensure that you're everyone's favorite person this year, it's best to stock up on a few choice bottles. And if you're lucky, you might even get a sip as a thank you. Here's our guide to American, Scotch and Japanese whiskey.
Other gift guides: Vodka and Gin| Cooking Gear And Books | Great Things To Eat and Drink
Nothing warms the heart and cockles like a dram of brown liquor. For the brownest of the browns, opt for a craft bourbon, such as Angel's Envy ($45), a Kentucky Straight that gets its name from what's left in the barrel after the "angel's share" has evaporated during aging. Woodford Reserve ($33) is another solid choice, made on what is said to be the oldest distilling site in the state. No bourbon enthusiast would turn down a bottle of Eagle Rare 17 Year ($60) or Blanton's ($50), which bills itself as the original single-barrel bourbon.
Of course, the breadth of American whiskey stretches far beyond the Bluegrass State. Other greats include Hudson Whiskey Four Grain ($45), a balanced blend of corn, rye, wheat and malted barley from New York's Hudson Valley. Out of Brooklyn, there's Kings County Bourbon ($25), a spiced, herbaceous whiskey sold in a clear flask. Corsair Rye ($50), from the first distillery to open in Nashville since Prohibition, is a rare 100% rye. WhistlePig ($70), made by Dave Pickerell, the long-time master distiller of Maker's Mark, is another pure rye, spiced and caramelized, and aged 10 years. And if brown isn't your color, Death's Door White Whiskey ($36) is unaged and therefore clear, sweet and bready, and unlike anything else on this list.
OK, time to get serious. Scotch can be intimidating if you aren't very familiar with it. But Balvenie is nothing to be afraid of. The 12 Year ($48) is a beautifully crafted single malt aged in bourbon barrels and finished in sherry casks for a hint of sweetness. Highland Park 12 Year ($45) offers great bang for your Scotch buck, rich and honeyed, with just a hint of smoke. If you're playing with the big boys, consider opting for the aptly named Compass Box Peat Monster ($55).
A number of non-Scottish whiskies are made in the Scotch style. Yamazaki 12 Year ($40) is another great value whiskey (or should we say whisky) you'd swear was from Speyside. And you don't even have to leave these fine shores for a single malt. St. George Single Malt ($45) is made in California. Not quite masquerading as Scotch, it's fruity and light. The surfer's single malt, perhaps?
---
More ways to drink better on Food Republic: